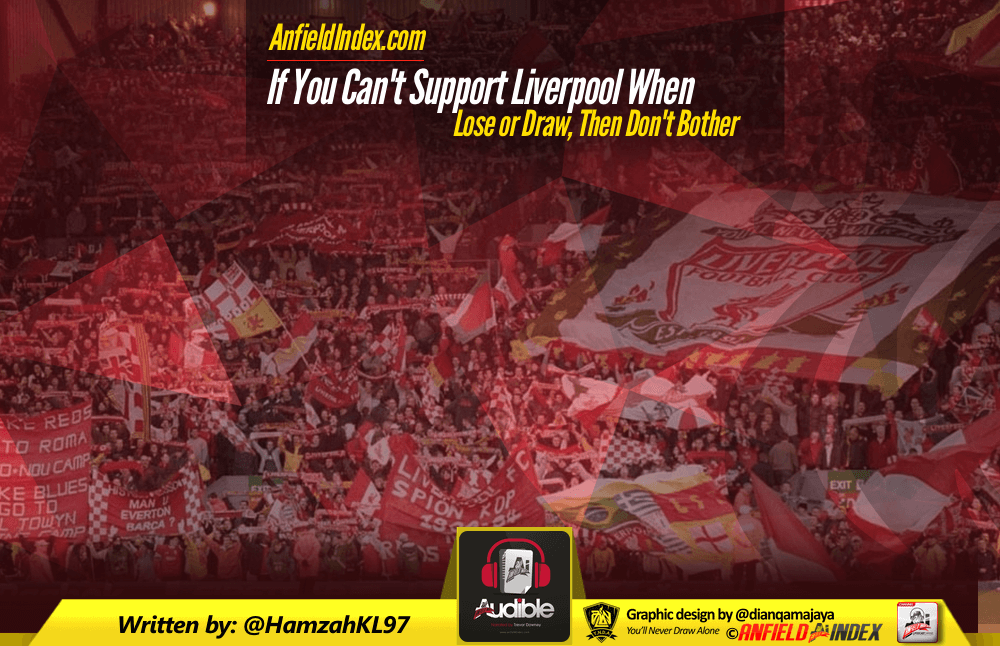 If You Can't Support Liverpool When They Lose or Draw, Then Don't Bother
Utterly embarrassing.
Shameful.
Disgraceful.

No, I'm not talking about the Liverpool performance against Swansea, I'm actually talking about the supporters' reaction to it.
So-called "supporters" of Liverpool FC, were absolutely raging, fuming with disbelief – criticising the players, the manager, the board, absolutely anyone that they could attach some 'blame' to.
"Klopp doesn't know what he's doing."

"Klopp out!"

"Must sell Clyne, Klavan, Lovren and Mignolet!"

"We NEED new players!"

"Henderson crap. Again."

"Top four and the season is over."
Get a grip.
Never have I had the displeasure of being associated with such reactive, fickle and spoilt fans. This is a team, that last season was eighth, and the season before, truly diabolical. Jürgen Klopp, a manager coveted by almost every top European club, decided that he would take over at the 'great' Liverpool, and attempt to restore the team to past, and to create future, glories. In all honesty, this is perhaps one of the biggest challenges in world football, coming to Liverpool, with the current team, with immense competition, and without the deep-pocketed approach of rivals, and is a challenge that many a good manager has failed to meet. Yet, nonetheless, and to his credit, Klopp decided to take it on, but has not been rewarded the way he should be, by some fans.
Despite Klopp choosing Liverpool, and steering the team into two cup finals in his first season, then in his first full season, another cup semi-final, and a position to which Liverpool actually have the ability to challenge for the title, that's not enough for some fans – the very same fans who felt that top four should be LFC's goal this season.
Liverpool may have lost to bottom side Swansea, but even within the game, there were clear signs of improvement: last season, having gone two goals down, that would likely have been the end of it; yet Liverpool responded with two goals, both from Firmino, signalling an end to his dry run, whilst Coutinho got more valuable game-time under his belt for the upcoming big fixtures, and Joel Matip is set to return to the starting XI next game. Losses in the Premier League happen, and whilst Liverpool had not been beaten for a year at Anfield, that record was bound to be broken eventually – fuming and raging about a small setback in the grand scheme of things is quite pathetic in all honesty. There's plenty more games for Liverpool to make up lost ground.
Now, to call out a tactical mistake, or highlight errors within a match is fine, but to chastise the team and the manager in the manner that was evident on Twitter, and radio phone-ins is truly ridiculous. Steven Gerrard was spot on when he voiced his own disbelief at the growing discontent amongst the Liverpool fanbase, stating that the Liverpool manager is world-class, and that LFC are lucky to have him. The fans who cannot deal with a small setback would do well to remember that.
Jürgen Klopp is genuinely one of the best things to happen to the club in its history. And if you cannot see that, you seriously underestimate the troubled situation LFC has been in for over 20 years; almost always behind rival Manchester United, and then in recent years, behind Arsenal, Chelsea, Manchester City, and Spurs. Yet now Liverpool are back, and challenging at the top, and will continue to do so under the guidance of Klopp – not anyone else.
But, perhaps these angry fans, who proclaim to know all there is to know about football, are the reason Anfield is so quiet on match-days; truth be told, it is embarrassing that at home games, the away fans are far louder than the home fans, and that during games the only real noise that can be heard in between goals is that of frustration towards a misplaced pass, or a poor shot. For goodness sake, these fans should be getting behind their team and supporting them, as a supporter should do. Otherwise, these 'fans', may as well rename themselves 'critical spectators', doing nothing to aid the team, or give them a boost, but always the first to put players, or decisions down.
Klopp was right to call out the fans, especially as we've all seen what an extra push from the fans can do to the team (see Liverpool 4-3 Borussia Dortmund), this is meant to be Anfield, the home of Liverpool, one of the most intimidating and daunting places any player can go to play. Yet, playing in what may as well have been an empty stadium, is hardly intimidating, even for a team performing poorly, such as Swansea.
People laugh at ArsenalFanTV, but that is what Liverpool's fanbase has become now. Reactive, angry, impatient and petulant. It genuinely puts me off wanting to discuss a game, or share my thoughts on a particular game on social media. For instance, these angry Liverpool fans proclaimed the end of Liverpool's season before full-time on Saturday, a day on which Manchester United, Manchester City and Spurs would all drop points. Considering this, the question has to be asked, what do these fans really know about football? Drawing a conclusion, from one game, such a small sample, shows that these fans are not even capable of critical thinking; it's still January! We're only halfway through the season, and if we can cast our minds back to the 2011/12 season, a season in which Manchester City clinched the title in literally the last seconds of the season, is it that hard to imagine that the table's configuration could change over the next four months?
Liverpool FC is meant to be a club for normal people, normal people who love good football, and people who can stick with a team through thick and thin – yet now, instead of being flooded with 'plastic fans' from abroad, it's filled with fickle fans from the UK. At least the 'plastic fans' make the effort to trek across the globe to see their team play, and to support them, unlike the angry domestic fans who appear to only go to Liverpool matches to voice their frustrations, and their 'solutions' to ending a title drought that has nearly lasted 30 years.
I assure you, Jürgen Klopp is all ears for this magical solution, and if getting angry, calling for him to be sacked, or criticising the players is the way to get the title – go ahead! But seeing as it isn't, perhaps it's time for everyone to get behind the team, and the club properly. Reminding ourselves, exactly why we sing You'll Never Walk Alone, and why we, are Liverpool.