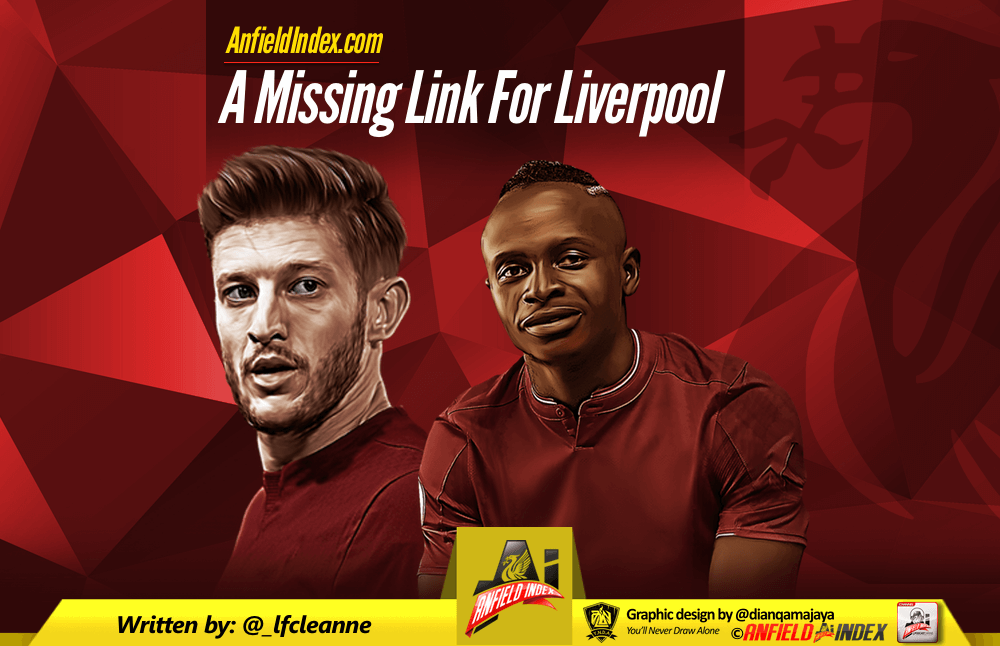 A Missing Link For Liverpool
Lots has been made this season over the transformation of Adam Lallana into the finest English footballer currently within the Premier League. Like many at Anfield, Lallana hasn't been without his critics since joining from Southampton, but he has overcome them spectacularly, fitting seamlessly into Jurgen Klopp's high intensity style of football.
The German's admiration for Lallana's work rate was evident right from his first game in charge and that bond has gone from strength to strength over the past year, with Lallana acting as a hugely integral figure in the current Liverpool side.
Last season, Lallana registered four goals and six assists as he struggled to replicate the quality he showed for Southampton for so many years. However, so far this season, he has managed seven goals and seven assists in 1,653 minutes of football – that's a goal every 236 minutes.
To put that into context, Lallana scored after every 527 minutes of play in the previous season, reflecting what a stark improvement he has made in the final third.
Lallana has benefited greatly from Jurgen Klopp's tweaking of his position into a more withdrawn midfield role. The position has allowed Lallana to make late darting runs from midfield where he has been on hand to convert for the Reds. It may have seemed like such a small change, but the ramifications of it have seen Lallana hit top form this season.
Where previously he was a hindrance to fast flowing attacking moves, Lallana now has the freedom of the field to affect the game as the play unfolds around him. The 28-year-old helps to provide the critical link between midfield and attack, thus acting as the orchestrator rather than a burden.
It's therefore of little surprise that in Lallana's absence, Liverpool have looked a much less threatening outfit. Without him, the Reds have managed a total of 5 goals in 4 games – an average of just 1.25 goals per game. Liverpool's most disjointed performances have come in the Englishman's absence, with the midfield trio of Henderson, Wijnaldum and Can lacking the balance and fluidity to set the side on the attack.
However, Sadio Mane's departure for the African Cup of Nations has seen that midfield become much more frequent for Jurgen Klopp's side, with Lallana taking up a more advanced role on the right-hand side as opposed to the withdrawn role he had previously been thriving in.
Having scored 9 goals and registering 5 assists, Mane's absence was always going to be a test for Liverpool, especially at such a crucial point in the season with games coming thick and fast in all competitions.
That has been the case for Liverpool since the turn of the year, with Emre Can lacking Lallana's guile and creativity to link play. What has transpired is an increasing disconnection between the midfield and attack, with runs from midfield becoming a much scarcer feature of Liverpool's play.
To put this into context, Liverpool have scored just four goals in five games since Mane left for the international tournament, emphasising the dent in momentum in his absence.
As we've seen already this season, Lallana is far more effective through the middle where he can create space for his teammates and provide late runs into the six-yard box. A lack of wide players in the side has provided Klopp with little option but to force his star man to change roles.
With a short term fix not Klopp's style, it is unlikely Liverpool will invest in the January window while Mane is away. That leaves Ojo and Woodburn as the only two who could potentially take up Mane's position and allow Lallana to return to where he is best suited, unless Lazar Markovic makes a highly unlikely return to the club.
The fluid front line that saw Liverpool make such a free-scoring start to the season has been disrupted of late, and with few options to explore, Klopp is caught between a rock and a hard place as he tries to find a solution to his disjointed system.