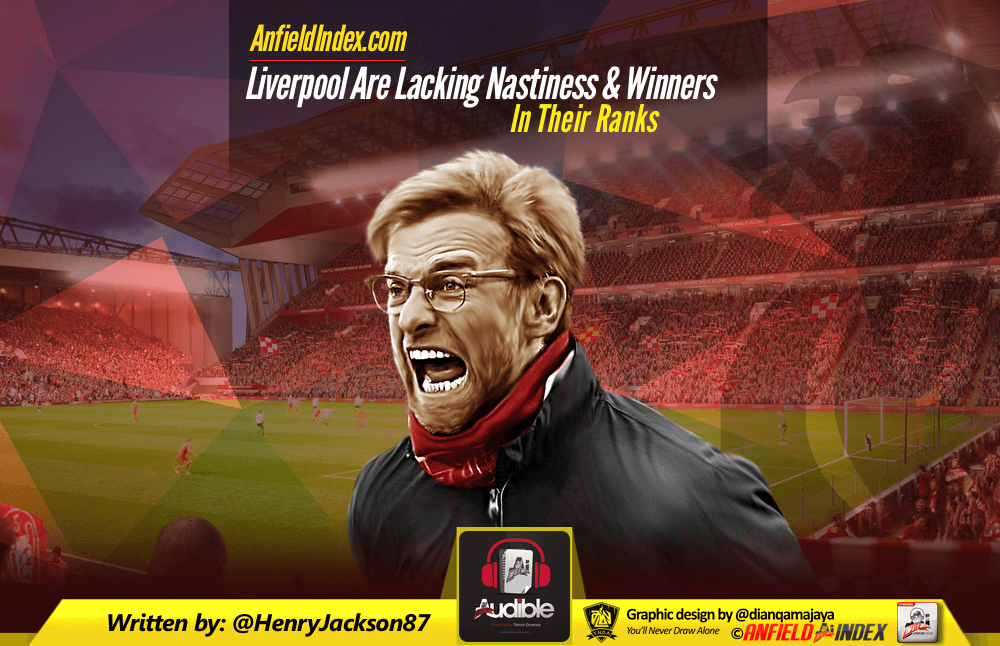 Liverpool Are Lacking Nastiness & Winners In Their Ranks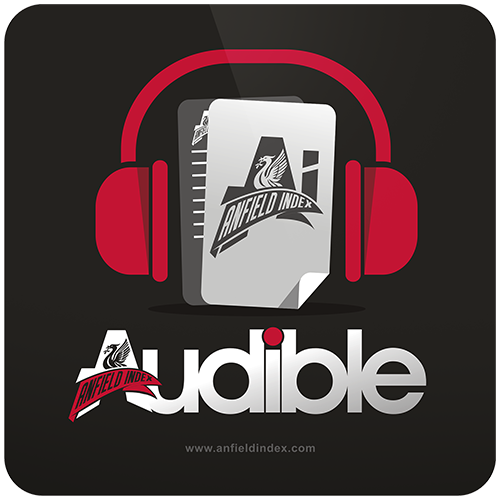 Listen to this article via @AIAudible !
In Liverpool's heartbreaking 3-3 draw with Crystal Palace in 2014, Philippe Coutinho had a great chance to haul down Yannick Bolasie in his own half with the score at 3-1.
He chose not to, Bolasie broke away and Dwight Gayle eventually made it 3-2. It was a perfect example of the Reds failing to be masters of the dark arts, and it has been an issue for a number of years.
Watching Liverpool's increasingly faltering season is painful right now, and it is alarming how nice they are, perhaps more so than ever.

You look around this current squad, and so many of them seem like well-groomed, friendly young men who you would be happy for your daughter to marry.
Simon Mignolet, Lucas Leiva, Georginio Wijnaldum, Adam Lallana, Divock Origi and Coutinho, to rattle a few off. All harmless, likeable characters who are easy to warm to.
Sure, there are a few who could claim to have a certain edge to their character, but are they really in the same league as the born winners who have donned the Liverpool jersey in the past?
Dejan Lovren's hardman act is very see-through, just like Martin Skrtel's was, while Emre Can is not as intimidating as his physical frame suggests. Nathaniel Clyne, Daniel Sturridge and Divock Origi appear a little on the timid side at times, while you can't help but feel Alberto Moreno is just having a laugh.
Jordan Henderson and James Milner are the closest Liverpool have to falling into that category. The captain and vice-captain do at least and take it upon themselves to berate the referee at every possible opportunity, and will never shy away from a battle with an opposing player.
Sadio Mane, whose current unavailability is hurting the team even more than many predicted, also has a certain nastiness to his game that makes him an even better footballer. It might not be obvious, but he will leave a foot in when he has to. Roberto Firmino the same.
That's about it, as far as I can see, and even this quartet are far from the most gnarly, snide players around, let's face it.
With each game that passes, you can't help but feel that a lack of nastiness and ruthlessness is hampering this Reds side, and it is threatening to derail not only their title chances, but also their top-four hopes.
Alan Shearer has taken plenty of flack for questioning Liverpool's attitude recently, but when you take your Reds-tinted glasses off, he may have a point.
To win trophies you need genuine winners throughout the squad – players who take a yellow card for the team, who will produce something when the chips are down and who will do anything to be victorious.
Every great Liverpool team has been full of players of this ilk, from Bill Shankly and Bob Paisley's sides of the 1967s and 1980s, right through to Gerard Houllier's treble-winners in 2000/01.
The likes of Didi Hamann and Gary McAllister, for example, may have come across as fairly laid-back, classy footballers, but they really knew how to handle themselves, and stood tall when the going got tough. I don't see that with nearly enough of the current crop, sadly.
We are at a point in the season when Liverpool's players need to prove their worth, but too many are shirking responsibility and failing to influence games. It is easy to look great when you're annihilating teams in warmer conditions, but what about when the team is struggling for fluency in the middle of winter?
Frustratingly, you look at Liverpool's top-six rivals this season, and they possess far more of the needle that Jurgen Klopp's men lack.
Diego Costa is a standout candidate, but Chelsea have so many that are more subtle in their winning mentality. Cesc Fabregas is one of the most sly, competitive players in the entire Premier League – his antics against Manchester City earlier in the season were beyond snide – Pedro has a dark side and delivers at key moments, while David Luiz is far more of a winner than many give him credit for.
The Blues' ability to rack up points when the going gets tough is admirable, even though that may be tough to admit.
Sergio Aguero will do anything to win, as will Alexis Sanchez. Both may be lauded for their team ethic and magnificent natural ability, but the key to their brilliance is that they are nasty. They have an edge that adds so much.
The same applies to the likes of Dele Alli, Moussa Dembele, Zlatan Ibrahimovic, Ander Herrera and Fernandinho, to name but a few. All five clubs tussling with Liverpool at the top have them in abundance.
These are players many of you may well dislike, but that is solely down to tribalism among rival fans. They are the characters you love when they play for your team – Luis Suarez, Xabi Alonso (an underrated nasty piece of work) and Javier Mascherano were idolised at Liverpool – and the type who rile opposition supporters.
Where are these players at Liverpool now?
Perhaps this could be seen as a knee-jerk reaction to a poor run of form – this lack of grittiness wasn't exactly too much of an issue back in September and October, in fairness – but the Reds do seem to be easy to bully.
This is part of the reason why they are so poor against lesser teams and so good against their rivals. Their rivals often come to play football, but the lesser teams invariably come to win a physical battle.
It doesn't take too much for Liverpool to fall to pieces, as we saw all too depressingly against both Bournemouth and Swansea, and their ability to gift opponents goals certainly hints at a mental weakness.
There have been definite improvements under Klopp, with some important victories secured by digging deep in the final stages, but they still feel a little too sporadic.
Chelsea are cruising to the Premier League title as things stand, and that is as much to do with them being filled with winners as it is their ability.
Seeing Liverpool playing the football they do is fantastic, but if they don't start showing more of a toughness to their play, for prolonged spells during a season, they will keep winning nothing.
There are too many nice characters out there, who struggle to knuckle down when the pressure is really on, and it is becoming more and more noticeable.
Liverpool don't need to become a team of Vinnie Jones' all of a sudden, but we must start seeing them learn how to win ugly and be a little more horrible.