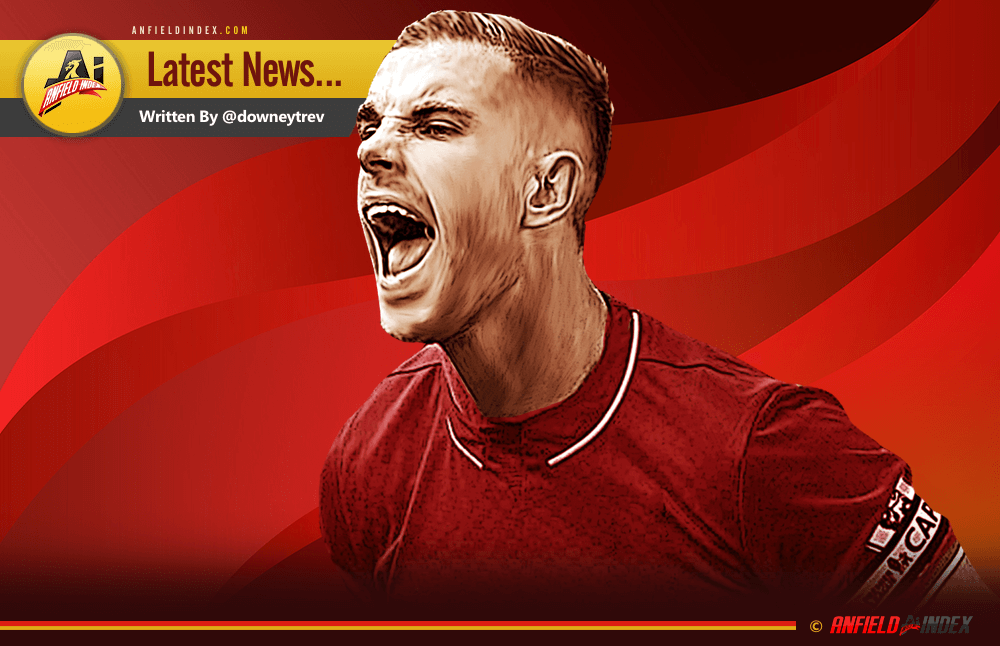 Henderson: Clyne Leads By Example
If you're reading this then you've gotten past the irritation with the immediate past long enough to contemplate the future, and for that, I thank you. The life of the daily columnist is a lonely one and the comfort of your virtual presence warms the cold dying heart of Latest News just enough to brave the internet awfulness and trawl around for stories to tickle your fancy.
In the process of doing just that, your scribbler had the misfortune of straying onto a social media platform which is best avoided after a Liverpool loss. Jordan Henderson spoke, in the wake of the spirit-sapping defeat, of addressing the team's problems and continuing the fight but the response to the club captain's exhortations was very revealing.
There's a whole swathe of fans just waiting for the chance to snipe and deride. This was their time to shine. His optimism was sneered at and his own performance mocked. We are told by the self-righteous anger monkeys that this is fine. This, it seems, is football fandom in 2017, AND IF YOU DON'T LIKE IT, YOU KNOW WHAT YOU CAN DO MATE. Calm, reasoned analysis is as outmoded as the fountain pen and the rotary telephone. The Reds are aces or awful. Players are world class or wretched. This facile dichotomy is the new reality for many.

Thankfully, there are also lots of lovely rational folk like yourselves and Henderson, for whom a setback need not mean the end. In that spirit, the captain was eager to highlight the consistency of Nathaniel Clyne at right back and the pleasing reassurance that Trent Alexander-Arnold has given Jürgen Klopp with his performances in that position when Clyne was injured. Henderson knows from personal experience that it can sometimes be hard to win over the Anfield faithful and he is eager to stress the importance and quality of both players.
"One of the big positives Trent has, in this moment, is the player he is learning most directly from: Nathaniel Clyne," the industrious midfielder observed in the official matchday programme. "Clyney isn't someone who gets a lot of headlines but for me and a lot of our lads, he is a standout performer week in, week out. He is the perfect role model for Trent and any young full-back for that matter. Without question he is one of the best full-backs in Europe, never mind just England, and he goes about his business quietly but impressively. Ask any attacking player in the Premier League what it's like to play against
"Ask any attacking player in the Premier League what it's like to play against Clyney. In fact, ask us lads who play against him in training. He can stop you in your tracks one minute and have you scrambling back to stop him attacking the next. He has all the tools the modern-day full-back needs and for Trent there is no better person to learn from and aspire to emulate in his position. Clyney probably doesn't come across in the public eye as someone who 'leads' because he doesn't seek the limelight and isn't loud or outspoken. But within our dressing room he leads in the best way possible: through example. I think Liverpool and England are very lucky, because to have Clyney and Trent together here means the present and the future are in great hands and they will help each other and spur each other on."
As for the younger man, most Liverpool fans would see his contributions as one of the few highlights of 2017 to date. Henderson strikes the right balance between cautious encouragement and outright praise.
"I've spoken about Trent a few times this season, as have a lot of the other players in our squad. Normally I wouldn't say so much about a young player because it's important they're allowed to grow and develop without pressure and too much exposure. I've been there myself as a teenager in the Premier League and you have to be careful you don't let the extra attention and profile distract from what really matters: the football. With Trent there is no danger of that. His feet couldn't be more firmly on the ground. That's why his performance at United surprised no-one in our dressing room."
Perhaps then, it's okay to follow the captain's lead and focus on the positives after a loss which was, after all, the first one at Anfield for a year. Alternatively, have at the recriminations and puce-faced bleating. There is no correct way to support the Reds. One way is just a little more, y'know, fun. Whatever your choice, Latest News will return tomorrow, probably with more of the usual unrealistic hopeful piffle.