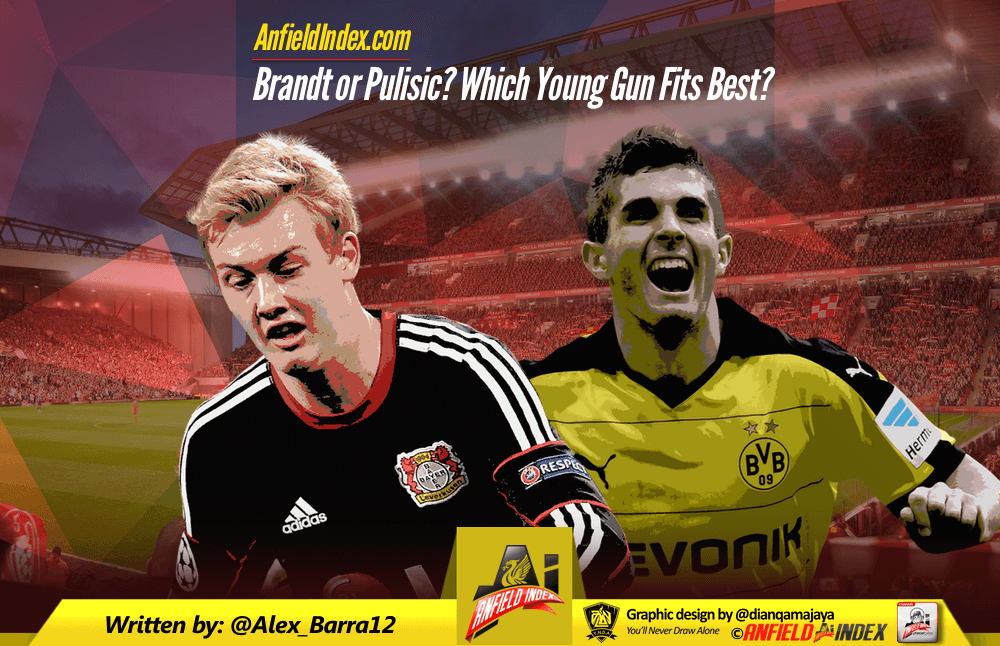 Brandt or Pulisic? Which Young Gun Fits Best?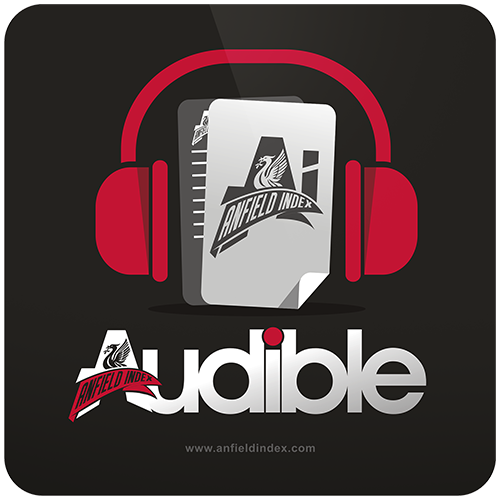 Listen to this article via @AIAudible !
There's certainly been no hiding Klopp's fancies. Reliable information is at a premium in this day and age, but two pieces of information all have gotten behind in recent times are Liverpool's pursuits of two of the Bundesliga's most captivating young attackers.
It's more than justified as well; Sadio Mané's absence from Liverpool has been detrimental to the way the once mesmeric attack functions, and has brought up the lack of depth Klopp has in his attack. A young, dynamic, pacey attacker is most definitely in order for the big German; someone he can develop into the ideal weapon, someone whom Klopp is able to invest in, to be patient with, and ultimately transform into his Marco Reus or Mario Götze.
The talents in question? Bayer Leverkusen's Julian Brandt and Borussia Dortmund's Christian Pulisic. The pair are similar in style; both would fit into what Klopp wants in an attacker, but the question remains, who would fit best?

Christian Pulisic
The younger, more diminutive of the pair has exploded onto the scene this season in front of the yellow and black wall; after joining Dortmund courtesy of Jürgen Klopp's youth system in January 2015. He made an impression almost immediately – scoring six and assisting five for Dortmund's Under-17 side in a month; en-route to the U17 Bundesliga title. He's made 13 appearances for Thomas Tuchel's side this Bundesliga season (with a further five in the Champions League), nine of which were starts, and has scored twice and assisted four times.
It's difficult to properly judge Christian Pulisic's sheer potential, given he's only 18 years of age, and has only really had half a season on the big stage to prove his worth.
He's a tricky player, gifted with a burst of pace that sees him hit the ball a good few metres past a defender and simply outrun a defender – especially one who's on a turn – whilst at the same time uses close control and a low-centre of gravity to glide past players in tight spaces; seen to good effect when Dortmund have pinned a defence low, in their own box, and a cutting movement to take a few defenders out of the game is needed. He's also made a good habit out of getting into the right positions at the right moments; his goals have largely been scrappy affairs – but you need someone to be at the end of the move to put the ball in the net.
He creates less than his blonde counterpart at Leverkusen – with less assists (four for the American, six for the German) and only half the key passes (0.8 per game for the American, 1.5 for the German.) Instead, Pulisic is a more attacking, run-at-your-man kind of winger – which would make him more of a Sadio Mane 2.0. He likes to shoot too, averaging 1.3 shots per game (a similar number to Brandt's 1.2) and plays the ball early; often breaking in transition with two or three players beside him. A familiar sight this season is watching Dortmund break from a ball-win somewhere in midfield or towards the edge of Dortmund's box, deliver the ball to Pulisic, who draws a defender to him with a burst of pace, only for Pulisic to switch to one of Reus or Aubameyang, who use the space opened up by the 18 year-old to drive into the heart of the opposition defence and finish the counter-attack with aplomb.
He needs more experience, and perhaps doesn't yet have the same exposure as other prominent young players, but has shown his ability in a very good team, under a very good coach – plus he's the youngest foreign player to score in the Bundesliga. He's not strong as other players in the same position, but he is clever, and would have to adapt to the Premier League's physical nature – but Pulisic is more than capable. He's just signed a contract with Dortmund lasting until 2020, which makes a sale slightly more difficult in that the fee would be significantly higher: probably more than £25 million.
Julian Brandt
In a different part of Germany's North-Rhine Westphalia, in Leverkusen, a young German has burst onto the scene after what seems like years of hype and promise. This season, in an often deficient and inconsistent Leverkusen side Brandt has been the shining light.
James Pearce of the Liverpool Echo is adamant that Klopp will go after Bayer Leverkusen's blonde bombshell, who has been fantastic so far this season in a Leverkusen side that's largely disappointed. Consistent appearances have shown Brandt's capability to play at the highest level of competitive football; his German drive and determination coupled with a flair and pizazz that has seen comparisons drawn to compatriot Marco Reus. He's immense with the ball at his feet; superbly confident no matter the circumstances, and his ability to change direction with the ball at his feet, leaving defenders stood firmly on their heels while Brandt sends the ball low and hard into the area, is a trademark of his game.
Professionally; Brandt has won a U-19 World Cup with Germany, won a silver medal for Germany in the 2016 Summer Olympics, and finally won his call-up to Joachim Löw's Germany Squad in 2016 also. Beginning at VFL Wolfsburg during his youth career, the entirety of his short senior career thus far has been spent at Bayer Leverkusen, playing under Roger Schmidt – a style that would make him perfect for a Jürgen Klopp side.
His most obvious strength is his size, coupled with his ability on the ball. Seeing a 6 ft 1 winger drive at a fullback with the pace that Brandt possesses is intimidating enough, but his ability to then cut out a pass to a forward running with him on the counter, or take him on with an exceptional dribbling ability makes him all the more threatening. Though he doesn't have the same strength in a first touch as Pulisic (Brandt has 2.5 bad controls per game compared to Pulisic's superb 0.5) he dribbles more, passes more, and is more physically imposing. He completes 2.4 dribbles per game – that's just shy of Sadio Mane's 2.5 per game – and clearly trumps Pulisic's 1.9 dribbles per game too. For a man of Brandt's stature and ability in front of goal (not to mention his age), those numbers are seriously impressive.
Far away from a traditional winger, you'd class the young German instead as an Inside Forward, due to his ability to create and score when finding himself tight on the fullback, close to the box. He also possesses some startling finesse in his delivery, often attempting audacious dinked balls and back-heels.
While both can play anywhere in a front three, Pulisic prefers to adapt his starting position wider and drive inwards at the fullback, in more of a straight line right-to-left dribble. In contrast, Brandt adapts and changes depending on the fullback, often moving within metres of Leverkusen's #10 (usually Hakan Çalhanoğlu); exchanging a few passes to get in behind and then force the defenders to follow him. The comparison many like to make is another blonde German who moves in a very similar fashion – Marco Reus – and even moves in a similar way to Roberto Firmino. Similarly to Firmino, he's a big game player too, never fading in the spotlight of a high intensity encounter.
He'd cost Liverpool somewhere around £20-25 million, though Liverpool would need Champions League to fend off competitors for his signature.
On the flipside, Brandt's not the most explosive player, though he has a fantastic top speed, it does take him a little while to get fully charged. He needs a lot of work defensively, and he needs to work on making sure this season isn't a flash in the pan – but then no young player is ever the finished article.
In Julian Brandt and Christian Pulisic, Liverpool could have two fantastic potential attacking weapons.
So which would you want? Leave your comment below as to who you'd prefer seeing in Liverpool come the summer time.