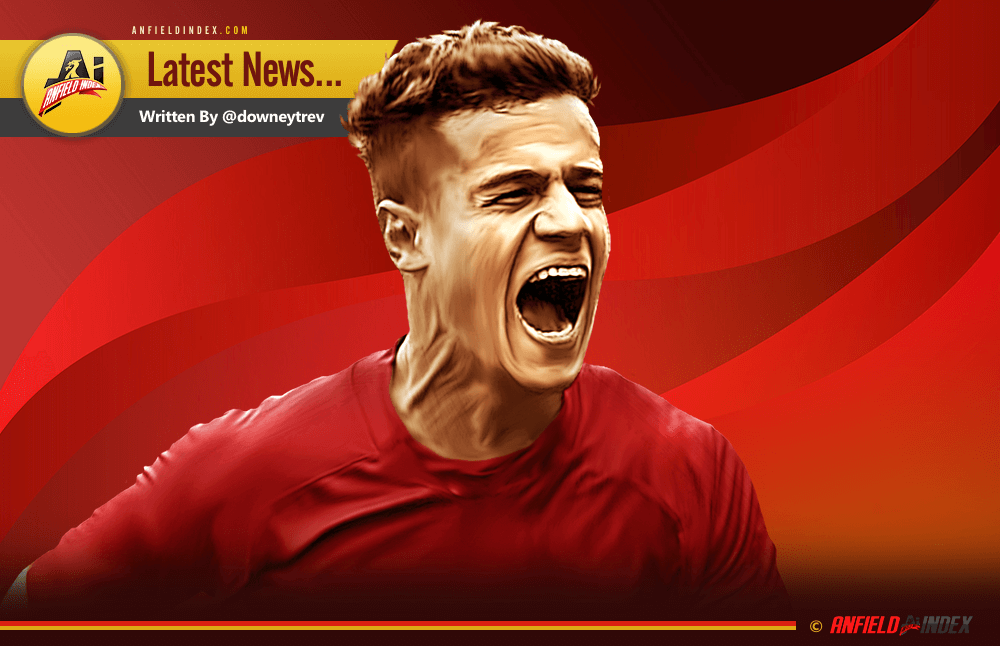 Can Coutinho Contract Revitalize Liverpool?
In a world where Latest News woke blearily to jauntily separatist tweets from the actual President of the United States about a regrettable building project, it is fair to say that any upbeat revelations would be most eagerly embraced. How serendipitous then, that the next story we encountered was the official announcement of Phillipe Coutinho having signed a new long-term contract with Liverpool. It was like a little magical unicorn vaulting effortlessly over Trump's wall.
Now I know what you're thinking, hard-bitten cynics that most of you are. "Oh yeah, here we go. Contract extension announcement to cover the lack of transfer activity." Let's think about that for a moment, though. Whereas there may be more than a whiff of truth about that understandably snarky response, we must remember that positive news has been in short supply on Planet Redmen of late. So when the latest Liverpool superstar to have been openly courted by linked to Barcelona talks about wanting to repay supporters for their faith by penning a new deal, well, let's take that as a win, shall we?
Liberally bestowing that charismatic smile of his, Coutinho was, as ever, the paragon of humility, citing his debt to the club and the supporters and insisting on how content he and his family are on Merseyside.

"Ever since my arrival here, I was welcomed with open arms by the supporters – and everyone at this football club," the gifted attacker insisted. "This is an important factor that carries weight when you decide to remain here for a longer period – and this did have a lot of weight when I thought about the renewal of my contract. I can only thank every supporter for their faith in me. I really hope to repay them. I will do my very best on the pitch to create assists for my teammates and score goals for us to try and win trophies and titles. It's not just me – since me and my family arrived here we have been welcomed with open arms by everyone. We feel at home in this city, we feel a part of this city. It is a very important day for me, my wife and my daughter. I am happy – and everyone is happy at home!"
And what of that other exponent of the megawatt grin, Jürgen Klopp? In what way did the manager influence the Brazilian maestro's decision?
"Jürgen is a great manager," the 24-year-old averred. "We all can see how much he has changed here since he arrived – and how much he will change in future. He is a winner. It's not only me, but every other player feels honoured to play at this great club for this great manager. This feeling has a very positive influence on us as players."
Well, that's all very pleasing, isn't it? No? Some of you are still sulking, aren't you? Come on folks, it's matchday, let's have a giggle. Let's pretend we aren't all traumatised by years of nearly making it and seeing our finest players leave the club. I know what will jog you out of your sullen state. Let's hear from the manager on Coutinho's contractual concord.
"I think everyone knows what a great footballer Phil is, that is not in question – but not everyone sees what an incredibly positive character he is and what a big influence he is on the dressing room," Klopp revealed. "I knew of Phil before I came to Liverpool and I was well aware of what a talent he was, but since arriving here I have not only witnessed his ability up close, but also his ever-continuing development. He is truly world-class – in that very top bracket.
"The fact he wants to stay here and be part of what we are looking to build and develop shows his personal commitment is to make himself better and be an integral part of something that is very special. We have total belief in our project, but when a player of Phil's calibre and status commits for this length of time it shows that our faith is shared throughout the game. He knows he can fulfil his dreams and ambitions here at Liverpool. This is a big statement. I look forward to seeing Phil create many more great memories and moments for this club."
Hopefully, those memories will begin to be forged tonight, by Coutinho and by Klopp. The club is on the brink of something really special with these two men and all the cynicism in the world will not prevent Latest News from brandishing an idiotic grin when we think about it.