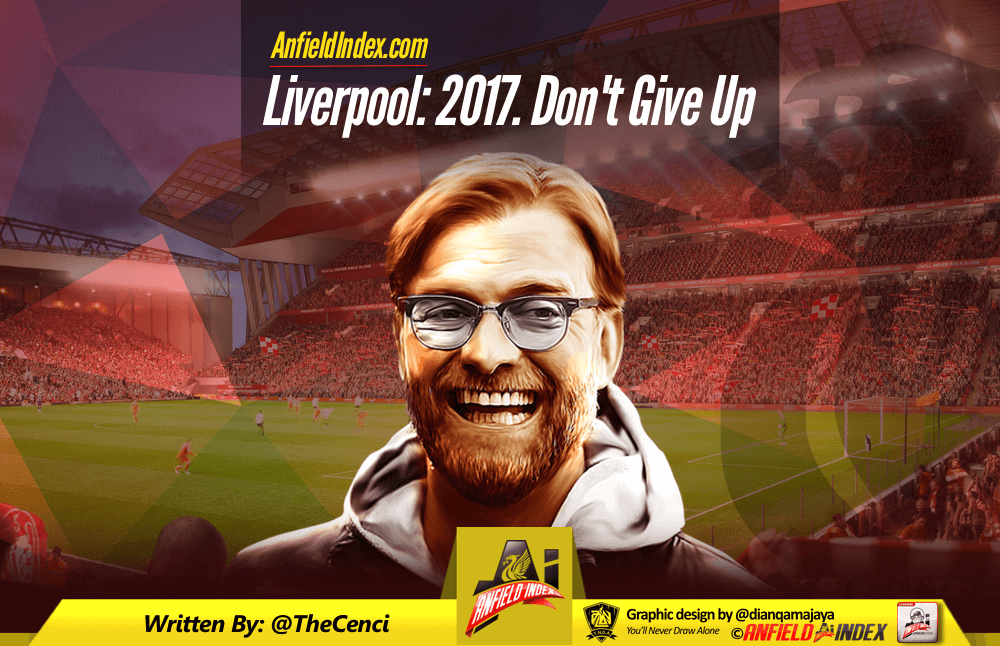 Liverpool: 2017. Don't Give Up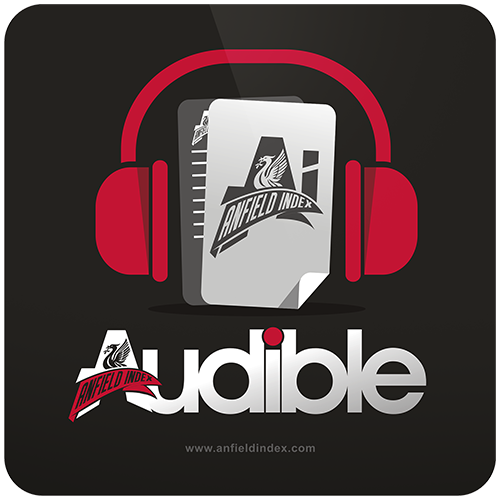 Listen to this article via @AIAudible !
Well, this is not good.
Good is the thing it is not.
On a good/bad ratio the numbers are stacked in the latter camp.

The opening seven games of 2017 have seen the Reds win one, draw three and lose three. Only at Home Park did Liverpool leave the pitch a goal in credit and that was with a predominantly second string in a pretty average game. We're just not playing well what with the first team slowing down and the manager knocking out the odd brain fart (Lallana v Swansea). 2016 may have been the year various deities (if that's your thing) killed off celebrities, but its successor seems to have it in for the lads from L4.
And yet it was less than four weeks ago when Gini Wijnaldum rose into the Anfield night and planted one into the City net. How simpler the world seemed then? A big win against a title rival and the prospect of cannon fodder to come. Can we rewind and try again?
But since then Liverpool have looked jaded and Jurgen looks at a loss at how to work it out.
The most damning image of the Swansea game was to see Klopp staring into the middle distance as the players left the pitch, as if looking for an explanation of some kind. Ordinarily he'd be issuing rib-cracking hugs to anyone and everyone in reach but that one got to him. He'd seen us be mugged, fight back like a bastard to get our wallet returned only to throw it back at the shell shocked assailant. The world's nicest team are back.
Southampton, though in a lesser competition, was more concerning. Three hours to despatch a decent team and we come back with Liverpool 0 and Liverpool 0. The game at the St Mary's was Klopp's nadir in his time here until the Swansea game came to eclipse it. It's telling that Jamie Carragher tweeted during the first game words to the effect of 'Take the 1-0 and get out of there!' We did too, but that only works if you deliver the goods in the second act. We may have been better at Anfield – difficult not to be – but the tempo was sluggish and Liverpool fell back into a characteristic panic mode.
I'm less bothered about that being a defeat though. Long's goal was irrelevant. A 0-0 draw is a defeat on nights like that.
Now, with the other Cup competition to come at Anfield on Saturday, the spotlight becomes stronger. Wolves may be 18th in the Championship but they're a different prospect to Plymouth Argyle and if I were Paul Lambert I would have taken his team up to Liverpool today to stand outside Melwood and rub their hands expectantly.
I'm not a fan of the FA Cup and don't really see why we're in it at all given what the FA did to this club in 1989 (though I momentarily revised this view when Steven Gerrard pulled his right foot back in Cardiff 2006) and wouldn't be overly concerned if we went out. It's all about the league for me. The league, the league, the league, but at the moment Liverpool need to win this not to get through to the next game. No. Liverpool need to win this just to remember what winning feels like.
And Jurgen can't win, really. Rest players for Chelsea and go out and we slump to one win in eight. Go strong and you'll have the old sweats like me asking why we're bothering when the league leaders are looking to take three more points from us. It's a good job I'm not the manager on Saturday otherwise thousands of people would be turning up at Anfield to watch Trev Downey and I play upfront ahead of a diamond formation while Daniel, Philippe and Roberto sit in oxygen tanks atop palatial mountain retreats.
I'll leave other AI writers to discuss the merits of Klopp's lack of January transfers, Sadio Mane, the FIFA/Matip farrago and other burning topics but I'll just say this. If you're looking like title challengers in November, you do all you can to make sure that you still are when the winter frost kicks in. There's working to a philosophy and sticking to your guns but there's also a paper thin squad and missed opportunities. I'm not one of the morons claiming 'We should have kept Rodgers' or anything like that but we all knew Sadio was going and yet…
What I will say is this.
Liverpool may have won one meaningless game in seven but they don't give up. We're on our arses after the last two games but this is the time you show your colours, not after 6-1 home wins in October. These are the hard yards. This is where you dig in and dig your way out of this mess. The lads are tired and the pace has gone to the AFCON, but we don't sit on our hands or limply point at hard luck stories. Blame the refs and a thousand incidents of ill-fortune all you want but they're going to Wembley, they're going to Wembley. We're not. We're not.
It's the dark moments that define us and the manner how we act that reveals the true character of the squad. It's easy to swagger when the sun is on your side of the street so this is when we show our worth. Not just the fans either. The manager, the staff and the players. To use the phrase that makes my teeth itch, we 'go again.'
I truly hate that term.
The league looks tricky and could be over by next week, but I want to see us all leave it all out on the pitch rather than feeling sorry for ourselves. This isn't over just because of a stray Ragnar Klavan ball in January. It's not over. It will never be over until basic mathematics says so.
Fuck it. Into these Reds!