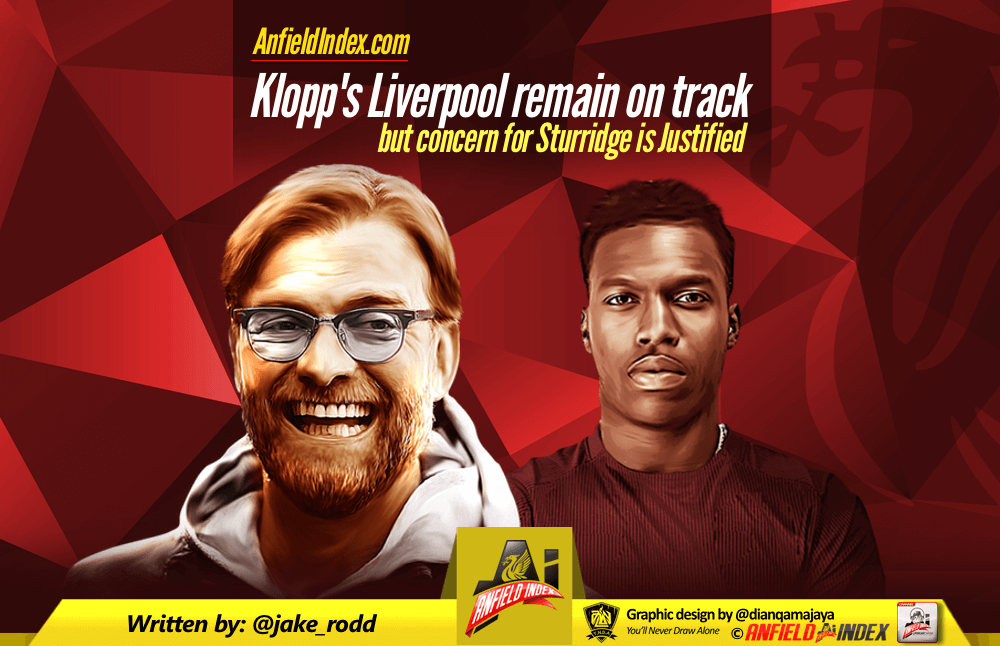 Klopp's Liverpool remain on track but concern for Sturridge is justified
It's taken just over a year for the belief in Jurgen Klopp's ability to guide Liverpool to brighter days. Liverpool's inability to capitalise on a favourites' chance to reach the final of the League Cup earlier this week completed a run of seven games without a victory and, in the eyes of some, provided all the ammunition required to point the proverbial gun at Liverpool's charismatic manager, safe in their opinion that doing so is perfectly reasonable.
It isn't, of course.
Whilst failure to reach Wembley for the final League Cup fixture was disappointing, it does not represent cause for panic. Liverpool remain on track to achieve their ultimate objective for the season – qualification for the Champions League – any domestic trophy or league success beyond that should be considered a bonus rather than an expectation.

The disappointment derives from the brilliance of Liverpool's start – sitting comfortably in the top four and within reach of the summit of the Premier League table allowed fans the privilege, and danger, of daring to dream – this, in effect, has made Liverpool's downturn in fortunes all the more frustrating.
Nevertheless, the big picture remains of paramount importance. Liverpool are on track, thus far, and this week's events, though disappointing, do not change that.
What the Liverpool's barren run has demonstrated, however, is the importance of Sadio Mane and, unfortunately, the inability of Daniel Sturridge to fill such a void. Beginning with the latter, Sturridge lacks the pace he was once blessed with, often unable to reach through balls when slightly over-hit (but still reachable) and often appearing generally lethargic in his efforts.
It would appear that a centre-forward's role is not only Sturridge's most effective position but his only effective position, at least within a set-up built around ability to press the opposition. Nevertheless, Roberto Firmino's ability to press coupled with a knack for tying Liverpool move's together using a combination of clever movement, skills and passing has seen the Brazilian tie the first-choice striker role down – Sturridge needed to fill the Sadio Mane shaped hole to have any chance of warranting  the opportunity of a starting role when Liverpool's squad is at full strength – failure to do so raises the question of either selling Sturridge or keeping him on the bench.
The best move for both parties would be a sale – Sturridge is no longer young and would therefore earn Liverpool a significant profit on the 12 million pounds he was acquired for (a sale worth between 25-35m would seem apt given tendency to pick up injury) whilst also keeping the striker from seeing out prolonged periods of his career as a backstage actor.
Sadio Mane will return after his involvement in the AFCON, but this barren spell should prove to Klopp that, come summer, another winger must be brought in. Criticisms of Klopp's lack of spending are largely unfounded – there has been little to no deals completed by any side thus far thus demonstrating that, during this window at least, the calibre of player required to truly boost this Liverpool side are unavailable for reasonable prices – it is surprising that Liverpool fans and pundits are unable to appreciate this given that last year's window was similarly uneventful for most teams including Liverpool.
Fixes must come from within Liverpool's squad – a slight change of formation to a two striker formation is one option, a more radical solution consists of Moreno shifting to left wing, Coutinho to the right, Firmino in the centre and Origi just ahead (radical in the sense that it seems doubtful that Alberto Moreno has the footballing intelligence to press as part of a unit).
In summary, Liverpool's poor results do not constitute reason to doubt Klopp's ability to steward Liverpool to success, the club remains on track to complete their primary objective. Indeed, lessons learnt about Liverpool's squad depth in wide positions could Liverpool's poor January become a positive in the long run. For Sturridge, however, the future is uncertain – a sale in summer would be best for both parties.