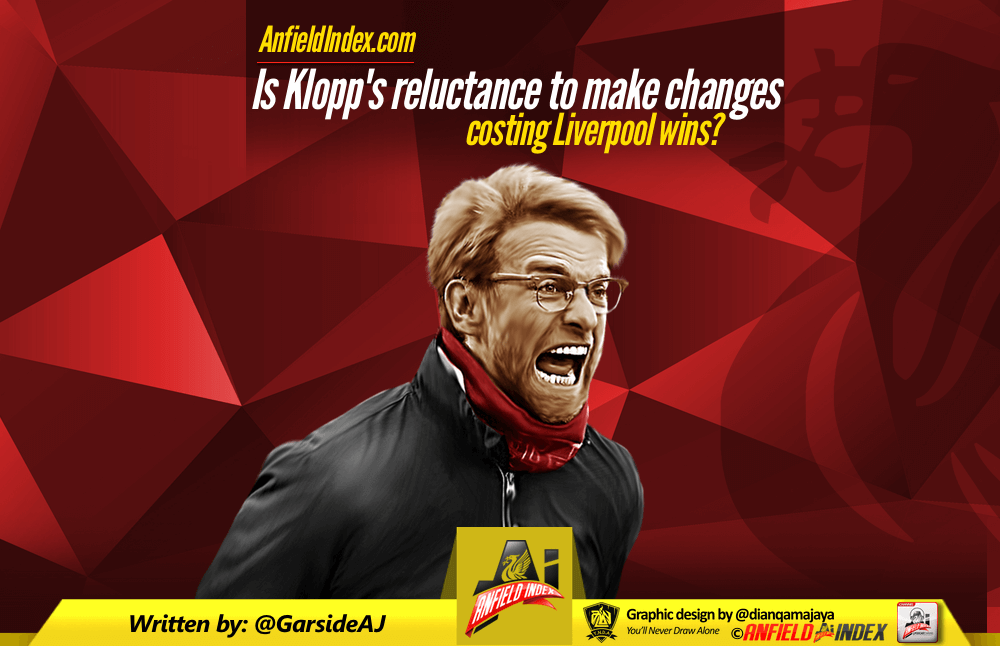 Is Klopp's reluctance to make changes costing Liverpool wins?
Editors Note: This article was written before the loss to Wolves.
So we are now twenty-seven days in to 2017 and the Reds have won just one of their seven games in the New Year, drawing three (admittedly a good point at Old Trafford) and losing three. Even taking away the results from the FA Cup and EFL Cup matches, that leaves us with just two points from a possible nine since the turn of the year; by contrast, Chelsea have six from nine, Arsenal ten from twelve, Spurs ten from twelve, City four from nine and United five from nine. Looking at the Premier League form table for the last five games, the Reds are ninth with eight points, only City out of the other top six teams aren't above us.
In those seven games, Jurgen Klopp has made fifteen substitutions, but only six of those have come before the seventieth minute. In the last seven days, Klopp's reluctance to change the eleven on the pitch earlier in games has cost us twice; in the defeat against Swansea on Saturday and the Cup defeat to Southampton in midweek. At Anfield on Saturday, the first half was as sluggish a performance as we have produced all season; but credit to Swansea, they defended very well throughout the ninety minutes. Fernando Llorente's four minute double at the start of the second period gave Liverpool a big mountain to climb, Bobby Firmino's fine header pulled Liverpool back into the game but then came a strange change from Klopp as he replaced Philippe Coutinho with Daniel Sturridge.

Now, I completely accept that Phil is still coming back from his injury lay-off so maybe an hour was right for him, but to replace one of Liverpool's most creative players with a striker who has scored the same amount of league goals this season as Gareth Barry made no sense whatsoever. Sturridge has on average lost 4kph of pace in the last four seasons, and has lost the spark he had a few years ago, and it shows; the England striker has been less effective than Divock Origi in games so far this season, so it may have made more sense to bring the Belgian on fifteen minutes earlier than he actually did enter the field of play.
Klopp said following the EFL Cup exit on Wednesday night that he was pleased with the performance of his team but obviously not with the result; it was a typical Liverpool performance in that we had the large part of the ball (72% possession) and created chances in the match (13 in total), but there was a significant lack of cutting edge shown by the Reds and guilt-edge chances were relatively non-existent. Performances from key Liverpool players weren't at the level that we have become accustomed to: Coutinho is clearly still not at 100% from his injury, Lallana was not himself at all – I'd go so far as to say that it was his worst performance of the season – and Firmino was fairly ineffective.
All this noted, it took the boss until the seventy-eighth minute to change the game; and I'll be fair to Klopp, he took off Can and replaced him with Origi, but honestly, did he have any other choice? 1-0 down, twelve minutes to play, needing a goal…
We all know that Jurgen Klopp is one of the best managers in the world, that is not in doubt; I am a big supporter of the German, when #KloppOut was trending on Twitter on Wednesday night, I tweeted my support to the Reds' boss. However, I do believe, like his predecessor Brendan Rodgers, Klopp does need to change his philosophy slightly. Klopp isn't like Rafa Benitez, rotation isn't his game really, but there comes a point when, in the current run of form we are in things need changing; whether that's a change to the starting eleven or making substitutions to effect the game earlier in matches.
Just as a footnote to this, I think this poor run of form shows how reliant we are on a small number of players and also how limited our squad is. Defensively we have all seen the strengths of Joel Matip this season, highlighted by the fact that in the three league games we have lost, he has only played two mintues; however in the ten games in which he didn't start from 11th December to 25th January we actually only conceded eight goals (three of those in the defeat to Swansea). But, the weaknesses going forward have been highlighted by the fact that we have only scored six goals in our last seven games compared to sixteen in the seven before that.
So what has changed? One answer, Sadio Mane. The Senegal international last played for Liverpool in the 2-2 draw with Sunderland on January 2nd, and Liverpool have a missing link when he is not in the side; the attacking play lacks the speed and pace injected by the former Southampton attacker, and I think our current run may continue until Senegal are eliminated from the African Cup of Nations (Editors Note: They've now been eliminated.) unless players like Sturridge, Origi and Lallana can contribute more in terms of goals. Sturridge's last was on January 2nd, Lallana's on December 27th and Origi's on December 14th. The evidence is there to see and with a quiet February coming up and a returning Mane it'll be interesting to see what impact he has on his return.