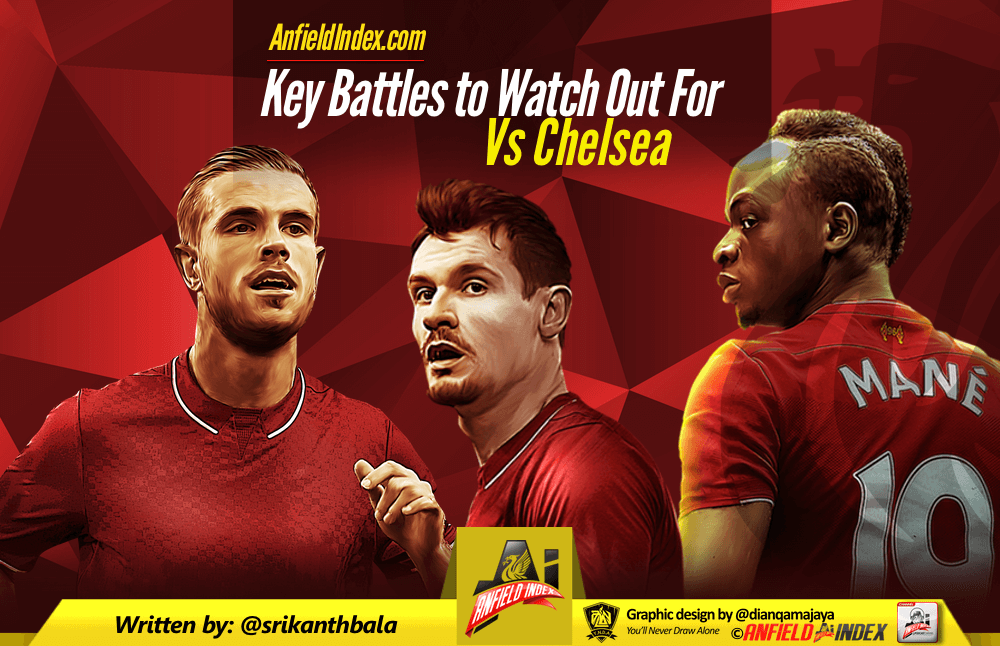 Liverpool vs Chelsea Preview - Key Battles
Liverpool are having an absolutely wretched January as they welcome the leaders Chelsea to Anfield. Liverpool have lost three home games in a row for the first time since 2012 and they would dearly want to ensure the streak does not extend to four.
The below are the key battles to look forward to in this blockbuster fixture.
LIVERPOOL MIDFIELD vs MATIC/KANTE
Klopp has preferred to line up with a midfield three in almost all of the games, hence it will be interesting to observe how the midfield battle progresses. Would Liverpool be able to make the midfield numerical superiority count?

Matic and Kante usually line up as a flat midfield pair, thus it is imperative that the advanced midfielders are able to break the midfield lines . This would force the the defence to step up or move wide to cover the attacking moves from the midfield, opening up spaces elsewhere.
EDEN HAZARD vs RIGHT BACK
Assuming Costa does indeed start, whoever lines up at the right back position for Liverpool have a tough battle on their hands against Eden Hazard. Clyne clearly seemed unfit in the game against Southampton, hence it would be interesting to see if he would be fit for the Chelsea game. If he fails to recover, the responsibility falls on the tender shoulders of Trent Alexander Arnold. Trent Arnold has looked capable enough of handling every challenge thrown at him, but Hazard would be the toughest challenge yet.
The front three of Chelsea prefer staying high up the pitch, thus enabling them to quickly counter attack. Liverpool showed in their game against Wolves that they are susceptible to pace, hence the need to stay close and tight on Hazard.
DIEGO COSTA VS DEJAN LOVREN
Matip and Lovren (assuming they both start) have a tough challenge on their hands in dealing with Diego Costa. It might not be beyond the realms of possibility that Costa targets Lovren. Lovren has been susceptible to mistakes in terms of positioning and communication all through the season, and Liverpool cannot afford any additional mistakes from their defense. Lovren needs to be aggressive, yet disciplined in his defending, something we have seen only rarely this season.
SADIO MANE vs CAHILL/ALONSO
News has just emerged that Liverpool might be bringing Sadio Mane back to Liverpool in a private jet. If Mane is indeed fit enough to start, then that provides Liverpool with a weapon that they have severely lacked in recent weeks; which is pace. Liverpool looked a different team with Mane's pace and drive.
In the Spurs vs Chelsea game, we saw how Eriksen drifted into space behind Alonso and caused havoc as the flat midfield of Chelsea preferred sticking to their position. Mane might need to do the same and exploit the space behind Alonso, which might force Cahill to step out and close him. This might even out the numerical battle for our forward line against a back three defensive line up.