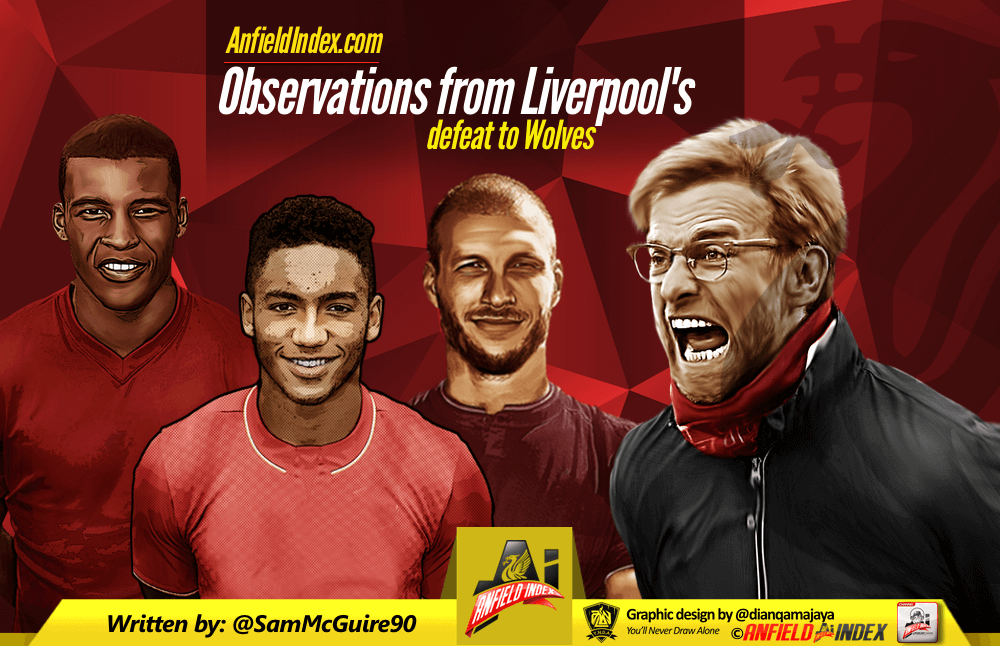 Observations from Liverpool's FA Cup defeat to Wolves
The 2-1 FA Cup defeat to Wolves means it's three defeats on the bounce now. All at home. Fortress Anfield has fallen.
January has been a bit of a sobering experience for Liverpool fans. Out of the League Cup, out of the FA Cup and we've fallen 10 points behind league leaders Chelsea, and that could be a further three come Tuesday evening when we host Antonio Conte's men.
The squad, not just the first-team, look bereft of confidence and uneasy on home turf. The fans are negative because of performances and the performances are disappointing because the players appear to be playing it safe so they don't get moaned at by the crowd.
What you get is sterile, pedestrian play with zero atmosphere at the ground. A far cry from a vocal stadium just a few months back when the team played free-flowing, fluid football and put six past Watford.
Pre-match, the team selection raised a few eyebrows and inside of a minute their concerns had been justified when Stearman nodded the away side ahead. My girlfriend turned to me and asked whether substitutes could be made inside the opening five minutes. Perhaps a little reactive but was she wrong? We waited until half-time, and to be 2-0 down, to make a change. However, it was encouraging to see Klopp make a change at half-time as opposed to waiting till the 60th minute or later. It showed he knew he'd got it wrong but even then it was too late.
Are there really any positives to be taken from a third consecutive defeat? Especially when it was practically identical to the two that went before it? The opposition comes to Anfield, sits deep and watches us pass sideways before picking a moment to hit us on the counter. We empty the contents of our stomach and either concede a goal or give away a corner/free kick. The set-piece causes chaos and results in the Liverpool 'keeper picking the ball out of the back of his net.
There's a soft underbelly to this Liverpool side and it doesn't look like Klopp is addressing the issue, not until the summer at least. Can we paper over the cracks to secure top four? As things stand it looks like it will be a struggle but Sadio Mane should return from his AFCON adventures soon so perhaps he'll spark our attack into life and the goals we score will once again make people forget about the defensive weaknesses we have in abundance.
One thing I will note though is the 352 formation we switched to in the second half. If you can't defend, which we can't, then a back three formation isn't the worst idea. We looked much better, there was balance throughout and we had defensive foundations, kind of. Coutinho seemed at home in a slightly more withdrawn role and all of the play was going through him and that's how it should be.