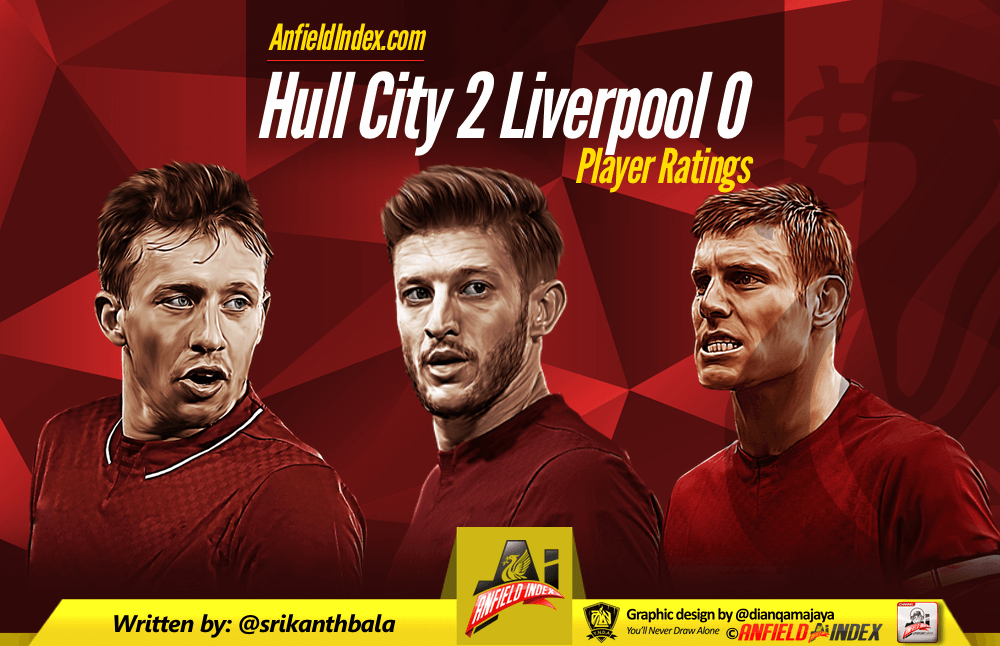 Hull 2 Liverpool 0: Player Ratings
All of us hoped that February would be better than January. But there seems no redemption for this Liverpool team as they suffered yet another defeat, another goal from a set-piece, and another goal from a route one counter-attack.
This is the worst beginning to a calendar year by Liverpool since 1954.
This is how the dismal Reds fared.

Simon Mignolet (4.5) – A keeper's main duty is to catch the ball. Mignolet failed in his basic duty. Was brave on a couple of occasions to spare further blushes. Still not good enough.

Nathaniel Clyne (5) – A significant drop-off in performance from Clyne, especially in attack. We could see the lack of confidence in him in his failure in taking on chances in the second-half.

Joel Matip (4.5) – Was pretty competent until that second goal. Headed the ball wide from a great opportunity in the first-half. The ease in which Niasse waltzed through the defence to score must be worrisome.

Lucas Leiva (4.5) – His lack of pace was exposed on that second goal. Liverpool had both their defenders covering Niasse and yet could not prevent the goal. It was quite clear that Lucas was played due to his better ability on the ball, but such to let in such an easy goal did nothing to justify his selection.

James Milner (3.5) – One of his worst games in the red shirt. Was beaten far too easily on his side and his lack of pace meant there was no catching up. Quite clearly this is Liverpool's weakness which has begun showing up far too regularly.  His set-pieces and general passing were way below the required standard too. Was replaced by Moreno late in the second-half.

Jordan Henderson (6.5) – Best of a bad bunch. His constant switch of play was very noticeable. His long passing was majorly on the mark and had an excellent opportunity turned away late on. This is the kind of performance needed from the captain when Liverpool dominate possession to such an extent.

Emre Can (5) – Not quite sure why Can was chosen over Wijnaldum considering that Wijnaldum had scored in the previous game. The Henderson-Can combination in midfield clearly is not working and this performance was poor. He was invisible in that first half and was replaced by Sturridge in the second.

Adam Lallana (6) – Reverted back to midfield as Mane was in the lineup. Struggled to impact the game in the first half from his deeper position. He grew into the game once Sturridge came on as Lallana switched to the left. He created a few opportunities but nothing came to fruition.

Philippe Coutinho (4) – Phil was just not at the races today. Gave up the ball far too easily and struggled to create any meaningful opportunity. He also missed the two easiest chances on hand which he would have put away on another day.  He still hasn't sparkled since his return from a long injury break.

Roberto Firmino (5) – Started upfront as Liverpool reverted to their most attacking lineup, on paper. Had a few nice touches and control in tight spaces, but that was about it. Worked tirelessly and was wonderful tracking back, but that is not what we want from Firmino.

Sadio Mane (6) – Mane showed what Liverpool had been missing in the last month as his outright pace opened up avenues in terms of set-pieces for Liverpool. He looked most likely to create something on this idea-bereft evening.

Substitutes
Sturridge (5) – Not the impact one would have hoped for. Had a good shot on goal late on.
Origi (N/A)
Moreno (N/A)