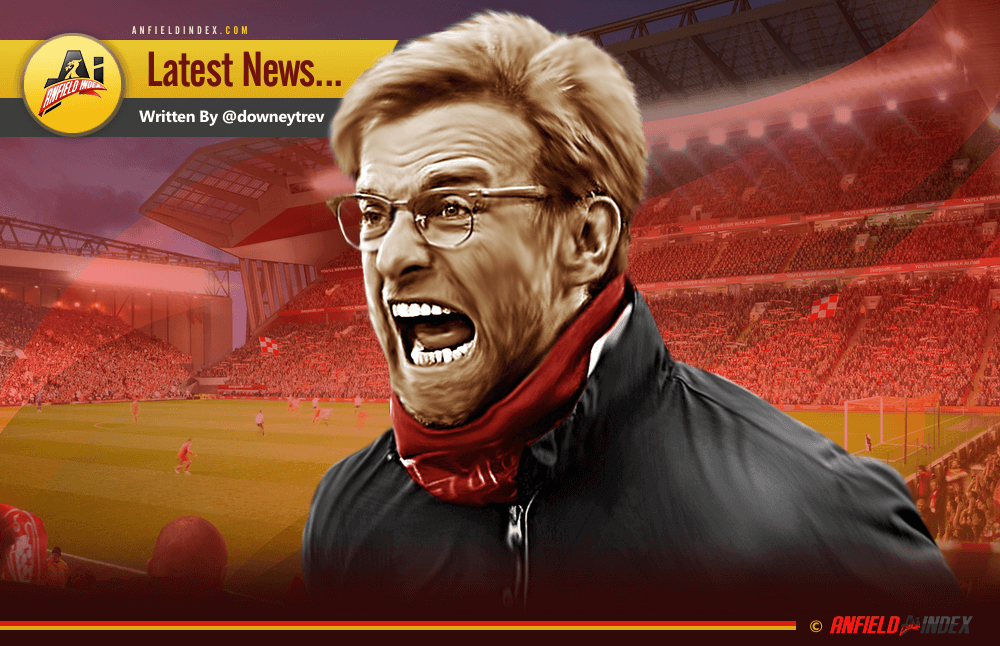 What Do Liverpool Fans Expect From Klopp?
Sometimes life serves up a day on which the only requirement is a stoical attitude of endurance. Today, my fellow Reds, is one of those days. It began, for Latest News at least, with a slow dawning of the enormity of tonight's Premier League fixture with Chelsea at Anfield and all the attendant irrationality and anxiety that such a match brings.
Before those uneasy emotions had even fully taken possession of us, we then realised that it is also Bi-Annual Jim White Screeching Day. Now, the only thing worse than Jim caterwauling about your club's potential business is Jim NOT caterwauling about your club's potential business, and that, gentle reader, is the well-documented reality for Liverpool fans tonight.
On the face of it, this peculiar combination of events does not make for a particularly edifying Tuesday. However, it truly is a matter of perspective. Realistically, we've known for weeks that there would be no superstars arriving wrapped in bows to boost Jürgen Klopp's squad, so excessive whining as the window SLAMS SHUT (we're contractually obliged to say that) seems entirely churlish.
Similarly, only a few weeks ago, tonight's match-up would have had the majority of Reds-watchers salivating and espousing theories about how Chelsea would get a pasting at Anfield. With the majority of that side available again, perhaps it would be acceptable to shake off the gloom of recent weeks and anticipate a very different Liverpool than the version that has slid meekly from two cups and down to fourth in a week.
The manager has picked up on the abject misery of so many fans and his exasperation is clear when he asks, rhetorically, if he and his charges should just roll over now that so many supporters have mentally called the season off.
"Is it allowed to go for the best position in the Premier League which is possible for us?" he wondered. "Or should we already put the head down and say, 'OK, we failed again, sorry, let's come through the season somehow and next season we try again with different players or – I don't know if somebody asked for it – a different manager'?"
Now, here at Latest News, we've been as guilty as any of lionising Klopp and buying into the concept of him as the Great Leader. There is a reason for that. He IS a great leader and worthy of most of the lavish praise that has come his way. Defeat tonight, in the greater scheme of things, should not greatly alter that perception, and yet, given the fickle and impatient nature of so many, and given the recent harrowing succession of defeats, it will alter that perception very much indeed.
In his programme notes, the manager is typically phlegmatic and attempts to refocus the wild and angst-filled eyes of the fans on the hugely significant work that remains.
"16 matches and 48 points: this is our season now," he insists. "This is our focus. When the season began we had three competitions for which we could fight to bring some special moments to LFC this campaign. We reached a semi-final of one and the fourth round of another. We can no longer do anything about the cup competitions. For this season at least that journey is over. But, in the Premier League, we remain in a really good way and we have big opportunities to make a really impressive mark on this. It is undoubtedly the most competitive this league has been for some time, possibly ever. I think glancing at the points totals of the teams in the top six and comparing it to other seasons will show this.
"We are one of those teams who has, up until now, performed really well, to a very high standard and had results to go with it. If you like, we have given ourselves a very strong base or foundation. The players have earned this position with their talent and attitude. They have put us in a good way. With 16 matches to go, we know we have a great chance to build on what we have done and make it a season where LFC challenges again at the very top of the league. This is what we want for this club at all times; it is what we are working towards. I think this is a moment where we should not be distracted by the fear of failure. Fear, if you allow it, can restrict your progress and prevent you from developing and growing. We will not allow this.
Essentially, one's attitude to today and the rest of the campaign, regardless of results, comes down to how well one can compartmentalise the disappointment and feeling of opportunities lost in the short-term. Klopp is not an idiot. He senses the frustration of supporters and feels it himself. To hear him talk about the grander plan, however, had an oddly calming influence on your scribbler.
"I do not expect for one moment that people will be happy and clapping after we lost three matches at home in a week," he averred. "I am not a silly person and I know, at a club of this stature, such an outcome will cause debate and discussion. But as the person most responsible for the outcome on the pitch, I think I know better than anyone where we currently are in our development and what big strides forward we have made since we all came back together at the start of July 2016.
"We are only just over halfway of the Premier League season. We have played well in nearly every one of those games. Of the three we have lost, until now, I think we could make a case we gave ourselves opportunities to take something from those also. So these players and this team are, in my view, as strong, powerful and capable as any in the country at the moment. After last week there will be less people than before who might believe me when I say this. But we have 16 matches where we can show what our abilities are. Each of these matches is an opportunity to show what we are and what we know we can be."
So, there you have it. You can understandably protect yourself with a shield of cynical world-weariness and be embittered by the very real experience of defeat and disappointment or you can try, like the manager, to believe in the equally real experience of recent excellence. Latest News, a hopeless dreamer masquerading as a dour curmudgeon, will always choose the latter, but I honestly wouldn't come here for advice on making good life choices.