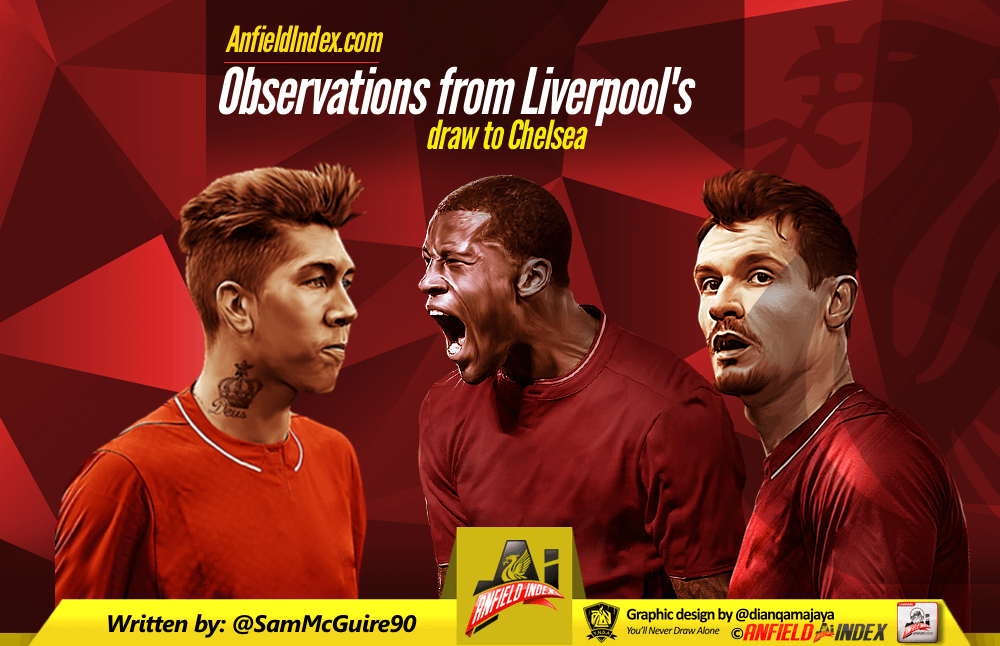 Observations from Liverpool's draw against Chelsea
"Encouraging"
That's one way to describe the performance in the second-half tonight against Chelsea. It wasn't the swash-buckling, all action, interchangeable attack we'd become accustomed to earlier on in the season but there were signs it was awakening from a winter slumber. There was movement, incisive passing and an attacking edge that we'd been lacking in recent weeks and it was good to see.
We made Chelsea, the runaway league leaders, look average. That, in itself, is quite the feat. We didn't manage to pick up a win but at least we stopped the run of defeats. It's a new month and hopefully a new Liverpool, now that injuries have cleared up.

Simon Mignolet
The Belgian may have been at fault for the Chelsea opener when he inexplicably walked away as David Luiz lined up the strike, but he redeemed himself with the penalty save. More often than not, in the past, we've seen the former Sunderland man shrink after a mistake or an error and it's had a negative impact on his game. Not tonight, though. It was good to see and hopefully, it means he's kicked on as a player.
Dejan Lovren
At one stage I genuinely thought Dejan Lovren had money on a Chelsea win. He seemed intent on sabotaging the performance with reckless decisions, mistimed lunges and general Lovrenisms. This, coupled with the fact Lucas and Ragnar Klavan have shown weaknesses recently, means it's a bit of a head scratcher that Liverpool didn't bring in any defensive reinforcements this January. Especially when you consider the fact we were happy enough to let Mamadou Sakho leave.
The return of Sadio Mane
We didn't really get to see Mane in full flight, but he showed his class when he almost set up Firmino for the winner. The Brazilian fluffed his lines but it was good to see the Senegalese speedster back in red. Will Klopp finally be able to name Lallana, Coutinho, Mane and Firmino in his starting XI against Hull for the first time since the 6-1 victory against Watford?
Roberto Firmino's missed chances
There's no doubt about it, Firmino looks better as a number nine. There's a "but" coming.
He looks better as a number nine, but he isn't quite as ruthless as you'd want your number nine to be. He missed two gilt-edged chances tonight. Chances you'd expect a world class number nine to finish, and it's not the first time it's happened this season. We aren't overly reliant on him to score the goals, but when he gets these big chances he needs to be putting them away. Can he do that?