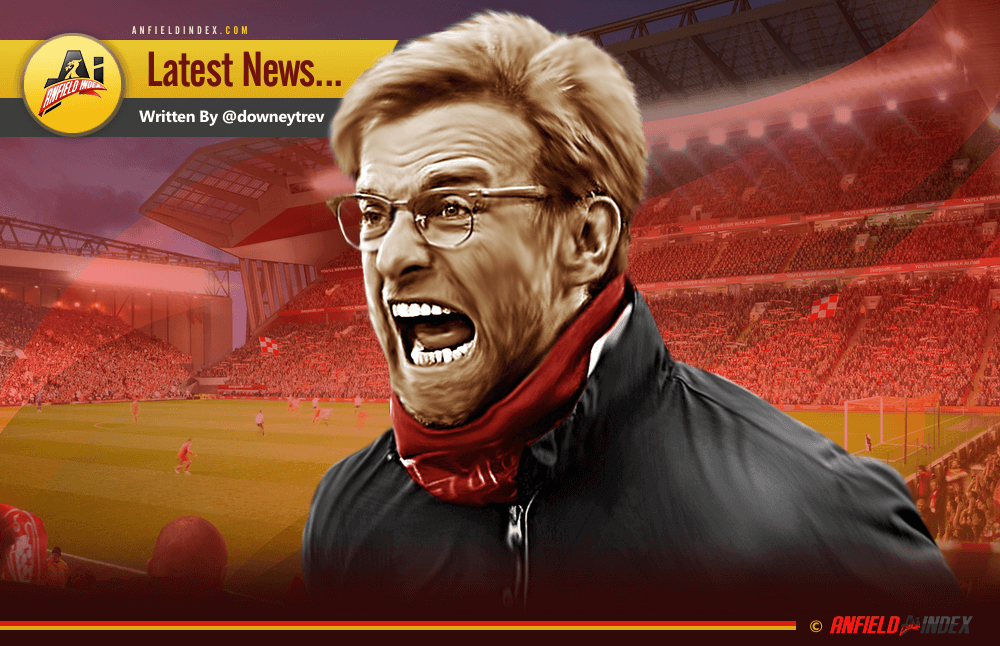 Klopp: Nobody Can Beat Us
How you viewed one particular moment of last night's draw with Chelsea probably says quite a lot about you. Now, there will never be any moral judgements from Latest News, unless you happen to be a small-handed puppet of the deep state, and so we will not hazard any guesses as to what your reaction might reveal about your character.
When pantomime villain Diego Costa had his penalty batted away by Simon Mignolet, the camera picked out a notably, well, 'energised' Jürgen Klopp. The Liverpool manager, wearing that full-on contorted mentalist expression he carries off so well, was engaged in a rather animated and one-sided 'discussion' with the fourth official, Neil Swarbrick. His mouth uncomfortably close to Swarbrick's ear, the Liverpool manager roared, "NOBODY CAN BEAT US!"
Afterwards, unprompted, the German made a point of explaining the incident to the assembled hacks in the post-match press conference, including the salient detail of the good-natured reaction of the man who had been treated to the extreme Kloppian enthusiasm.
"Sorry, I want to say something because no one has asked me about it," he revealed. "It was the fourth official thing. I know this from Germany, people writing a big story from reading lips or whatever. So 'nobody can beat us' is what I said. That's obviously not true! But it felt for me like this in this moment. I said, 'Sorry, I was a little bit excited,' and he said: 'No problem, I like your passion.' That actually I've never heard from a fourth official before so I thought it made sense you knew about it."
At this point in proceedings, a frank and full disclosure is required. As Klopp ranted at Swarbrick, Latest News was filled with a similar righteous indignation and laughed maniacally at the scene. It is not big or clever. It probably speaks to some deep character flaw, but honestly, we've never loved the Liverpool boss more. His outrage, directed against the wrong person, sure, was the visceral manifestation of our own.
This has been an almost intolerably dark period for the club. A wretched combination of shattered dreams and unrealistically raised expectations, mixing in with the cold reality of slipping out of the title race and exiting both cup competitions, has resulted in a mood of crushing disappointment and frustration amongst fans.
Last night did nothing to close a gap to Chelsea that seems now unbridgeable but on the Anfield pitch Jürgen Klopp's men regained their identity and energised those disenchanted fans again. There, once more, was the passion, the incessant effort, the moments of class, the ability to breach even the meanest of defences. There was Liverpool. Nothing is over yet.