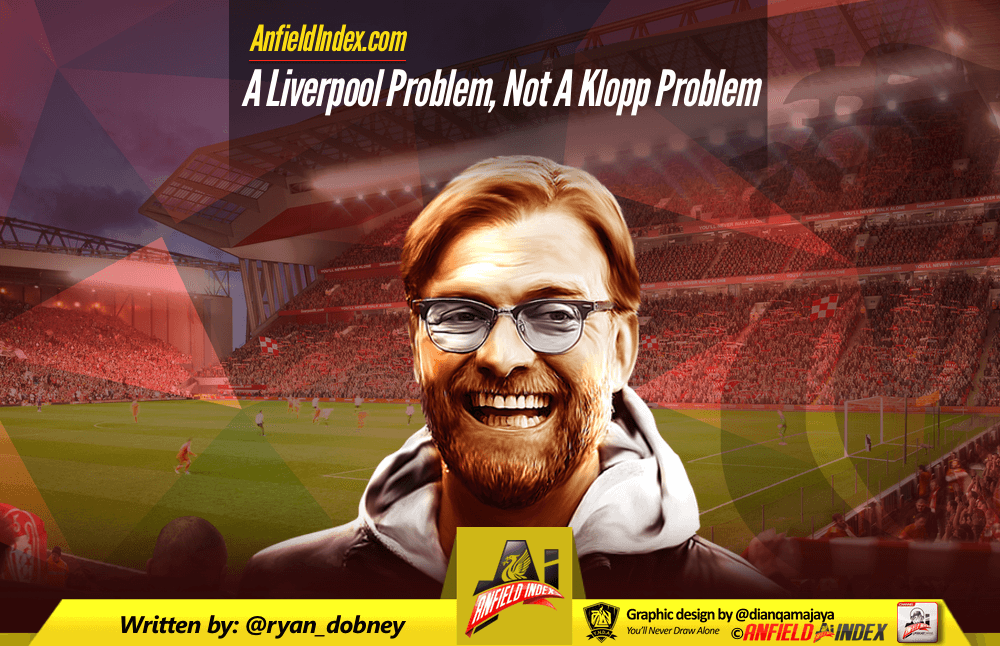 A Liverpool Problem, Not a Klopp Problem
A lot has been said recently with regards to Liverpool's latest slump in form, that saw the Reds lose three home games in a row, go from the red arrows to paper planes and relinquish their chance in two very good cup competitions.
Probably for the first time in his tenure, fans are (and rightly so) asking questions of manager Jurgen Klopp, and this is well within anyone's rights to do so.
That being said, I do have to disagree with the notion that we are hereby laying in a 'Klopp problem.' No, I believe the problem we are experiencing is one we are not alien to, and it can be summarised simply as, the Liverpool problem.

Warnings
Cast your minds back to the game week before the November international break, and Liverpool had just annihilated Watford 6-1 and Chelsea had just beaten Everton 5-0.
Yet despite this, Gary Neville had some choice words for the Premier League front runners at the time: "I think at the moment do I trust any of them to say that you're going to win the league? I'd say no."
It was there and then I was waiting for the 2-2 draws with Hull 08/09, the FA Cup final 11/12, the Gerrard slip and resulting Crystanbul episode. I was waiting for the Basle example in the Champions League 14/15, Aston Villa in the FA Cup the very same year and Champions league qualification that year too.
Not to mention the League Cup and Europa League finals last year too. Essentially, I was waiting for Liverpool to get to somewhere important in a season, as when that usually does happen, the Reds wholeheartedly bottle it. That is why Neville's words issued a timely reminder to myself, to air on the side of caution – and oh how right he was.
Déjà vu
There has been times and instances that I am yet to mention but the ideal of trusting Liverpool has been a sorry mistake, and it seems this year is no different.
It started when jubilancy was replaced with confusion after Liverpool could only manage to draw 2-2 at the Stadium of Light after convincingly beating Raheem Sterling and Co. 1-0.
Why after beating Manchester City, could Liverpool not go to then bottom of the league and put in a performance that would be a statement of potential champions?
Take away the disastrous January we have faced, it is the inability of club personnel to produce any type of consistency when, primarily it really matters and secondly when there is a real opportunity to put the gauntlet down.
This is a problem in the DNA fabric of the club, because as recent examples have seen, we are simply unable to deal with pressure situations.
This relates to my primary point, because as aforementioned this is not a Klopp problem. When looking at teams mentally being able to handle pressure situations, as much as I hate to say this, Alex Ferguson and previous Jose Mourinho teams were exemplary.
Moving forward
How do we solve this? It begins with a move away from the swashbuckling, heavy metal football.
Simply out-scoring the opposition in a manner that leads to 5-4 wins at Norwich and 4-3 wins against Borussia Dortmund is great a spectacle. Wins in that instance are fantastic but not when one is on the wrong side of the result – as was seen against Swansea.
As has been widely mentioned, it is great defences that win titles as opposed to an out-scoring policy of winning football matches. Chelsea 04/05 conceded 15 goals throughout the entirety of the season, meaning the burden on the attackers would be seismically less than here at Liverpool, who must feel under immense pressure to score goals because the thinking is the opposition will get two or three.
How will this change? With a summer transfer window where Klopp and policy makers highlight defenders as a priority. It is a must, a necessity if you will that central defenders are brought into this football club.
A balance must be found to enable Klopp and fans to enjoy the rewards his football gets up field, whilst assuring the defence is not left neglected. A move to a more balanced structure of football will surely see Liverpool be able to cope in pressured situations again.