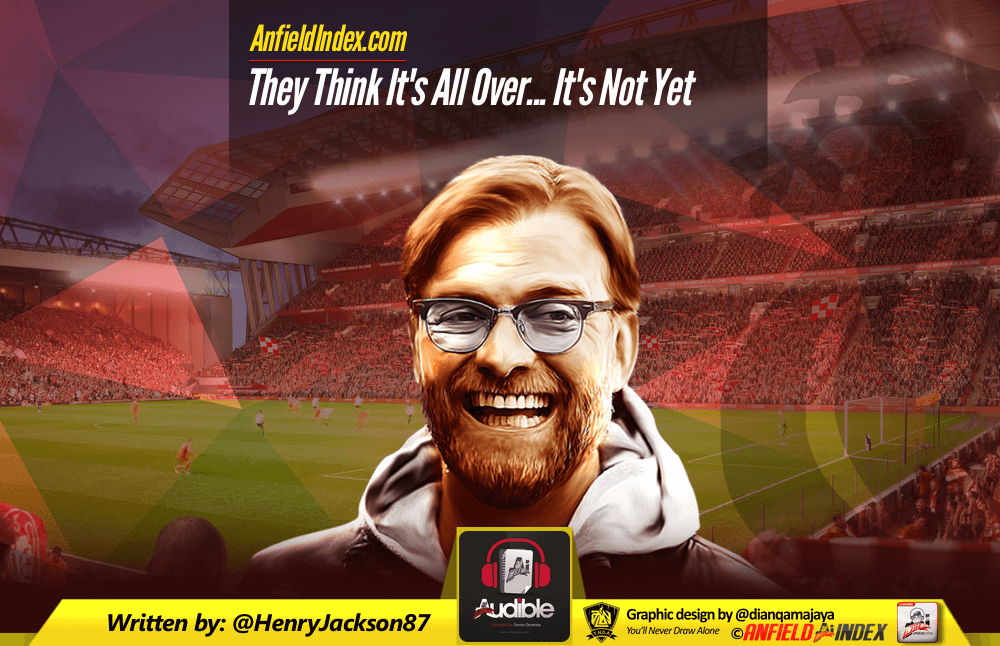 They Think It's All Over... It's Not Yet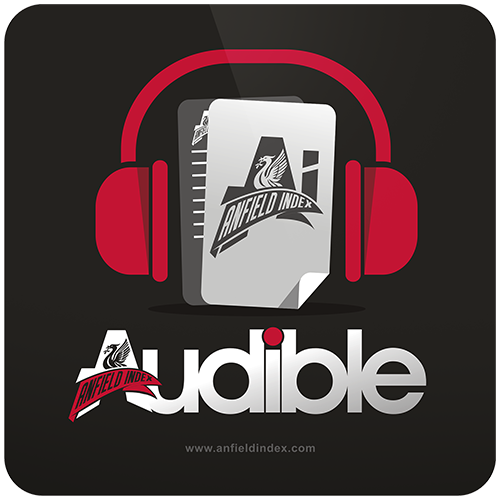 Listen to this article via @AIAudible !
For much of my Liverpool-supporting life, I've been accused of being needlessly pessimistic. I often expect us to lose every big game we play, even though Jurgen Klopp has a superb record against rivals, and prior to his appointment, I would write us off at every given opportunity. This may have been a defence mechanism, in order to soften the blow when defeats inevitably came along, but there was still a part of me that was naturally negative about the Reds.
In recent times, however, I seem to have come full circle, and now grief is coming my way because I'm "deluded" and "incapable of criticising the team". You can't win. Everywhere I look, Liverpool's title challenge is well and truly over, and a season that promised so much is dead in the water. I just don't see it.
January was undoubtedly a hideous month – one of the worst Liverpool have experienced, quite frankly – but it is still far too early to be writing the team off. The two cup exits were disappointing, but for me personally, they are not defeats that will live remotely long in the memory, and it allows the Reds to focus solely on the Premier League.

Since Christmas, the fixtures have come along at a relentless rate, while key men have either been injured or unavailable. That has exposed Liverpool's squad depth and damaged confidence badly, but that will change in the coming weeks and months. All of a sudden, Klopp's men are back to having one game a week, and as the early months of this season showed, fresh legs and time on the training ground make this Liverpool side very formidable. Add to that the return to full fitness and availability of Philippe Coutinho, Sadio Mane, Jordan Henderson and Joel Matip, and there is reason to be cheerful.
Of course, Chelsea's 10-point lead is a big one, but they are not as unstoppable as their points tally would suggest. They haven't quite look as imperious so far in 2017, and a few injuries and a couple of iffy results could make them nervy. Have we ever wanted Arsenal to win a game so much?
Leads of this size have been cancelled out plenty of times in the past, and if Liverpool can be in touch come the start of April, they can win the league. Who was giving them a chance at this point in 2013/14, when they were eight points behind leaders Arsenal?
The Reds' final eight games of the season are all extremely winnable, with their toughest match in that run either West Brom or Stoke away. Many of their opponents are unlikely to have anything to play for, so summer holidays could already be in the back of their minds, and Liverpool are a team capable of stringing eight wins together.
Not for one second am I saying that Liverpool will lift the title in May, but their chances are not as bleak as the vast majority are claiming. More belief needs to be shown.
Away from title talk, a top-four finish should not be sniffed at, should the Reds fall short in their quest for glory. It is so easy to forget that many had Liverpool pencilled in for a sixth-place finish back in August, with the two Manchester clubs looking ominous and Chelsea, Arsenal and Tottenham also tipped to finish above the Merseysiders.
Winning the league has become such an addiction to all of us, that we can't think rationally. It is bordering on unhealthy. Of course, we would all do unthinkable things to end that long wait, but finishing fourth has to be considered a good season.
Liverpool will finish somewhere among those top four positions – I have absolutely no doubt about it – and trust me, this is coming from someone who doesn't like tipping them to do well.
Manchester United are still unconvincing – their unbeaten run was one of the easiest in history – Arsenal have more points than they merit, Spurs have Europa League football to contend with (as do United) and Manchester City are inconsistent. It will be a fascinating battle to get into the Champions League places, but unless Liverpool suffer horrible luck with injuries, have no fear.
I'm well aware that the trip to Hull on Saturday has potential banana skin written all over it, but Tuesday's draw with Chelsea has left reason for optimism. The performance was much-improved, in particular the speed of the play and invention in the final third, and seeing Mane back on the pitch is such a huge plus.
Liverpool have 15 league games left this season, and no other competition to focus on. 15 cup finals. We all know how capable this team is of blitzing opponents, and if they can pick up some momentum and Chelsea drop the odd point here and there, who knows what might happen.
Be six points behind them by April, at the most, and see how their nerves hold up from that point on.
January gave understandable reason to have a bit of a moan and a meltdown, but under Klopp, this is an outfit that will respond from adversity. The manager and the players deserved some of the vitriol that came their way, but they are too good not to bounce back.
Keep the faith, and enjoy the remaining three months or so of the season. The mighty Reds will hit those heights of September and October sooner rather than later, and our rivals know that deep down.