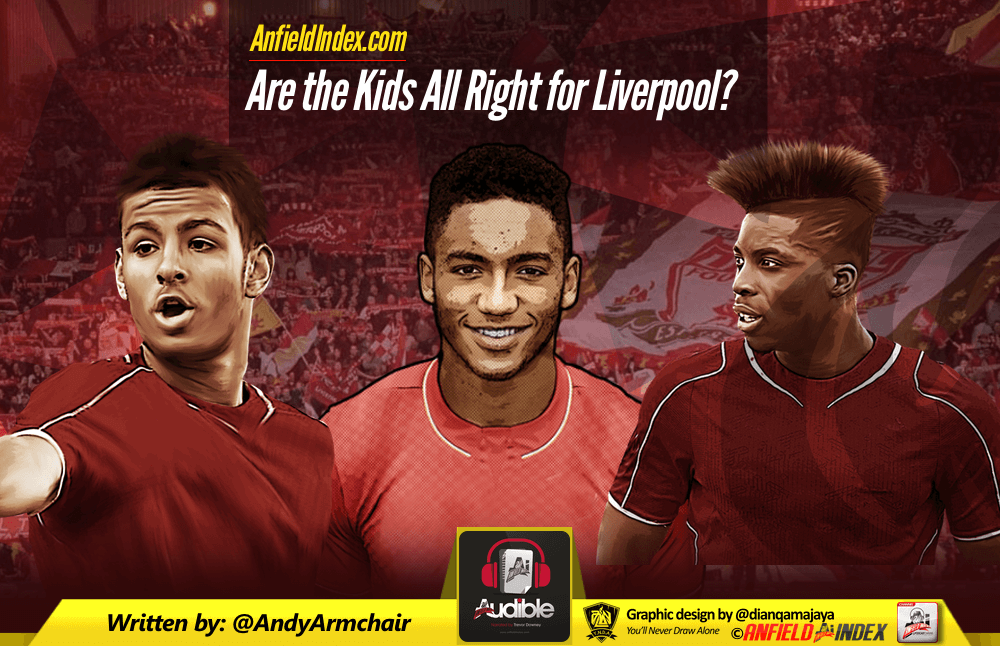 Are the Kids All Right for Liverpool?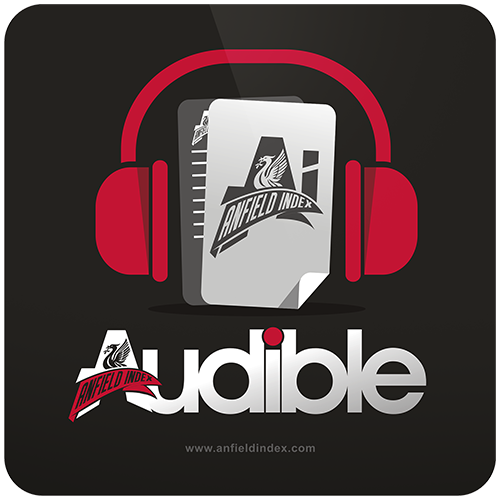 Listen to this article via @AIAudible !
Steve McManaman, Robbie Fowler, Michael Owen, Jamie Carragher, Steven Gerrard and Raheem Sterling. Six names that invoke differing opinions amongst Liverpool fans, but whatever their legacy, those six names are the only ones to have come through the youth academy system and successfully establish themselves as first team regulars during the Premier League era.
There have been others, such as Dominic Matteo, Martin Kelly and Jon Flanagan who have had spells in the first team, but never really established themselves as an automatic first choice. Plenty more, the likes of Suso, Jack Robinson, Dani Pacheco, Danny Guthrie, Stephen Warnock, Jordan Rossiter, Jerome Sinclair, Brad Smith and Joao Carlos Teixeira, emerged with high hopes of making the breakthrough, but ultimately failed to make the grade.
It can certainly be seen as disappointing that five of the six successful graduates from the Premier League era came into the team during that first decade, meaning that only Raheem Sterling has made the step up in the past 15 years. It's only fair to consider how much the Premier League has changed in that time, with the money pumped into Chelsea and Manchester City impacting transfer fees and wages, as well as the ever increasing TV deals.

The proliferation of a money culture largely saw development replaced by 'here and now' spending. The will of fans to see young players given an opportunity and forge a spot in the team too often replaced by a growing obsession with signing so-called big names as the concept of patience continually diminishes.
Another contributing factor could be the changes made behind the scenes. Rafa Benitez, unhappy with how the Academy was progressing, brought former Barcelona men Pep Segura and Rodolfo Borrell in as part of a restructuring. However, that all changed again under Brendan Rodgers in his early years as Liverpool manager. These structural, technical and maybe even philosophical changes about how the Academy should operate will not have helped establish a smooth and consistent transition from under 18, right through to first team level.
Obviously, if a player is talented enough, he should be able to make the progression regardless, but restructuring every few years cannot help that process.
That brings me onto the current crop of young players looking to make their way into the Liverpool first team under a manager with a reputation for facilitating just that. The FA Cup ties against Plymouth and Wolves were a chance for a few to prove Jürgen Klopp doesn't need to dip into the January transfer market; that there are young players ready to step up and be effective squad members, as the pressure to get results intensifies over the coming months.
Did they achieve that? Probably not.
Is it unfair to expect a youngster to shine enough against lower league opposition in the Cup, to the degree that it can convince fans there is enough squad depth? Maybe that is unfair. Especially when you consider that the number of changes made do nothing for team cohesion. It's not really the best platform for a young player to be introduced into the team and I'm sure Klopp would prefer to ease them in one at a time, when the side is playing with fluidity and confidence. That's a much more seamless transition and with the right leaders around them, provides a more nurturing environment for a young player.
The flip side to that is testing the players' character; seeing if they can 'sink or swim' tests whether or not they have the mental resolve required at the highest level. Difficult moments, defeats and loss of form are all important tests for any player because they have to know how to get through them and respond. So, perhaps Klopp wanted to test their mental capacity, as well as their footballing abilities.
It may not have been the ideal scenario, but the situation of form, fatigue, injuries and fixture congestion didn't really allow for the ideal.
What can we take from their outings? Aside from what the players and Klopp will have taken from those games, we as fans got to see another potential glimpse of the future in the shape of Trent Alexander-Arnold and Ben Woodburn. Those two didn't look out of place and although that's no guarantee they will continue their progression and have a long term future at the club, it's fair to say they look solid and realistic prospects.
Joe Gomez looked like an exciting prospect when he first arrived at Anfield and his long lay-off due to injury means it's difficult to be judgemental of some of the uncomfortable moments he had. Ovie Ejaria is another who excited fans during his pre-season outings, but failed to really impose his talent during these FA Cup matches.
However, for the likes of Kevin Stewart and Connor Randall, the future looks less rosy. Both can carve out decent careers, but sadly, they simply don't look up to the standard required for Liverpool. This may be an unpopular opinion with some, but I honestly think the same can be said of Sheyi Ojo. He undoubtedly has talent, but I fear doesn't quite have enough to impose himself upon the Liverpool team. I hope he proves me wrong and perhaps he can be an 'option from the bench', but I suspect he will want more than just a bit part role for his career and rightly so.
Recent history suggests very few young players will make the grade at Liverpool and I sincerely hope this trend changes because there is certainly some talent trying to make that breakthrough. Toni Gomes and Yan Dhanda are two names that spring to mind when looking at who might be in line for future opportunities. For me, creating quality from within is as important as signing it, to give Liverpool a healthy balance for years to come.