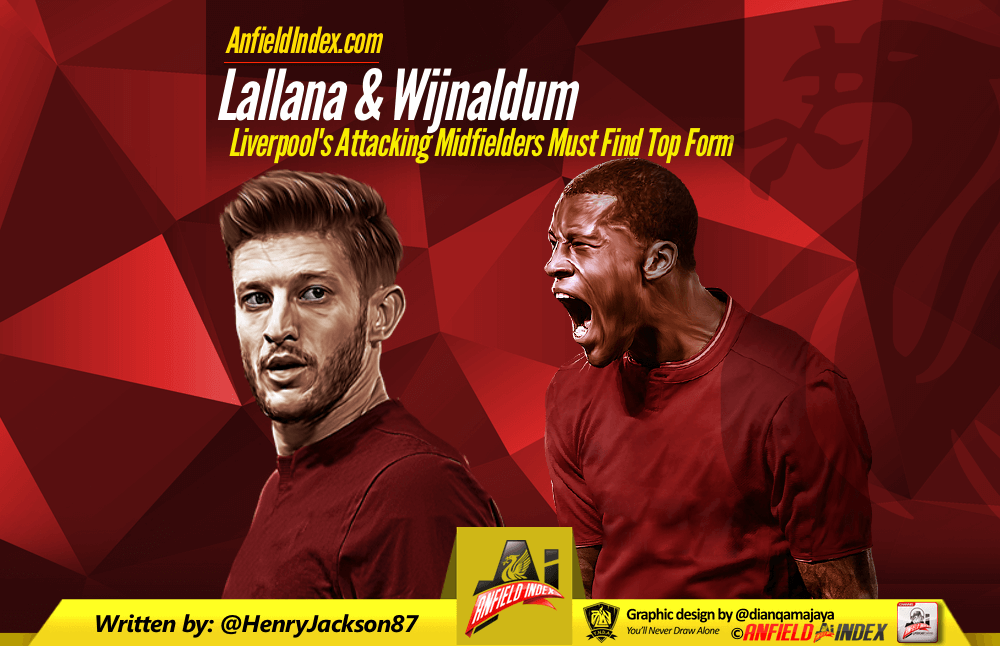 Lallana & Wijnaldum: Liverpool's Attacking Midfielders Must Find Top Form
Liverpool's season has fallen to pieces in 2017, and there has been so much talk about the loss of form of certain players, and injuries to others.
James Milner and Nathaniel Clyne have not the hit the heights of their early-season performances; Joel Matip, Jordan Henderson and Philippe Coutinho have not hit top gear since being sidelined and Daniel Sturridge and Divock Origi have fallen off a cliff.
Two players who have gone under the radar, but have been frustratingly quiet, are Adam Lallana and Georginio Wijnaldum, a duo who were superb alongside one another back in the autumn. Neither have been bad in the last month or two, by any means, but you can't help but feel Jurgen Klopp could do with more from them.
Lallana
With many predicting Lallana to be nothing more than a fringe player this season, he defied his critics with some sensational displays at the back-end of 2016. Goals and assists were being delivered at an impressive rate, and his remarkable work-rate, creativity and fluency were a big reason for the Reds topping the Premier League table.
Unfortunately, a groin injury picked up on international duty curtailed his all-conquering campaign in early November, and we have not seen the same Lallana since.
In fairness, December was still fairly productive, with a double against Middlesbrough and further goals against West Ham and Stoke, but this year has been well below-par. His last goal came against the Potters on December 27th, which means he hasn't netted in eight appearances, and his most recent assist was against Manchester City, on New Year's Eve.
In both League Cup semi-final clashes against former club Southampton he largely went missing – something he has often done in the past. Against Hull on Saturday, he along with his teammates were completely anonymous.
Part of this slump has been to do with Klopp deploying him in the a front-three, which never gets the best out of him, but his performances have still deserved some criticism. Too often, the 28-year-old has found himself on the periphery of matches, and his use of the ball has been far less inventive and a little wasteful.
Lallana was such a vital part of Liverpool's brilliance at the start of the season, and if they are to mount an unstoppable final three months to the season, they need him back to his very best.
Wijnaldum
Although Wijnaldum is more defence-minded in nature than Lallana, with intelligence, strength and movement his key attributes, he is still waiting to fully erupt in a Liverpool shirt. On the whole, he has proven to be a very shrewd signing by Klopp, but if he has been a seven-out-of-10 performer most weeks, he needs to start hitting eights and nines more regularly.
Klopp himself has said he expects more goals from the Dutchman, having scored just three times in 28 games for the Reds, and his headers against City and Chelsea showed what he is capable of in the final third.
Wijnaldum looks to be a player who is happier being a key cog in the wheel, rather than THE key cog in the wheel, but when others struggle, he cannot afford to as well.
His performance in the FA Cup defeat to Wolves was shocking, in terms of taking the easy option and not using his experience, and he let down a number of the youngsters around him. To be fair, it was a rare bad day at the office for the 26-year-old, but it was an afternoon that made you doubt whether he is capable of being influential when the chips are down.
With Wijnaldum and Emre Can seemingly tussling for one place in Liverpool's midfield – Can started against Hull – the former Newcastle man cannot afford to rest on his laurels, and needs to return to his consistent pre-Christmas form.
There is a section of the support who would like to see Can start ahead of Wijnaldum in general, but the latter offers a more understated but effective style when in full flow.
Liverpool always look more balanced with him in the side.
Big Three Months
The Reds are still right in the top-four mix despite this awful run, but they must start hitting their stride before their dream is completely shattered.
Supporters will naturally look to the likes of Sadio Mane, Roberto Firmino and Coutinho for inspiration, and Matip and Henderson in deeper roles, but Lallana and Wijnaldum are also integral to the team's success.
At their best, they dovetail beautifully together, complimenting each others' game, but we haven't seen that for a while now.
Lallana being used on the right-hand is a fair excuse to make, but only to an extent. Now that he is back in midfield, he must return to the magnificent level he was once at.
If Liverpool's midfield duo start delivering week in, week out again, the Reds will look a completely different side. For now, though, they are part of the issue.