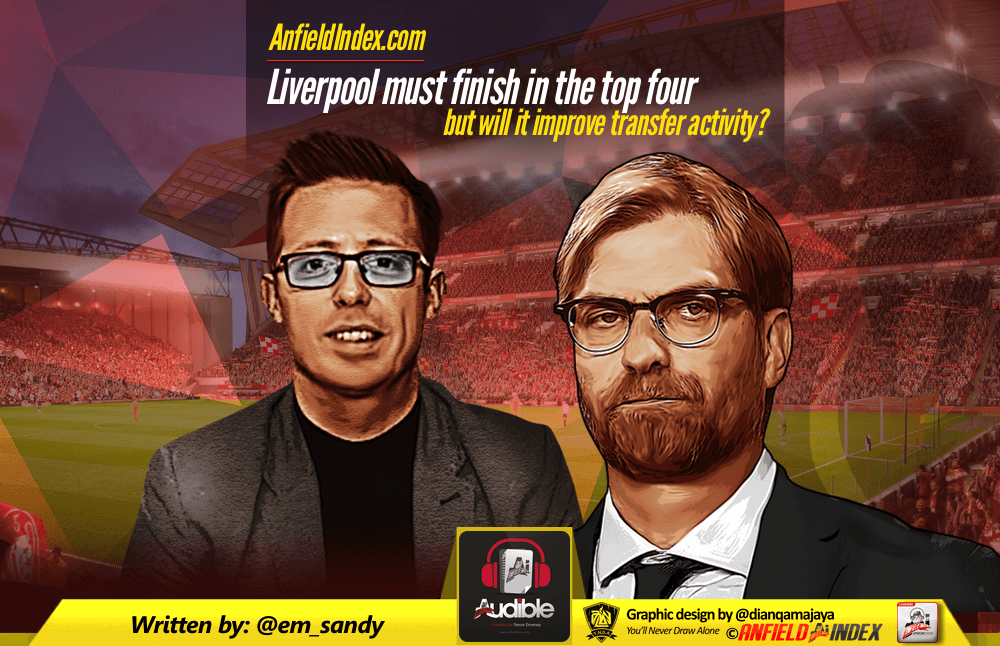 Liverpool must finish in the top four - but will it improve transfer activity?
Liverpool's ultimate aim for the 2016-17 season must be to finish in the top four and secure a place in the Champions League. All of the top teams in the Premier League are fighting to play in Europe but will Liverpool's transfer activity really benefit from competing in the elite competition?
Jurgen Klopp came under criticism in January due to Liverpool's lack of activity – and rightly so. Whether or not it was because he was unwilling to buy or Liverpool were simply unable to buy, the consequences of a lack of spending has already occurred, with the Reds crashing out of two cup competitions. The starting XI was tearing teams apart at the beginning of the Premier League campaign but injuries and absences of Joel Matip, Jordan Henderson, Adam Lallana, Sadio Mane and Philippe Coutinho were all felt at crucial points in the season.
Liverpool were hit with a busy festive period and it was the first time the squad depth was put under real scrutiny as Klopp's rotation didn't pay off. Academy youngsters were given a chance and though there was talent to get excited about, the fact Klopp made nine changes during Liverpool's FA Cup defeat to Wolves highlighted the lack of strength in depth available.

If Liverpool achieve their aim of securing a Champions League spot it will certainly be a step in the right direction but in order to stay in the competition, Liverpool must spend.
It took Klopp four seasons to build a squad capable of competing amongst Europe's best during his time at Borussia Dortmund and his side faced less domestic competition in the Bundesliga compared to the Premier League. There are no easy games in England but the same can't be said in other divisions in Europe. Some may call it generalisation but there is no denying the Premier League campaign is the most gruelling in the world.
Therefore, it's paramount Liverpool improve their squad depth and activity must be rife in the summer. The defence looks weak, even with the strongest XI available and that must be a priority. However, there are clear weaknesses in midfield too and a goal-scorer, a pacey winger and an alternative left-back are just a few of the roles which many feel would improve Liverpool's squad.
Competing in Europe tends to give teams an advantage in the transfer market. Players like Alexis Sanchez and Mesut Ozil have voiced their opinions on being part of a team which plays Champions League football. The best in the world want to compete against the best and that will occur in European competition. It is certainly a necessary attraction when fighting for the signatures of top players.
As well as elevated competition, there is of course increased finances. Any team playing in the Champions League will receive bonus pocket money and teams like Chelsea and Manchester City have proven how effective a large bank account can be. A common demand from top players these days are large wages and the two seem to go hand-in-hand.
Liverpool are one of the most successful clubs in England and the history of the club speaks for itself. The fan base is huge and some of the best players in the world have worn the liver bird crest. With Champions League football, one of the best managers in Europe and high wages – which Liverpool would be capable of providing to one or two players – there is surely enough attraction for players should the Reds secure a top four finish.
On paper, that improves Liverpool's chances of bringing in the best talent. However, Klopp's past transfer activity suggests it is not the route Liverpool would take.
At Mainz and Borussia Dortmund, Klopp spent just over £30 million across 14 January transfer windows. The majority of his activity took place in the summer but even then, he was reluctant to spend. He focused on exciting talent who were largely under the radar and he completed some shrewd business to bring them to Germany. At Dortmund, Klopp signed just five players for £10m or more and some of those stars went on to become some of the biggest names in Europe. Henrikh Mkhitaryan was his most expensive signing, costing £23m , while Marco Reus and Pierre Emerick Aubameyang cost £14m and £11m respectively.
Mats Hummels, Robert Lewandowski and Ilkay Gundogan all cost less than £5m which is incredible given their success and the paths they have taken since.
In summary, Liverpool's transfer activity has the potential to improve with Champions League football but it may not transform the club into big spenders like some fans are hoping for. It will certainly help Klopp bring in some of Europe's brightest young talents – like Christian Pulisic who Liverpool missed out on this season – but the manager's transfer philosophy is unlikely to change.
Klopp will still look to bring in players at a bargain price and he will be reluctant to spend more than he believes they are worth – even if that means conceding defeat to another Premier League rival. He will want to build but he does not want to buy a squad. He will select players across several transfer windows before he expects to reap rewards. Liverpool knew what they were buying into when they named Klopp as the new manager but fans must appreciate he sees the club as a long-term project and success may take time.