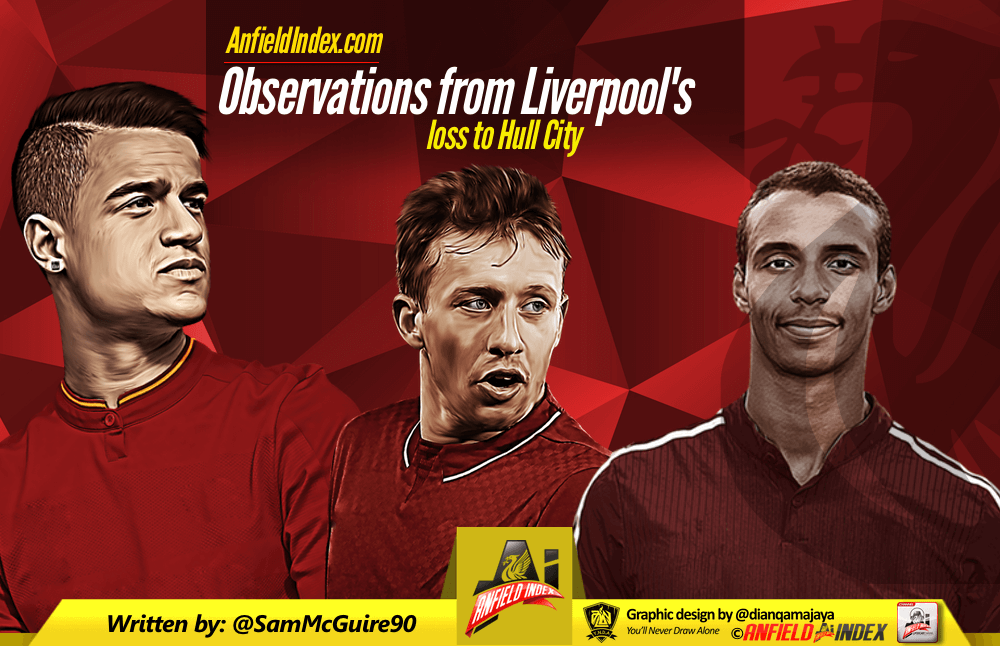 Observations from Liverpool's loss to Hull City
Hull City didn't read the script. The return of Sadio Mane was supposed to spark a Liverpool revival. Goals were supposed to flow, the Reds were supposed to get back to winning ways, and I was supposed to have a good weekend. Marco Silva's men just gave me the middle finger and continued their resurgence.
The 2-0 defeat now means Liverpool have won just one of their last 10 matches. During that spell we've played Plymouth twice, Swansea, West Ham, Sunderland and Hull City. This isn't arrogance or having a superiority complex but you expect a team with Champions League aspirations to be finishing those teams off with relative ease. If we can't beat them we don't deserve to finish in the top four and at this rate, we won't be. These results mean whenever we do well against a Manchester City, a Chelsea or Manchester United, it's completely pointless.
We look good in the top 6 mini-table but you win f*ck all for that.

Groundhog Day 
Dominate possession, gift a sloppy goal, throw men forward and get hit on the counter. We've seen this before, haven't we? Time and time again. I'm in a perpetual state of confusion with regards to how we've yet to come up with any answer to this and why, despite it not working for well over a month now, we've yet to freshen things up?
We've just had an entire month to improve the squad yet resisted the urge because teams wouldn't sell. A bit of a cop-out given that every player has a price. Offer enough money and you can land just about anybody. Why does it only appear to impact Liverpool though? All the good work from the first half of the season could genuinely be undone in the space of six weeks and what looked like a potential challenge could end up being a fight for Europa League football – just what we didn't want.
What do we do in training? 
Why can't we defend set-pieces? The opposition wins the first ball and then amazingly find themselves in space in our penalty area as they fire home the second ball. It happened against Swansea, it happened against United and it happened today. How many times does it have to happen before something is genuinely put in place to stop it? It's costing us.
Teams know they can just sit deep, frustrate us and then score from a set-piece. It's as though there is an instruction booklet for how to pick up points against Klopp's men. As soon as you become predictable, which we are, points become scarce.
Coutinho in midfield
I'm all for Coutinho playing in midfield but not at the expense of Firmino being used as a left winger. If Klopp felt we needed creativity in midfield why not use January to sign someone like that? Or if he intended to use Coutinho there why not sign a left-sided attacker which would mean Firmino could stay in a central area? With every passing week the questions that people are aiming towards Klopp increase and the frustration bubbles away.