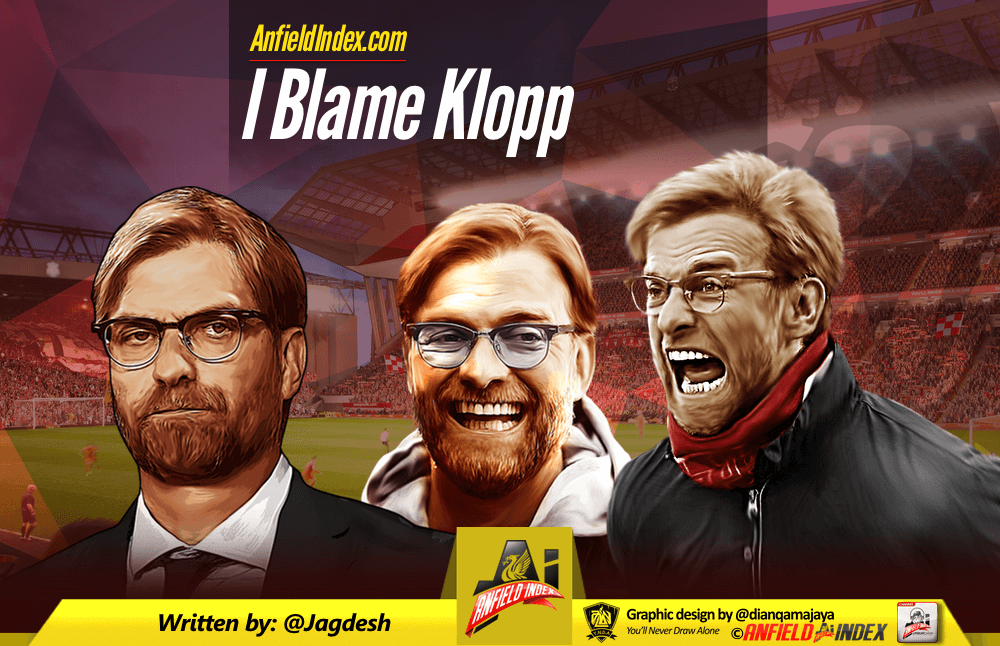 I Blame Klopp
Deflated. Like a sugar high that suddenly disappeared and the child is lethargic. No more laughs. Tantrums are thrown without actually knowing why that high disappeared. That's how it felt for me after the 2nd goal was slotted in between Mignolet's legs and Hull City ran away with the 3 points.
I was distraught. That happens when you harbour so much of hope about five weeks back. So much hope of challenging for the title until the very end because we looked the deal. We really looked like the dog's bollocks, our attack striking fear and our play so feverishly addictive. I was so cock sure we would finally announce our arrival as a challenger for many a season to come, this season being a warning shot. And then, when unraveled, that hope which was so strong and solid, fell down to the ground clumsily and painfully, almost as comical as a Charlie Chaplin stunt.
It doesn't take a genius to know that the challenge is limp as a flaccid penis now. And we don't live in the realms of Hollywood nor Bollywood where miracles happen and every other club fucks up in the next few weeks for us to make up ground. We don't. Full stop.

And protocol insists that we must begin the blame game. Some of us had begun way before the collapse yesterday. Take your pick. Klopp? FSG? Individual players? The FA?
Personally, I put all blame on Klopp. No two ways about it. I don't blame him for his selections. I don't blame him for his tactics. Nor his in game management. Nor his treatment of players while instilling his team ethos. Nope, none of that is to be blamed. But I bloody blame him for making me believe and hope again. He made us all think it was possible to challenge for the title by building on potential, by drilling intelligence into players that weren't very intelligent in the first place. He made us believe buying new and better players wasn't the only way to Utopia. But evidently that belief has taken a huge dent yesterday. Massive dent. It shouldn't have because the first half of the season wasn't a fluke and he's earned that right to make us believe. Still, you're only as good a manager as your last game. That's the reality today. Fickle. Black and white. No grey areas. Pendulum with peaks and valleys.
Realistically speaking, and we all know this very well, we were only aiming to get into the Champions' League spot. Progress on a steady upward trajectory chart would arguably mean a couple of positions from where we ended in the last 2 seasons. And in the Champions League. That is progress and that was what we've all been screaming for after Rodgers was asked to leave. Challenging for the league is the bonus we never expected thinking that is was a lottery of sorts. And here we are now, finally settling down to challenging for the 4th place. And progress has already been made evident for us all.
But why is it such a bitter pill to take? Because, if you've waited for 26 years, and because you've been ridiculed as has-beens for nearly all your adult lives, anything that gives you hope for the title, you grab. You grab like that teenager who sees his favourite porn actress actually in his living room giving him the eye after watching her on video since your first erection.
And for this, I blame Klopp. The title gave me the eye because Klopp made me believe. And hope, like that idea you plant using Inception, is a very hard thing to kill. You can't kill it even if you had all the logic and facts to back you up. It's indestructible. It can only be killed when the one that made you believe makes you un-believe it. Like when Rodgers did in the season he got sacked. Klopp knows this. He knows no excuses will make do. He just needs to keep the believe alive, not with excuses, but by revitalising the team that he used to make us believe. Again.