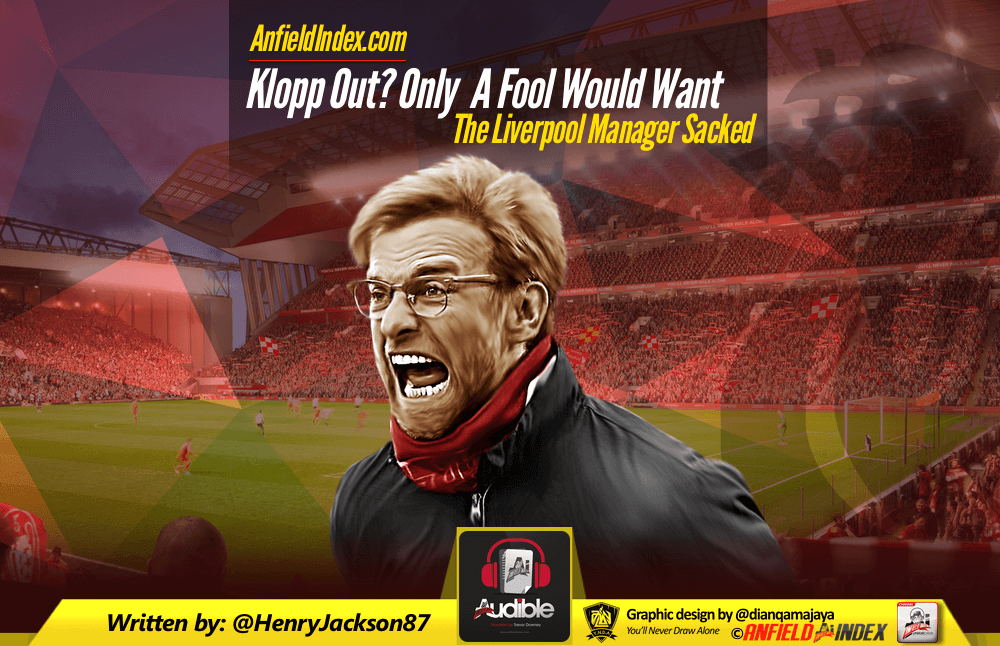 Klopp Out? Only A Fool Would Want The Liverpool Manager Sacked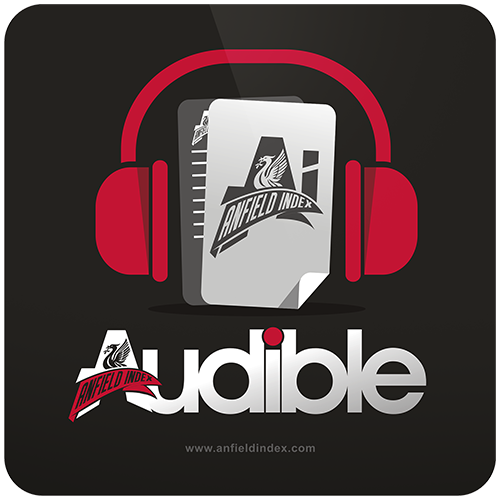 Listen to this article via @AIAudible !
Remember those optimistic Autumn days of 2015, when the entire Liverpool fanbase felt as united as it had done for many years? It was glorious.
The arrival of Jurgen Klopp was an incredible statement of intent by the club, and the reaction that followed his appointment was bordering on hysteria. He was the one we all wanted, unless you were trying a bit too hard to be different and whinging about his "rubbish final year at Dortmund".
This was a genuinely world-class manager – one of the top five on the planet – and he had chosen to take charge of a Liverpool side in tatters after the disastrous final 12 months of Brendan Rodgers' reign.
Anything felt possible, and at times you had to pinch yourself to realise that this perfect fit of a manager had actually made the move to Merseyside.
Fast forward 16 months, and before our very eyes we are witnessing the impatience and fickleness of the modern football supporter.
Granted, Liverpool's season has fallen to pieces since the turn of the year, with just one win in 10 matches, but there have been actual calls for Klopp to be relieved of his duties. It's the equivalent of people saying Steven Gerrard should have been solid in 2002/03, after a drop in performances.
The opinions of many in football never cease to amaze, but for any sane Reds fan to want Klopp out is one of the most baffling I can ever remember. They have to just be doing it for a reaction, surely?
Who are the club possibly going to replace him with that is better? I'm annoyed that I'm even having to write that sentence, quite frankly.
Klopp is not immune to criticism, as can sometimes appear to be the case. He deserves flack for making selection errors of late and not getting the best out of his players, and his use of substitutes has also been frustrating. The rest of his time at Liverpool will not be without errors – after all, that's life.
The progress that he has already made in the Anfield hot-seat has been huge, though. It might not feel like it at the moment, with Hull the latest side to ruin our weekend, but this is a very different team to the one that looked so disillusioned upon Klopp's arrival.
Liverpool are already 12 points better off in the Premier League than they were at this point last season, and at the halfway point of the campaign, they had amassed their record points tally at that stage since the league's inception in 1992.
Some of the football has been breathtaking – the best in the country when in full flow – and in Joel Matip, Georginio Wijnaldum and Sadio Mane, Klopp has made three very successful summer signings. Don't forget reaching two cup finals, even if the performances in those actual games were below-par.
A superb first 14 or 15 months in charge should not be forgotten, just because January and early February have felt like Roy Hodgson levels of misery.
This is a bad blip, but one that will be evaporated sooner rather than later. Klopp is far too good not to turn things around, and once key players are back to their fittest and legs have been rested a little more, we will see this Liverpool team soar again.
Getting rid of Klopp now would be one of the biggest mistakes in the history of the club, and fortunately, it will be something FSG are not even remotely close to entertaining. They are logical people, at the end of the day.
Calls for the manager to be sacked really is proof that some supporters will never be happy. Not until Liverpool literally pick up 114 points in the Premier League and lift the Champions League, FA Cup and League Cup in one season will they be content. Even then, the following season would be met with negativity because they haven't repeated the feat.
Managers have bad spells, it's as simple as that. Bill Shankly and Bob Paisley did incredible things at Anfield, but they also suffered poor runs of form and has questions asked of them. Kenny Dalglish was no different when he took charge, and the same can most certainly be said of Gerard Houllier and Rafa Benitez.
Switching our attention away from Liverpool, it is common knowledge that Alex Ferguson was one game away from getting the chop at Manchester United in 1990, before saving his bacon and dominating English football for the next 20 years. Despite United winning endless trophies, they still endured dips in form numerous times under Ferguson. It happens.
Now of course, should the Reds continue their rapid descent out of the Champions League places this season, buy badly in the summer then do it all again next season, Klopp would be deserving of more criticism and the concern would be understandable.
Not currently though, for goodness sake.
These bizarre calls for him to be replaced are beyond belief, and (hopefully) without sounding too rude, you may as well be done with football if that's how you see the current state of affairs.
Klopp will bring the glory days back to Liverpool. It won't always be plain sailing, and his style of football does risk there being some grim days at the office, but it is still such early days for him. This is still his first full season!
The 49-year-old is in it for the long haul, and as he continues to perfect his squad and get to know Premier League football inside out, we will see Liverpool edge closer to the summit of the English game.
The early-season brilliance raised expectation levels too high, and it has worked against Klopp and the players. Fourth place in February is something we would definitely have taken back in August, and while 2017 has been horribly depressing so far, the next three months will be much improved.
Every Liverpool supporter is entitled to their opinion, but if you honestly don't think Klopp should be the manager, I'd question both your knowledge and loyalty as a fan.