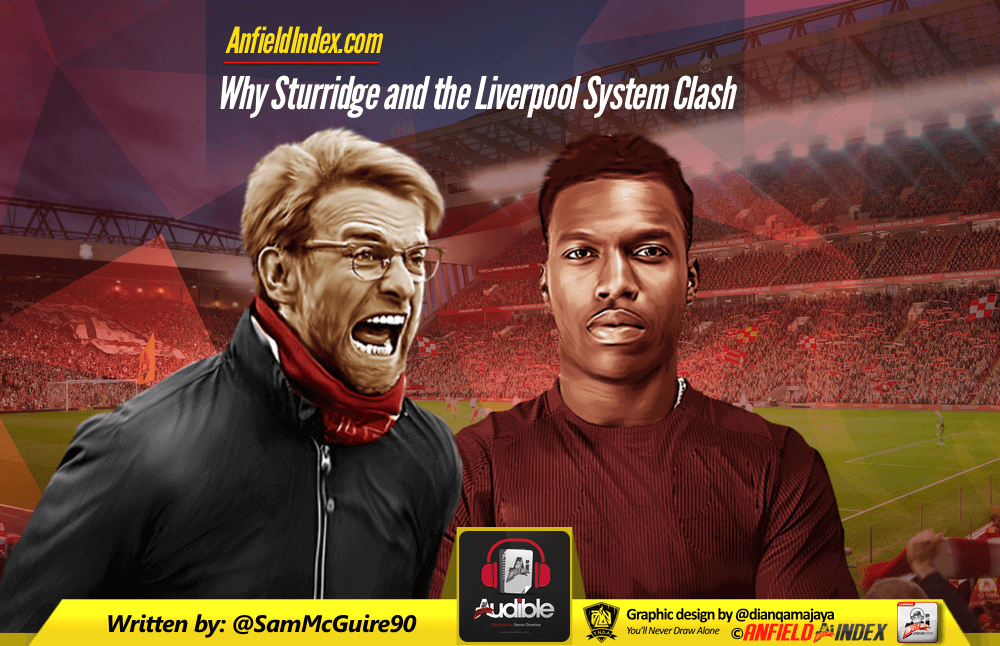 Why Sturridge and the Liverpool System Clash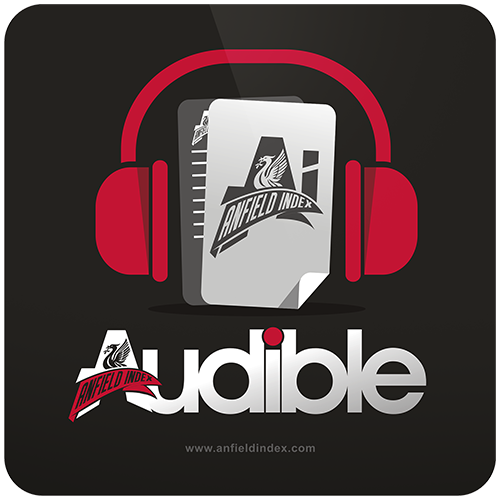 Listen to this article via @AIAudible !
The Daniel Sturridge "will he or won't he leave" saga is now more drawn out than the "will Ross and Rachel get it on" storyline.
Just when it looks as though the tide has turned and the majority want him sold he scores a striker's goal which reminds everyone exactly what he can offer and exactly what Liverpool miss from time to time. It's a destructive relationship but I'm not quite sure whether player, manager and fans are ready to give up on it just yet.
Over recent weeks Jurgen Klopp has been turning to Sturridge a lot more. Does increased playing time mean there's a future for him at the club or is it simply a manager using the weapons currently at his disposal? There's no clear answer right now and there won't be now until the summer. However, if recent performances are to go by, it's clear that Sturridge and the Liverpool system aren't a match made in heaven and perhaps it's time to put and end to this relationship before resentment completely takes over.

Daniel Sturridge's Performance Against Southampton
The 27-year-old's performance against Southampton was a bit of an eye opener. He missed what many would consider to be a few sitters by his high standards but it wasn't his performance on the ball that was interesting. It was how he influenced the game off of it which should be worth looking at.
Liverpool haven't been incisive enough over recent weeks. It was a dry January in terms of goals for the Reds as they averaged just the 0.8 goals per 90 minutes despite playing, on paper at least, inferior opposition. Teams lined up against Klopp's men with a clear tactic in mind; sit deep and smother the space in front of the defence. Most of them executed it.
But against Southampton, in the home leg of the Capital One Cup semi-final, Liverpool managed to carve out a few openings.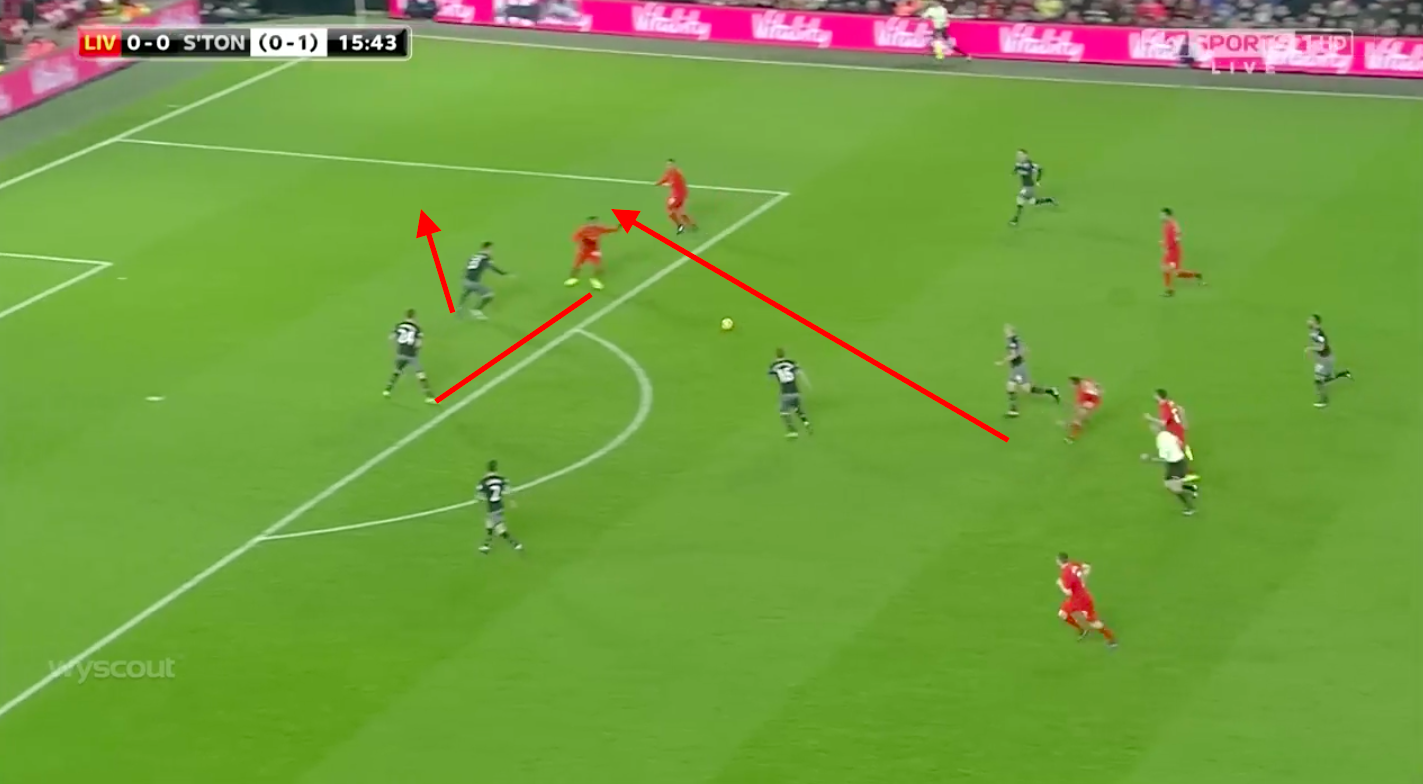 One such opening comes from the above piece of action. Liverpool regain possession in a dangerous area and Philippe Coutinho is able to thread an exquisite ball through the disjointed Saints midfield as they get caught transitioning from defence to attack and back to defence.
The Reds have a man over on their right as both Sturridge and Roberto Firmino occupy a similar space. Southampton are stretched and if worked properly there's a golden chance to get back into the game for the home side.
What ideally needs to happen here is Sturridge dummies the ball and makes his way into the area centrally. Firmino latches onto the pass and either drives towards goal and fires in a shot or he looks to play in Sturridge. The pair are intelligent enough to work that into a goal.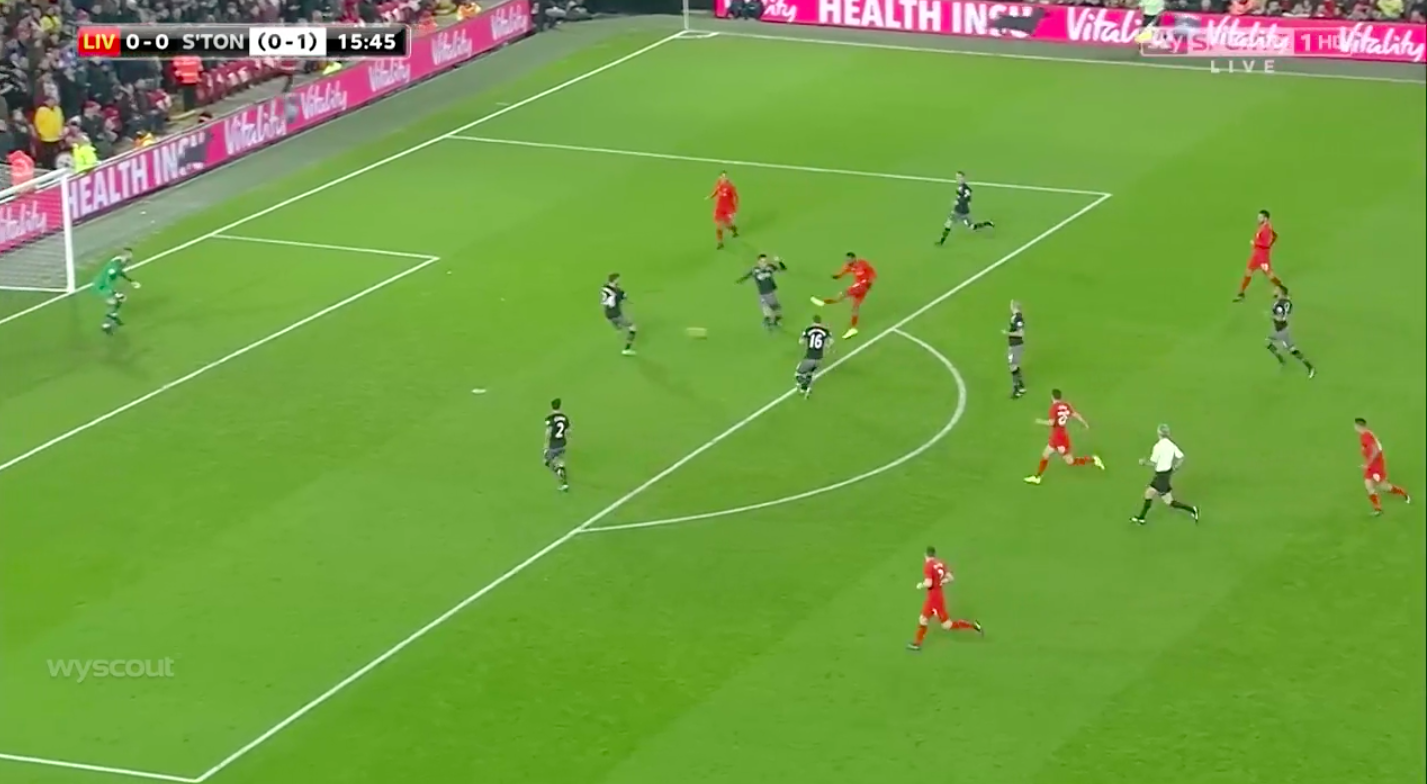 For whatever reason it doesn't happen. Sturridge doesn't leave the ball and instead picks it up and turns onto his favoured left foot before firing the ball in and it's not really a problem. Instead of looking to exploit Saints' defence by splitting them, the Liverpool number 15 just turns into danger and makes it an easy situation for them. He's selfish because he's a striker but the Liverpool attack really flourished at the beginning of the season because of the selfless movement from the attacking trio. They wanted the team to score instead of getting on the scoresheet themselves.
Sometimes it's beneficial and sometimes it's not. What's clear here though is Sturridge turned what was potentially a golden opportunity into a routine save.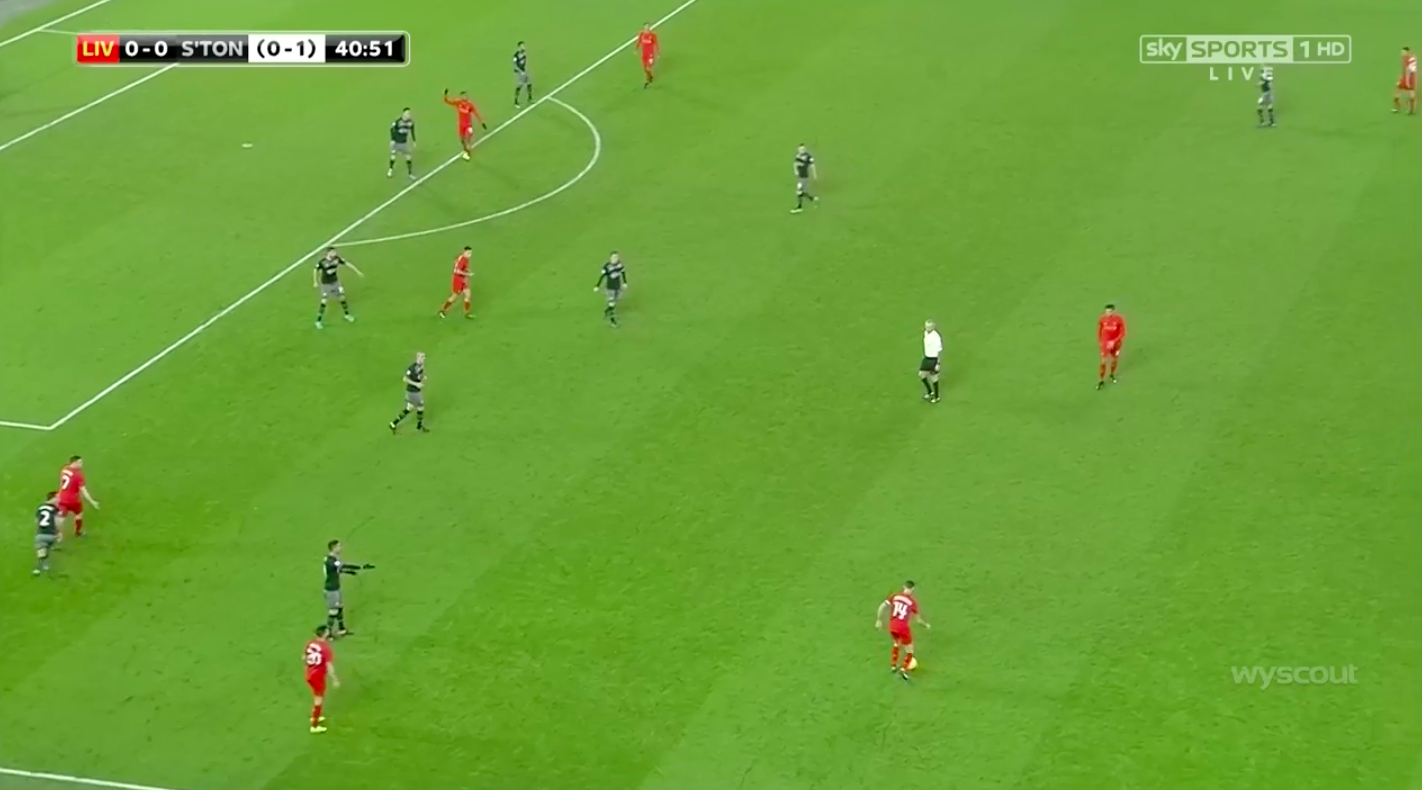 Liverpool are often accused of being a little too safe in midfield with their passing. There's a lot of validity to these claims. However, against Southampton there was one instance which made Sturridge stick out like a sore thumb. In the above picture you see Coutinho, Sturridge and Firmino fairly evenly separated on or around Saints' 18-yard line. Henderson plays the ball to Emre Can.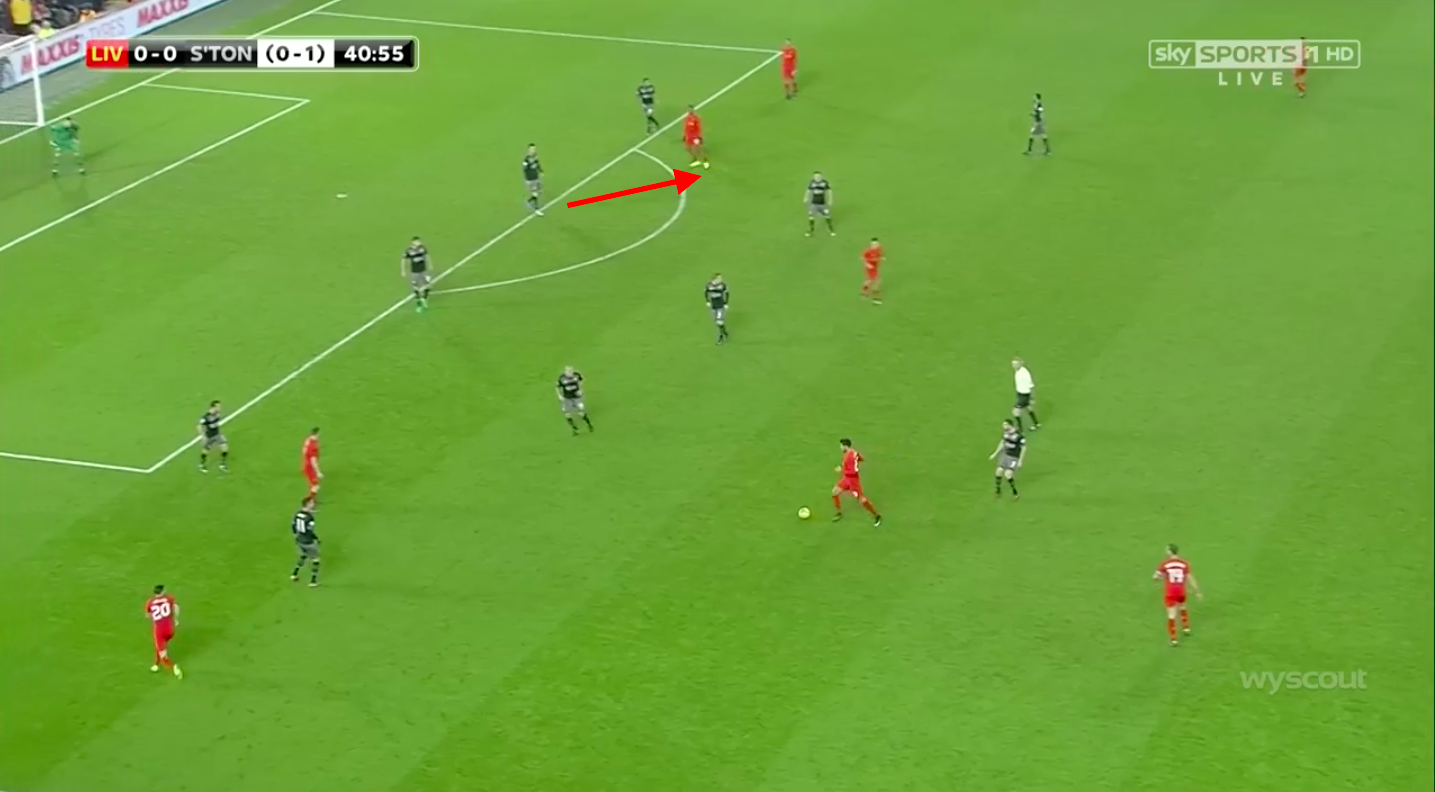 The German picks the ball up, evades the press from the Southampton player and carries the ball forward into space. You'll see how Coutinho has drifted into a central area ahead of the Saints midfield but nobody has filled the space the Brazilian vacated. It means Emre Can only really has James Milner and Adam Lallana to pass to on his left, down the flank and not centrally, but the away side have extra men in that area of the pitch to see out any danger.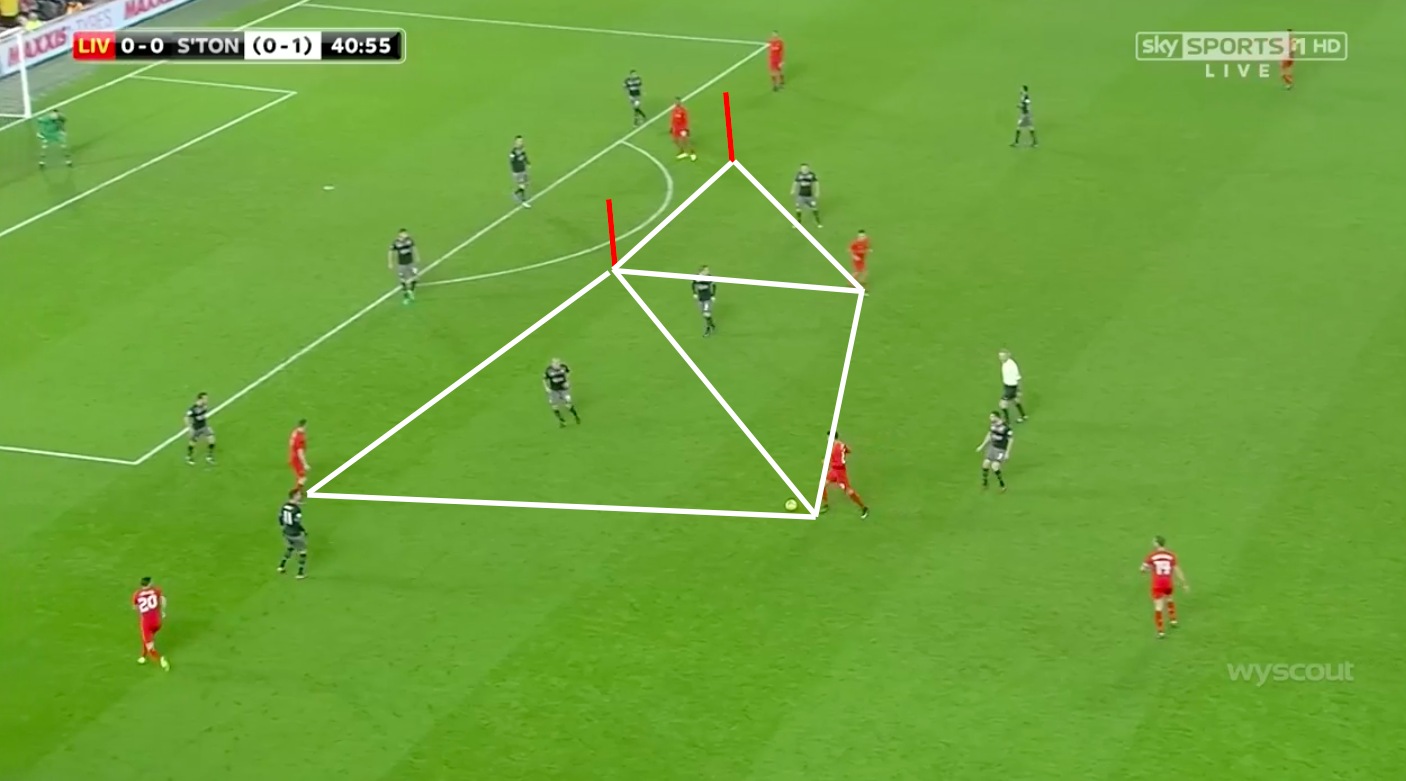 In an ideal world Sturridge would have shifted to the left instead of to the right when Coutinho dropped deeper. Firmino would then be in the area Sturridge is pictured in, and it would allow Liverpool to make a potential passing triangle in and around the Southampton midfield, like in the above picture.
This is all theoretical of course and in practice it may be complete rubbish but Can could have then played a pass to Sturridge in that area. He could have then played the ball back to Coutinho and made a move forward or looked to play in Firmino. Either way the Reds could have played through the midfield line and got at the defence in central areas. It's that sort of movement which seemingly worked for the Brazilians and Sadio Mane earlier on in the season when the attack couldn't stop scoring.
Sturridge, on his day and in a system suited to his needs, is a world class player. But the current Liverpool system isn't reliant on a player with his strengths. His stats may not differ from Firmino's in terms of ground covered but when you see the movement that comes natural to him it's easy to understand why there is a clash in philosophies between player and system.