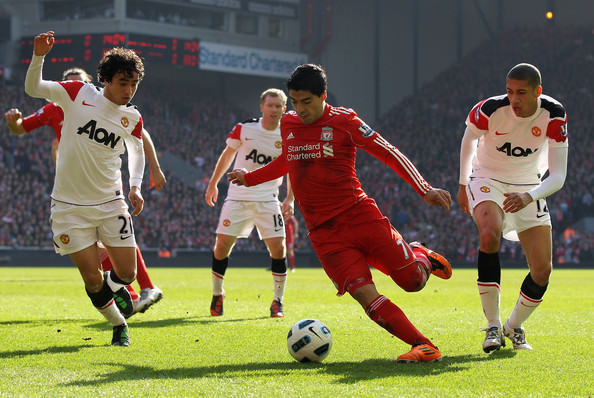 Width from the centre – that doesn't really make sense, does it?

Width has long been a problem for Liverpool and a winger has been near the top of all fans wish lists pretty much since John Barnes was in his prime.  Despite more signings likely to come this summer, it surprised a lot of people that Jordan Henderson, the young Sunderland midfielder, was the first to be brought in.  At approximately £16 million, the Henderson obviously deal attracted a lot of interest.  Liverpool have been criticised for concentrating on foreign signings for too long but are now being criticised for supposedly overpaying for English players.  What surprised many, though, was with Blackpool's Charlie Adam almost certainly to be brought in as well (at the time of writing, a Blackpool radio station are claiming that an announcement on Adam's future is imminent), Liverpool were buying another central midfield player.
Liverpool's central midfield undoubtedly needed strengthening this summer.  Despite an impressive first season from Raul Meireles and the eventual emergence, now given a prolonged run in the team, of Jay Spearing, there still wasn't sufficient competition for places, or enough quality, in what is one of the most important positions on the pitch.  However, it was presumed that Adam would arrive along with a more defensively minded midfielder – Yann M'Vila was heavily linked – to provide competition for Spearing and, now midfield lynchpin, Lucas.  Henderson, an energetic midfielder with the eye for a pass, arguably wasn't what was needed, with Steven Gerrard and Raul Meireles both at the best when playing a similar role to Henderson.  However, looking at the bigger picture, the signing of Jordan Henderson makes perfect sense and could help solve a number of problems that have held Liverpool back in recent years.
In the eyes of many, Liverpool's need for a quality winger is even greater this summer because of the presence of Andy Carroll up front.  Carroll is a gifted player who will bring a lot to the Liverpool team but his main strength is certainly his heading ability.  However, even considering the fitness problems and settling in period since Carroll arrived in January, he hasn't even came close to performing how he can – he played well and scored 2 goals against Manchester City but can do even better and more regularly.  Arial service to Carroll hasn't been good enough, not helped by the injury to Martin Kelly, arguably the best crosser of the ball at the club.  The easy option to lump balls in Carroll's direction from the back has been used a few times but to no great effect.  It's a decent option to have but obviously not the style of play the fans, or Dalglish, will want.  The real way to get the best out of Carroll's areal dominance, many believe, is to get crosses into the box.  For that, the apparent next step would be to invest in wingers.  However, Carroll has never really played with out and out wingers and his best Newcastle performances have been with supply from Joey Barton.  Clearly not a typical winger, Barton's supply to Carroll, as has been much documented, was mainly from deep, with long diagonal balls to Carroll becoming a trademark of Newcastle's play earlier in the season.  Henderson, similar to Barton at Newcastle, tucks inside when played on the right and has an eye for a long pass.
Charlie Adam is also heavily linked to the club (At the time of writing, Sky Bet have suspended betting on Adam's next club amid rumours that a deal has been agreed with Liverpool – the same company suspended betting on Frank Ribery being a Liverpool player two years ago, though).  Adam has divided opinion amongst fans this season, some excited at the prospect of signing him, others, such as myself, not convinced by the nationwide praise lavished upon a player with one good season in the Premier League.  However, like Henderson and, in turn, like Joey Barton, Adam uses long diagonal passes to great effect.  Adam's set piece delivery has also impressed everyone this season.  For a struggling team, albeit one who scored the record amount of goals for a relegated team in a 38 game Premier League season, Blackpool scored a league high of 12 goals from corner kicks in 2010/11.  Add to that Adam's goals from penalties and free kicks, nobody can argue with his ability from a dead ball situation.  Liverpool, meanwhile, have notoriously been weak attacking set pieces for some time, despite a possible slight improvement over the past year.  Should Adam sign (and manage to let Steven Gerrard relinquish set piece duties to him), it would be another way of providing quality service to Andy Carroll.
Under Dalglish, Liverpool have played various formations but towards the end of the season seemed to settle on a variation of 4-3-3 and 4-4-1-1, with Kuyt, Suarez and Carroll regularly interchanging positions.  Considering this and the arrivals of Henderson and Adam, it would seem that Liverpool will continue to favour this style and aim to supply Carroll aerially with deep crosses from Henderson and Adam, something both players are capable of and the way that Carroll was supplied successfully at Newcastle.  Other than the supply from deep for Carroll, both Henderson and Adam will also be able to fit into Liverpool's fluid attacking movement, something led and thrived upon by Luis Suarez.
Presuming this formation is still used next season, width would mainly be provided from central midfield but at times there will space to exploit in wide positions.  With Martin Kelly, Glen Johnson and John Flanagan able to use that space wisely on the right, the names being mentioned for the left back spot are also encouraging – Gael Clichy seemingly the most likely at the moment.  Henderson, Adam and of course Steven Gerrard all have the ability to accurately switch the play and will be able to encourage the full backs to take advantage of the space created by the midfield 3.  On the ball, Henderson/Gerrard and Adam will also have the options cross to Carroll from deep or pass the ball short, along the floor and join Suarez and Kuyt to create a version of the 'magic box' behind Carroll.
Despite all of this, adding a winger to the squad would still be highly beneficial, least of all by simply adding yet another possible way of playing.  A 'proper' winger is something Liverpool have lacked for a long time but can add so much to the play.  Stewart Downing has been heavily linked, supposedly with the idea of providing Andy Carroll with crosses from wide.  Downing isn't a superstar and wouldn't sell as many shirts as Juan Mata, if he signed, for example but would also be a smart acquisition considering Liverpool's needs.  Firstly, his job wouldn't necessarily be to become a superstar himself – it would be for his crosses to make Carroll one.  Secondly, he would allow Liverpool to stretch the play when needed and open up new possibilities for formations.
All in all, there is a range of different ways that Liverpool will be able to play next season.  What is important, though, is that the different options will be provided by quality players.  Presuming he signs, Downing will offer Liverpool the option of 'classic wing play', whereas playing a 4-3-3 with Gerrard or Henderson on the right side, a holding player central and Adam on the left would provide width (and supply for Andy Carroll) from central midfield, as well the attractive attacking fluidity which Luis Suarez will thrive in.  That is why Liverpool's first signing of the summer and the idea of central players providing width, actually make perfect sense.