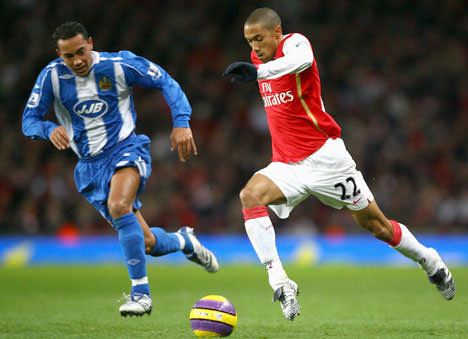 Liverpool FC Transfer Scouting Stats: Left Backs
Another week, another edition of Liverpool FC Transfer Scouting Stats! The last two editions were very successful with some great feedback for the Premier League Winger Comparison and then last week's Premier League Centre Back Comparison article.
This week we are going to concentrate on the top Premier League left back. This is an area in which Liverpool FC are most lacking. This season we've had to use Paul Konchesky, Fabio Aurelio (when fit!), Glen Johnson and John Flanagan at left back and all are just short term options in this position because they're either; not good enough, always injured or are natural right backs. We were only going to look at those that were linked with Liverpool FC recently: Jose Enrique, Leighton Baines and Gael Clichy. However my arm was twisted and I've added, arguably, two of the best left sided fullbacks in the league at the moment: Patrice Evra and Ashley Cole.
Since the previous articles, covering wingers and centre backs, were well received we've decided to take the stats from both and combine them in this article. The first section will cover the players defensively and the second section will cover how they've done whilst attacking. The first table is shown below:

As you can see from the table above, Chelsea's Ashley Cole led the way with most clean sheets achieved with his Chelsea team mates whilst Leighton Baines spent the most time on the pitch amassing 3,420 minutes, which coincidentally is the highest in the league this season for any player.
All five players do not have very high ground 50-50 win percentages. They all range between 51%-58% with Gael Clichy coming on top in this one whilst attempting 351 ground duels. Patrice Evra was involved in ground possession duels (50-50's) most frequently averaging a possession duel every 8.3 minutes. Gael Clichy was second with a ground 50-50 every 8.5 minutes and Jose Enrique third averaging a ground duel every 9 minutes.
Aerial duels or 50-50's were a mixed bag. The stats varied from a win percentage of 32% to 63%. Bringing up the rear was Jose Enrique winning only 32% of 44 aerial duels whilst Evra and Baines performed the best with a win percentage of 63%. However Patrice Evra managed a total of 83 almost double that of Leighton Baines' total aerial 50-50's. Gael Clichy only managed a 51% success rate but had attempted 111 aerial duels, which is the highest amount in this comparison.
The most tackles were, also, made by Gael Clichy with a success rate of 81%. Even though Clichy made the highest amount of tackles and had a very good success rate he didn't achieve the best win percentage. That honour went to Jose Enrique who won 84% of his 61 tackles. Ashley Cole had the lowest tackle success winning 67 out of his 100 tackles attempted. Leighton Baines and Patrice Evra both had respectable tackle win percentages of 74% and 76%. The most active player out of these five was Gael Clichy who attempted a tackle every 26.8 minutes, followed by Ashley Cole on33.9 minutes and then Evra on 37 minutes.
Two players again really dominated the ball interception stakes and they were Patrice Evra and Gael Clichy. Gael again had the highest amount, this time of interceptions with 110, whilst Evra was second with 85 and Enrique way back on 70. Clichy averaged 3.2 interceptions per game, Evra 2.5, Enrique 1.9, Baines 1.4 and Cole 1.3.
We're a little surprised with Ashley Cole's stats, so far, in this comparison. One of his rivals seem to be outperforming him in every category whilst he's made the top two in total tackles made and frequency of tackles made, however these stats aren't as impressive when you take into account that his tackle success was 67% – the lowest out of the five compared.
Rubbing the salt into the wounds further for Ashley Cole is the "Dribbled Past" stat. So how many times was Ashley beaten by an opposing player? The answer is 38 times. This is the most out of all five with Gael Clichy next on 26, Leighton Baines on 24, Evra on 23 and shockingly Jose Enrique topped this particular statistic as he was only beaten 9 times in 36 games for Newcastle. Impressive.
Defensive errors were few and far between with Patrice Evra not committing a single defensive error in the Premier League this season (according to Opta Stats).
In the loss of possession statistics Gael Clichy gave away the ball the least (he does play for Arsenal). Enrique was guilty of giving the ball away the most.
Surprisingly Patrice Evra gave away the most fouls and Jose Enrique gave away the least. I'd have expected that to be the other way around. I think that's enough of the defending statistics. Let's move onto the attacking stats shall we? The table is below.
We'll start with crossing and there's really no contest here. Leighton Baines attempted 351 crosses in the 2010/11 season and his accuracy with these was at 28%. This percentage betters the statistics of most of the wingers that we covered in our Premier League Wingers article. It's an excellent figure and delivering 100 accurate crosses in a season is a very good amount. It's no wonder he has been being picked for England and has been coveted by Liverpool FC. The other impressive feat is that the number of crosses is triple that of most of his peers and more than double that of Enrique's 132 crosses. The crossing accuracy dips alarming with Enrique on 23%, Cole on 20%, Evra on 18% and Clichy on 17%.
We can see where this article is going. Leighton Baines, after a quiet first half in the defensive section, is now all over this article. He's dominated the goal assists stat with eleven assists this season, a phenomenal amount. The next inline is Cole with just three and all the others have the solitary assist to their name.
The chance creation (or key passes) is another one that Leighton Baines is dominating. This time with 74 chances created and averaging a chance created every 46 minutes. Ashley Cole created 44, Evra 34, Enrique 30 and Gael Clichy again left behind on 21.
Pass completion is where Ashley Cole has surpassed his rivals with a pass completion of 86%. Patrice Evra 80%, Clichy 78%, Enrique 75% and Baines 72% made up the numbers here. It's clear to see that the  top two sides kept the ball the best in the division and their full backs shows this with some very high pass completion percentages.
The successful dribbling statistic sprung a surprise, as we'd have expected Patrice Evra or Ashley Cole to dominate this one however it was Jose Enrique who managed 65 successful dribbles and actually average 1.9 per game. All the others managed between 0.5 and 0.8 per game so he doubled their efforts.
We're coming towards the end of the comparison now and we're moving onto goals. Again Leighton Baines dominates this area with five goals. Only one other player managed to get on the score sheet and that was Patrice Evra with the single goal in the 2010/11 season. Baines was managing a goal every 684 minutes, which approximates to a goal every 7 .5 games. Some strikers don't even have those stats! Another eye opener is that Leighton only managed six shots on target and scored with five of them, an 83% success rate of shots on target to goals. Another impressive stat is that 26% of his shots resulted in goals! As an attacking force Leighton Baines was by far the best left back in the Premier League this season.
Lastly we've added a total amount and average amount of touches per game in which Gael Clichy and Jose Enrique come out looking very impressive. Both were very close to touching the ball every single minute of the match with Gael Clichy managing 89.4 touches per game!
Defensively you'd have to say that it was between Gael Clichy and Patrice Evra for the best defender out of the five but I'm leaning towards Clichy as he managed to trump Evra in quite a lot of the stats. There are nineteen stats displayed in the defensive table and Clichy takes it 10-9 so I'll go with Clichy as the best defender in the comparison.
So, unfortunately, there's no all rounder in the left back department but two players shone in separate areas. Gael Clichy, surprisingly, was the best defender just edging out Patrice Evra and Leighton Baines was standing tall, by far, the best attacking left back in the Premier League this season!