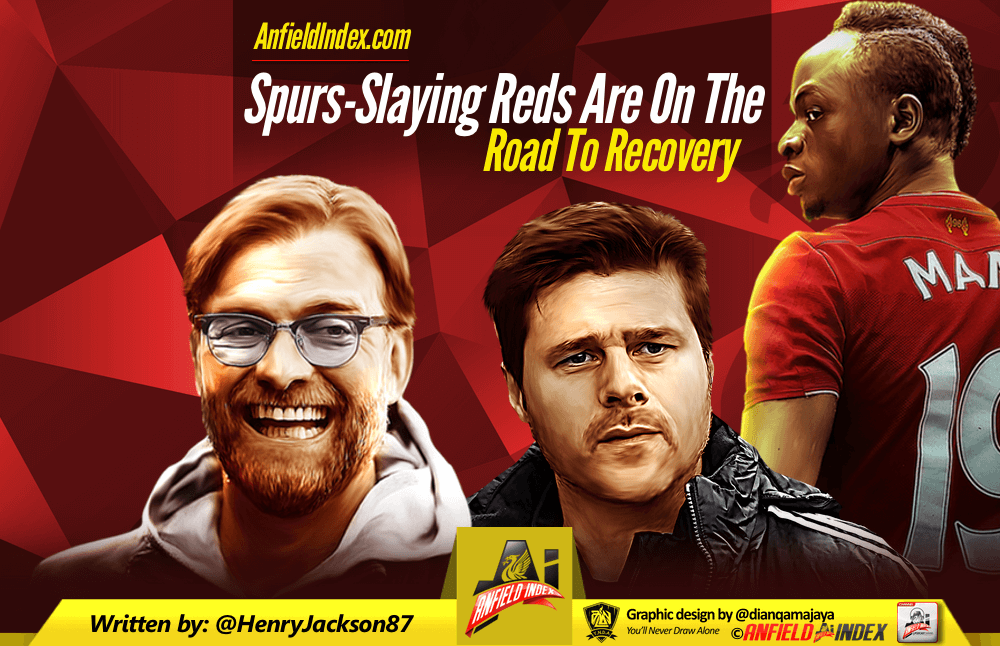 Spurs-Slaying Reds Are On The Road To Recovery
Up until Saturday, 2017 had been awful as a Liverpool supporter.
Our pre-Christmas spring in the step was long gone, everything felt like a chore, and like Popeye without his spinach, you were left desperately hoping the Reds would give us a much-needed adrenalin shot.
Why did we ever doubt them, though?

There has been so much negativity surrounding the club this year , some of it warranted and some of it embarrassingly hyperbolic, but Saturday's fantastic 2-0 win over Tottenham brought it to a pleasing halt.
Liverpool were magnificent from start to finish against a very talented Spurs outfit, outplaying them with the ball, out-running them off it and bullying them in a way many thought Jurgen Klopp's men were incapable of.
Everywhere you looked there were superb individual displays. Sadio Mane was unplayable in the first-half, scoring both goals and outlining why he may well be the Reds' most important player. To have a player who is so fast but also so tactically-astute is priceless.
Mane was the obvious choice for Man of the Match, but what about Georginio Wijnaldum? Yet again, he delivered in a big game, with his intelligence, creativity and influence shining through. He is fast becoming a real favourite at Anfield.
Jordan Henderson was again a dominant figure in the middle of the park, easily outperforming Spurs' much-lauded midfield duo Victor Wanyama and Mousa Dembele; Nathaniel Clyne looked a different player with Mane back; Lucas Leiva had his best game of the season; Simon Mignolet was very solid, and made one crucial save to deny Son Heing-min.
I haven't even mentioned Roberto Firmino yet, whose unselfish work and class on the ball caught the eye throughout. Philippe Coutinho, Adam Lallana, Joel Matip and James Milner weren't exactly too shabby, either.
This was a night when Liverpool showed exactly what they are can do when an opponent has the balls to come at them. The entire Premier League is terrified of the Reds, which is why so many have to resort to defensive-minded tactics. You can't blame them, and sadly, those tactics have worked all too often.
There will be some supporters who will be wary of going overboard about this result, and their reasoning for that is understandable, in fairness.
We all know that Liverpool are at their best against fellow top-six sides, so we shouldn't be surprised at the way in which they battered second-placed Spurs.
Leicester away will be a bigger examination of where Klopp's team is at, but there really was a feeling that this was a turning point in the season. I know, I know, people said that after the Chelsea game, but this was a different level of performance altogether.
With virtually a full-strength team fielded – Dejan Lovren for Lucas should be the only change – and with key men looking sharper after injury, this was the Liverpool we saw in the first three months of the season. That includes against a number of lesser teams.
Anyone who likes to doubt how fatigued footballers get just need to watch Saturday's game. This was Liverpool's first week-long break since the wins over Everton and Stoke in December. Coincidence?
They looked so much sharper in every facet of their play, pressing more relentlessly, passing more incisively and displaying a confidence that has been lacking so much of late.
Every Liverpool fan has different levels of optimism about this side, but for me, this was the day when I became convinced they will seal a top-four finish this season.
On their day, they remain the most eye-catching team in the country, and with no cup competitions to act as a distraction, Klopp and his players have 13 league games to focus on in just over three months.
That means endless time on the training ground, far less chance of injuries and a chance for Klopp to name a settled team week in, week out. We have seen the wonders that has worked for Chelsea, and Leicester last season, and it can for Liverpool between now and May.
Add to that the fact that all of their rivals have Europe and/or cup commitments, and we should be feeling very confident about securing Champions League football.
Nothing should ever hide that fact that Liverpool's title challenge has petered out in rather pathetic fashion, but top-four was the realistic aim back in August, and the Reds are well-placed to achieve that goal.
For all I know, they could turn up at Leicester on February 27th and produce a Hull-esque performance, but I don't see it happening now.
The Merseysiders won't go and win all 13 of their remaining games – the competitive nature of the Premier League means there will be the odd hiccup – but their early-season rhythm is returning, which should mean a strong end to the campaign.
Spurs didn't know what had hit them at Anfield, with many tipping them to heap more misery on Klopp's out-of-form side, and we will see more of the same in the coming months.
Negative teams will make life tough, but with Mane back and Wijnaldum surely now set to keep his place ahead of the cumbersome Emre Can, performances against those outside the top-six will improve.
Defeat on Saturday was an unthinkable thought, but Liverpool produced the goods under immense pressure, and brought that feel-good factor back.
It will be bitterly disappointing if this proves to be another false dawn, but Klopp's brilliance will ensure that Liverpool return to their magnificent best on a consistent basis.
The Reds – our spinach that makes everything good again.