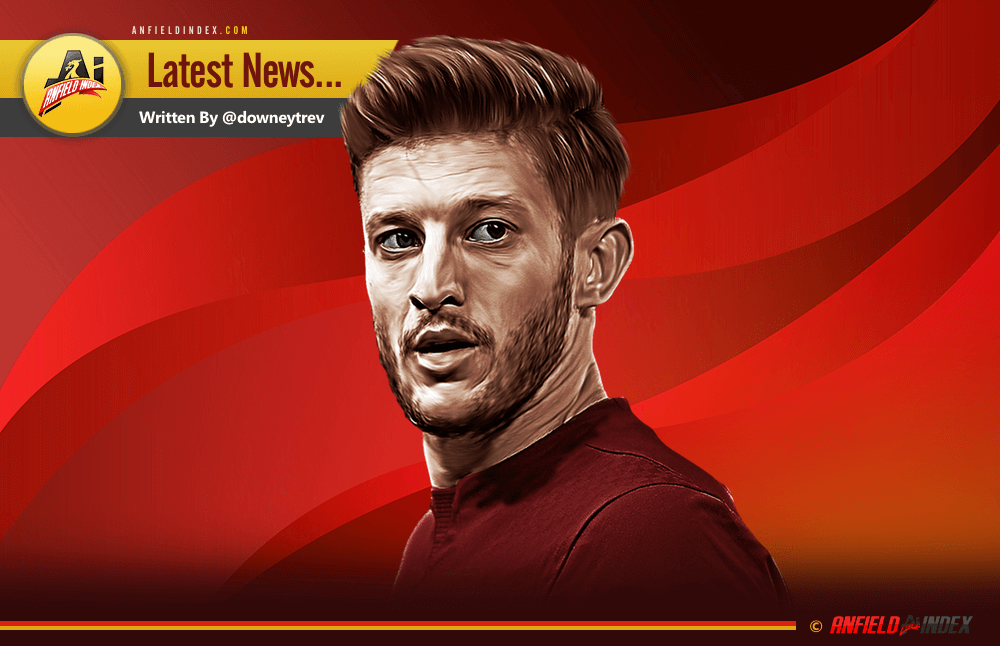 Lallana: We Need To Be More Consistent
For the entirety of January and the beginning of February, weekends have been a matter of endurance for Liverpool fans. For this scribbler, the only means of escaping the crippling ennui that seemed to grow with each pathetic result was to indulge a lifelong passion for film that rivals my ardour for the Reds.
Ironically, getting lost in a fiction comes easily to us as football fans. So much of fandom is the creating of potential narratives, investing in characters and obsessing over minutiae, so immersion in the world of a movie is a pleasing and easy way to metaphorically plug our ears with our fingers and la-la-la away the horror of a season that looked on the verge of utter collapse.
Now, let's be clear here. Latest News holds no truck with the plethora of articles circulating today touting a "revival" of the Reds' season following the first result in weeks that didn't prompt the search for celluloid consolation. The comprehensive and deserved victory over Tottenham on Saturday evening may well prove to be the beginning of a campaign reboot, but let's not jerk our knees at the earliest opportunity.

The Redmen have got some more work to do if they are to regain our trust in their ability to dismantle teams ruthlessly. Like you, reader, we heartily hope to see that trust fully restored as Jürgen Klopp's men go on to secure victory after glorious victory, but in the finest LFC tradition, let's take it one game at a time, shall we? It's mightily tempting to start dreaming of winning runs and miraculously sneaking back into contention, and that may even happen, but life is not a movie and that way madness lies.
Instead, let's enjoy the superb win that closed the gap between Liverpool and a team everyone had been claiming were infinitely superior to them to a mere point. We can also take consolation in the tale that has emerged of a group of footballers taking responsibility for their shortcomings and confronting them honestly.
Adam Lallana, back to his excellent best at the weekend, told the press of a meeting organised by club captain, Jordan Henderson, the intention of which was to clear the air and take stock of what was required to revitalise a season on the brink of collapse.
"It was the team captain who got us together. He wanted it to happen," Lallana revealed. "We knew as players we had to take responsibility. It was up to us to respond. The manager can say as much as he likes and tell us what he wants us to do and what attitude he wants us to have, but we have to do it. Credit to Jordan for calling the meeting, credit to everyone for participating and credit to everyone for performing. It wasn't just him who spoke, the senior players spoke, the non-senior players, everyone.
"It was good and refreshing. As long as it is not personal, just purely professional, there is no harm reminding each other what we need and what we want from each other. It was very open and I came out of that meeting knowing that every one of those players is together and intent on turning things around. There was a sense of everyone coming together."
Now, in the movie version of this tale, one imagines some hard truths being told and a rousing conclusion to the gathering with the assembled Reds chanting "Clear eyes! Full hearts! Can't lose!" or some such emotionally charged guff. The truth was probably a lot more prosaic but if the upshot was the kind of focus and energy we witnessed at Anfield for the first time in weeks, well, who cares what really happened.
Have Klopp's men really learned from the wretched run that they have endured since the turn of the year? Lallana believes so. The losses have been felt as a team, he insists. The shared experience of adversity has bonded the group, as has the sting of criticism. It is heartening to hear.
"The minute we have a couple of bad results, we are going to keep on answering critics and proving people wrong," said the Cryuff-turn enthusiast. "But losing together can help you in the long run. This run we have been on has brought us closer. It is not one individual against the press or whoever is saying bad things. Let's dig deep when we have to. It was good. We didn't have any excuses in January and there were no excuses for our performance against Hull and no excuses for not beating Swansea at home. It is about us proving to everyone that we don't just perform against the top teams. We know we need to be more consistent. The way we performed here was remarkable."
The scene is set for a potentially rousing denouement but beware the plot-twist. Let's hope this particular movie has the Hollywood ending we all crave.