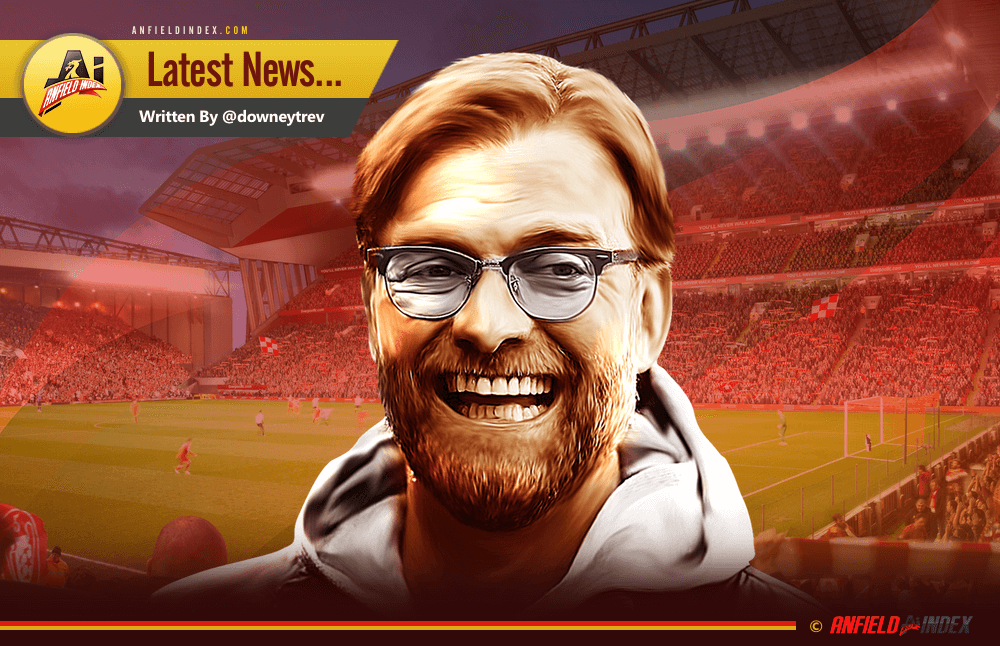 The Positive Realism Of Jürgen Klopp
In the tragi-comic dystopia that passes for the 21st century, maintaining a world-view that is both realistic and positive is quite the mental and emotional workout. The gloomier types amongst us often claim realism for themselves and, quite understandably, given the hellish state of the planet, they insist that positivity is the preserve of the naive.
However, since it was just an adolescent column with a dream of the big-time, Latest News has always tried to keep the two plates spinning. There always has to be hope and yet the reality of a situation cannot be ignored. Even one's mortality can be faced down with a wry grin and a flicker of belief in one's eye. Trust us.
When it comes to the infinitely less serious realm of professional sport, coaches, athletes and fans can often lose perspective. The famous line of Bill Shankly about the relative importance of football gets rolled out and incorrectly interpreted. The stakes get raised by constant media saturation and doses of financial EPO. Every game is huge, every decision crucial, every setback is a hammer blow.

Now, none of this is intended to diminish the intensity with which we love our teams. The pain of the lows defines the pleasure of the highs. We're in it for the emotion. It's just that sometimes a calmer perspective can help a little. In this regard, Liverpool FC are blessed with a coach who has, for the most part, a very good handle on the idea of how to best balance realism and optimism.
Jürgen Klopp is as emotionally volcanic as any of us. He can lose control and berate fourth officials or pedantic journalists on occasion but predominantly, the man simply sets the right tone. Victories are enjoyed and celebrated with a nod to what can improve and defeats, unless abject, are accepted with an acknowledgement of the good that was on display. There has not been a single post-match interview with the German gaffer that failed to leave Latest News grateful that Klopp is Liverpool boss.
Currently in La Manga with the first team squad, Klopp has been reflecting in that humorous and measured way of his, on the season to date. Before overseeing the cold-water torture of the five-a-side losers and, presumably, teaching Adam Lallana how to ride a bike, the manager spoke about the decision to take a few days in the Spanish sun.
"First of all, you might think it's a bit cold for a 'warm-weather' training camp, but that's a good thing because we didn't want to go somewhere where it's completely different to England in this moment, we only wanted to change the circumstances a little bit," he insisted. "We want to be focused on the work we do on the pitch especially, and of course we'll use the opportunity to talk about a few things, how you always do in pre-season.I think there's not a lot of good things to say about having a two-week break in the middle of the season because it means we are not in cup competitions anymore, but we have to accept the situation and try to use it."
And there, in a nutshell, is the balance we spoke of earlier. Yes, it's awful to be out of the cups but that presents its own unique opportunity – one which must be seized. What follows is perhaps the perfect example of the manager's capacity to remind the more extreme critics that there are always mitigating circumstances. We'll just pop it here, uninterrupted. It's a stream-of-consciousness that reveals a lot about how Klopp thinks. It's a subtle appeal for perspective.
"We are not used to being a top team, maybe we have to be. We are not clever like Chelsea who will be 2-0 up and just finish a game," the manager suggested to The Echo. "I spoke to Antonio [Conte] for a long time here, maybe 25 minutes, and he mentioned they could play the same 13-14 players all the time. That is the big difference. They left the EFL Cup when? Before it started? I don't remember them playing one game in that competition. Get rid of this. [Chelsea were knocked out in October].
"In December we missed players and did not have the best schedule. From 31st December to 2nd January you could see the difference physically: 'Oh my God, what have we done?' It was not that we had all the players to change it at Sunderland.
"On a few things we had an influence and on others, we did not have an influence — we conceded goals, offside against us, a penalty against us. We could have had two, three or four points more. With two points more instead of an offside goal for Man United, and I don't want to make a story of it, then it is the same situation but with 51 points. Only because of one decision and the games staying the same. Hull — first half really not good, Southampton — not good enough, Chelsea — good, United — good, Swansea — silly but not bad, we played pretty good until we stopped playing."
This is what Latest News loves so much about Klopp's attitude. He owns the team's weaknesses and takes them onto himself as his own responsibility but he also celebrates their excellence without it ever seeming like triumphalism. Not for him the tedious 'mind games' of certain other managers. He calls it as he saw it. It will be one-eyed, yes, he will be fiercely loyal, for sure, but he will not try the ostrich tactics favoured by so many of his peers. It's only a feeling, you understand, but around here we sense that Jürgen Klopp's blend of upbeat honesty may be a key factor in getting Liverpool back to its former status as a title-winning club. How's that for positive realism?