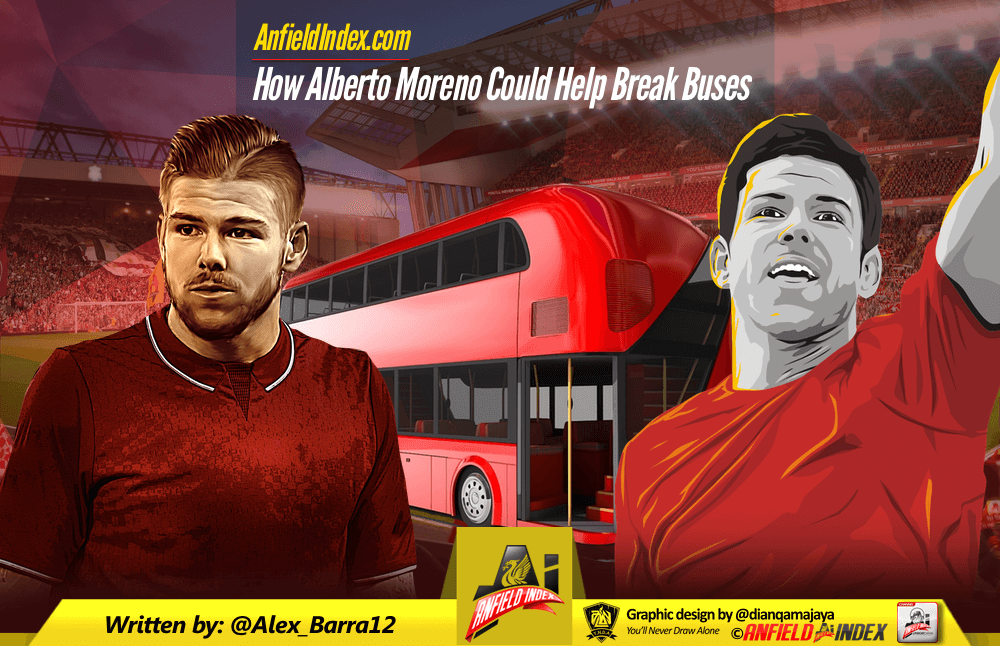 How Alberto Moreno Could Help Break Buses

It must be said, Liverpool have been on and off lately. That's putting it rather mildly.
To have such fantastic showings against Chelsea and Spurs, and then to produce…whatever THAT was against Wolverhampton and Hull; it's indicative of a side with a fantastic plan A – one that gets the better of most teams who want the ball, but without a proper plan B.
Of course; the idea that every football team necessarily needs a plan B when things aren't going their way is ludicrous; to have to drastically change your tactics when losing is the sign of a manager without confidence, and they don't tend to stick around too long. But, there was a clamour among fans that reinforcements were needed in January – a clamour that went unheeded, as Liverpool's key targets simply refused to budge.
So, if plan A's not working, and a drastic change of tactical acumen is out of the picture, then what's Jürgen to do when a team squares up to Liverpool, looks them dead in the eye and says "Come on, give us your best shot, we're waiting in our own box?" Well, Klopp can look to shake things up even without the extra arrivals January could have provided. For the next few months, temporary solutions are necessary – at least until the summer when "Kloppo" will be able to spend to his heart's content, form a team that can both gengenpress the bejeesus out of teams and break through those pesky buses. Among those temporary solutions is playing Daniel Sturridge or Divock Origi, with Roberto Firmino as the #10. Or playing Phil Coutinho deep. Or even, as has been suggested, playing a back three.
One simple change that could give Liverpool an edge, however, is the inclusion of a forgotten man: Alberto Moreno.
Having only spent 261 minutes on the park this season, Moreno's stock has fallen drastically since his awful showing in the Europa League final; falling out of favour to natural midfielder James Milner due to his lack of positional awareness and capacity to make mistakes in defence.
However, his attacking stature hasn't changed; he still offers a very real threat from wide areas, creates and crosses and most importantly; overlaps with pace and charges into the box. Also, his recovery pace is a great asset to have when the opposition counter attack; something which is definitely classed in the "weakness" category to Liverpool's current incumbents. Just look at the collective defence's calamities against Swansea. Sigurdsson, Fer and Llorente were allowed far too much space as they surged straight through the Reds; someone needed to chase the man with the ball (Fer in this case) and make a tackle; something which Moreno does (despite his, shall we say, unusual tackling style.)
There's also the case of James Milner, whose numbers aren't great reading. Per the excellent Anfield Index Under Pressure podcast, Milner completed his first headed goal assist from a cross – in the loss to Swansea on January 21st – after putting in 141 crosses. That would be fine if he were creating chances, and the strikers were simply missing them, but he isn't. He attempted 14 crosses in the second leg of the Southampton EFL Cup tie – didn't create a single chance. By the turn of the new year, he was 3rd in total crosses attempted and 30th in crosses completed. He's simply not creating anything worthwhile from out wide.
And that's problematic; because when teams go compact and refuse to budge, the only form of attack Liverpool seem to be able to muster is crossing from wide positions. It's not necessarily his fault, either. He's a right footed player, playing a left full-back. That means he's constantly cutting back to his right foot, which means defenders can easily position themselves at the near post, where the cross will bend inwards – an easy clearance. Left-footed, Moreno, who is accomplished at overlapping and playing swift one-two's, would be an added element in attack where Milner is ineffective – at least against uber-defensive sides.
There's also the element that Milner is constantly dribbled past on the counter attack, and doesn't have the required recovery pace to compensate. This means Dejan Lovren is forced out of his comfort zone to try to recover the ball – which is where his weaknesses show. That being said, Moreno and Lovren isn't historically a solid partnership, but at the very least Lovren will be able to defend with someone hot on the heels of the attacker.
No, he's not a permanent solution, and yes, this writer's opinion is going to meet a lot of resistance – but Klopp needs to try to find solutions to his bus problem. This could well be one of them.