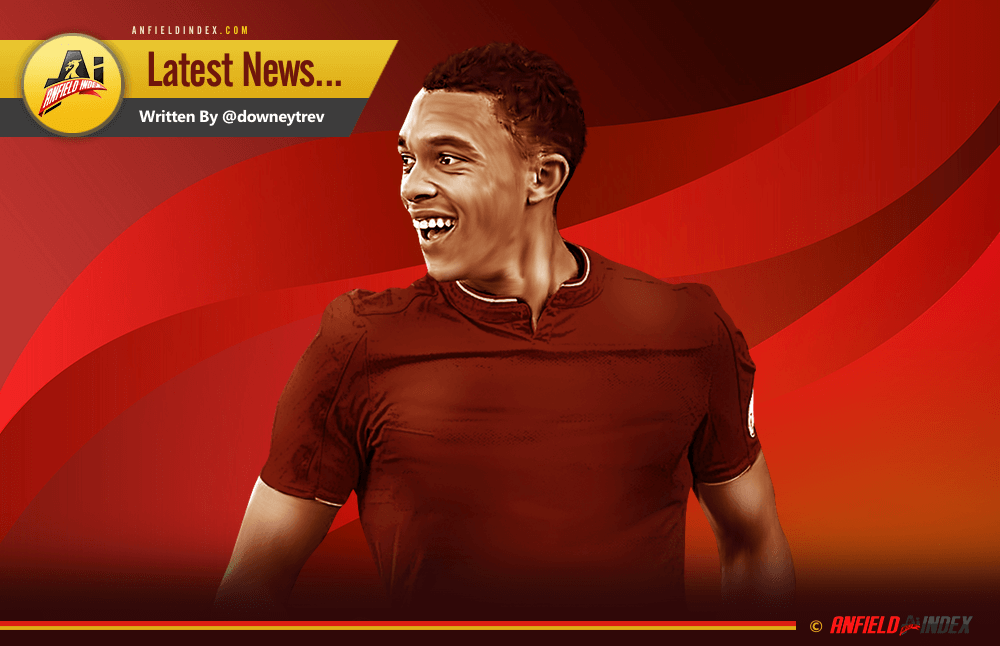 Alexander-Arnold Looking Very Much At Home
James Baldwin once wrote that "perhaps home is not a place but an irrevocable condition." People, by nature, attach a massive significance to the concept of where we belong. We struggle all our lives with trying to reconcile the spectrum of emotions that our native place can evoke in us. Indifference, hatred, fierce pride – we feel them all if we live long enough.
If you're a foreign fan of Liverpool FC, you'll have encountered both the warmth of the vast majority of Scousers and the cool dismissal of the few, but even for those of us not from the city, there is a tremendous vicarious pride to be taken in watching a local boy come good for the Redmen. It has extra significance, a significance only exacerbated by the fact that it has been a rare occurrence in recent years.
Whereas Latest News was lucky enough to witness the likes of Steve McMahon and John Aldridge win titles with the Redmen and later glory in the sheer brilliance and brio of Robbie Fowler, Jamie Carragher and Steven Gerrard, a generation of young Reds are not seeing that rich seam of local players wearing the Liverbird.
In that respect, there's quite a bit of pressure weighing down on the shoulders of young Trent Alexander-Arnold. The West Derby lad is very much the brightest star in the constellation of young talent on the club's books. He has already stepped into the first team and acquitted himself not just admirably but with a degree of confidence that belied his years. Nathaniel Clyne has been Mr. Consistency since his arrival from Southampton but when the youngster took his place, the greatest compliment that could be given to him was that the England man was not missed.
A regular, at just 18, in Mike Garrity's U23 side, the skilful defender believes his involvement with Jürgen Klopp's first team has been immensely beneficial to his rapid development.
"I'd say every aspect of my game's got better, on and off the pitch," the double-barrelled wonder offered. "I think communication with the team's really improved, and just every aspect on the field as well. I think that's because I'm training with such high-quality players and I've got to try and match their level. I've been pushed a lot this season so I think that's what's helped me."
Alexander-Arnold has spent the last few days in La Manga with Liverpool's top players under the keen eye of the aforementioned German schemer. Apart from the obvious delights of escaping the grey Merseyside February, the full back believes he has been very fortunate to have the experience and his humility is very apparent when he speaks about gratefully absorbing any and all advice that comes his way.
"I think because you're away 24 hours a day, you get to see what their whole routines are – what they put into their body, what time they go to sleep, everything like that," he averred. "You see how professional every single player is, and you're kind of surprised by it. You hear rumours about how professional the first-team players are at the Academy, but when you're in and around it you actually see that nothing bad will go into their body because they know it won't help them, things like that. It's incredible because it just shows the level you have to get to and that's what all us youngsters are trying to do.
"I think every bit of advice you get, you've got to take it because obviously the players are more experienced and they've been in the position that I'm in right now so they know the situation better than me. If they know how to handle it, it's best if they give me that knowledge and then I can absorb it and use it. I think that'll help me."
Now we don't know about you, dear reader, but the concept of "rumours" circulating amongst the young Redmen about just how "professional" the likes of James Milner and Gini Wijnaldum are has tickled us here at Latest News. There was a time, when this column was busy passing amorous notes in class, that the "rumours" young players would have been hearing would have centred on how many pints a given first teamer could imbibe before falling over. Now THAT'S generational progress.
As for the magnificently monikered Trent, it is perhaps adequate to say that he looks at home in the first team and home, as we all know, is where the heart is.