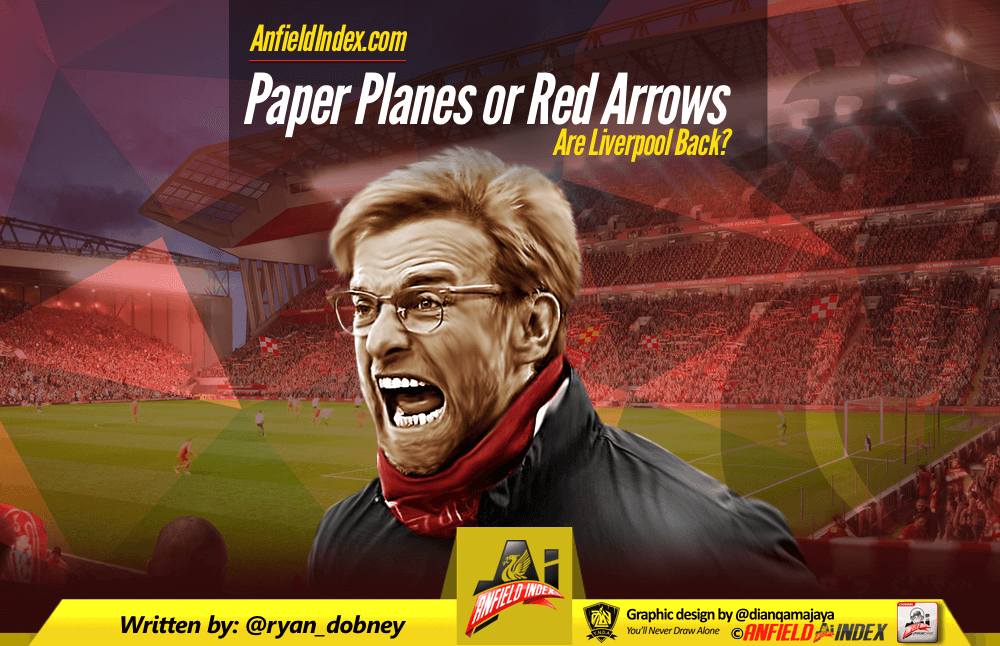 Paper Planes or Red Arrows... are Liverpool back?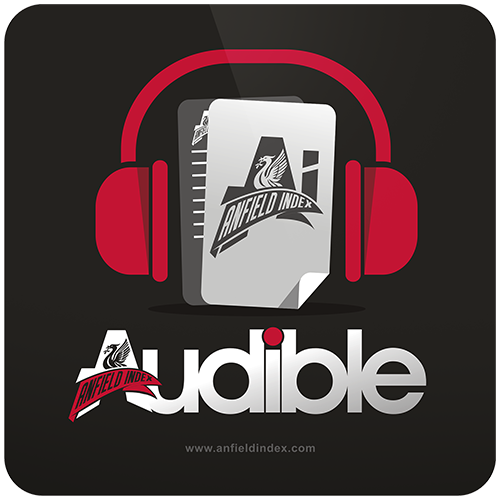 Listen to this article via @AIAudible !
The paper planes are a thing of the past, the swashbuckling Spurs slaying Red Arrows are back in the business.
Or are they? Sorry to be the bearer of bad news but it will be a while until we can say Jürgen Klopp's reds are back in the sky.
What happened during the month of January was nothing short of a disaster. Liverpool were dumped out of every competition they were involved in, which additionally included the race for the title.
The Red arrows could barely reach lift off, and one win against an out of form Tottenham side does not change the scenario.
Plastered all over social-media there seems to be an almost relaxed feel to the Red's now. Hotshot Sadio Mane is back, the side are enjoying their warm weather training in La Manga and we have out of form Leicester City in our next game, in the race for forth.
Notice how I say the race for fourth, something that our season will now be ultimately defined by. Yet as aforementioned, one win against a Tottenham side who in themselves were out of form and have a sketchy record at Anfield does not constitute us to being back to what we were.
The opposition, usually being relegation candidates have figured out how to play against the explosive nature of Klopp's side. 'Just sit back and let our unformidable defence implode', seems to be the tactic, one that worked for Hull City and Oumar Niasse, yes, Oumar Niasse.
The primary reason why I state we are not 'back' is because when it is backs against the wall stuff, we always do it. I could refer back to a previous article of mine where I state that I wait for Liverpool to get into a position where it matters, just for us to bottle the situation.
The game against Tottenham was the perfect situation. Go in as the underdogs, surprise everyone and get the win.
But where was that mental resilience against Hull City? The players seemed to freeze under the weight of expectation, like a rabbit in the headlights, they are so afraid of failure they almost waited for the inevitable situation of defeat.
The above analogy of the Hull City game is almost a carbon copy of the season and that is why the ideal that we have turned a corner and a win against Leicester will we a foregone conclusion cannot be further from the truth.
Jurgen Klopp knows his side have a weakened mentality and that is why he has been so quick to praise Leicester in the build up to the fixture, in an attempt to take the weight off his players.
He says: "We, if you want, could be the first team to face this 'new' Leicester. But it's possible to win.
"They're fighting for the league 100 per cent now and maybe this is the moment they recognise there's really nothing else to do in this season."
Arguably one of Leicester's season defining moments in their championship winning campaign was a 2-0 win over Liverpool, with striker Jamie Vardy scoring the goal of his career. This will still be etched in the memory of their players and fans alike, they have yet to score a goal in 2017 a fixture against Liverpool could be the game they have waited for.
I must reiterate this is not Liverpool bashing. Yet nevertheless I do feel the assumption that the red arrows are in line for another take off after a win against Tottenham is rather premature.
The fixture to come against Leicester represents a challenge of a different nature – a mental challenge. Overcome this and perhaps the argument that Liverpool are where they were at New Year could start to be justified.
For now, the planes are very much still in the hanger, a win against Leicester would change this, but we all know what happens when we put our faith in Liverpool.