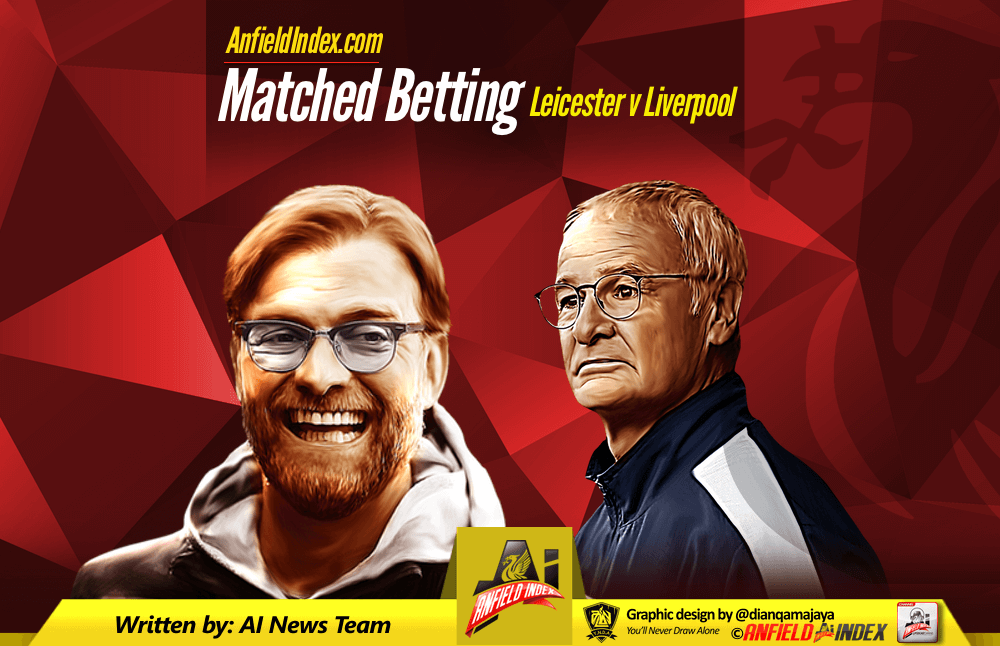 Matched Betting - Leicester v Liverpool

The Reds' Premier League fixture against Leicester is the ideal opportunity to discover how to bet risk free and make money matched betting.
Football supporters love to bet on their favourite team and Liverpool fans are no different, ploughing hundreds of thousands into bookmakers' coffers each week. Many will have been tempted by a generous welcome bonus to sign up for an online account unaware that the free bets on offer can be converted into tax free cash.
Matched betting is a technique used by thousands of people in the UK to earn regular monthly income from betting promotions. Students, stay at home parents, carers and the retired are using matched betting to earn £500+ per month and it is all tax-free. Because of its association with gambling, HMRC don't require us to declare income from matched betting despite the technique being designed to remove the gambling element from betting.
The way it works is to place a real money bet with a bookmaker in order to qualify for a free bet. Then back the same selection to lose on a betting exchange at the same odds and the free bet can be obtained for a minimal cost. Exchanges charge a modest commission so it may cost a few pennies however most of the value of the free bet can be converted into cash with the help of an odds matcher and matched betting calculator to make a risk free profit from the offer.
Take the example of Liverpool's official betting partner, BetVictor. Its standard welcome offer is bet £10 get £30 free bets (there's also £30 free play in casino) which represents around £24 profit matched betting.
The offer requires customers to place a £10 bet to qualify for a £30 free bet. By using matched betting, the free bet will typically cost 50p and because there is no stake money required to place the £30 bet, the stake for the exchange is calculated to give a profit of £24 regardless of the result.
There are more than 60 UK licensed bookmakers competing for customers and most are offering attractive sign up incentives. These offers are worth £1000 in guaranteed profits. Other promotions aimed at existing customers can be used to make regular profits long after the sign up offers have been taken.
The concept of matched betting may sound too good to be true, but it has been tested and featured on respected media websites like The Guardian, Telegraph, Huffington Post and Martin Lewis' Money Saving Expert. Subscription based websites aggregate the offers, provide the tools to find suitable bets to place and calculate the stakes to guarantee the same profit is made whatever the result. There's no requirement to understand betting as video tutorials and step by step guides are provided to ensure total novices can make money from this method.
The FA Cup fifth round provides an interlude for Liverpool fans and an opportunity to learn more about matched betting. Now season tickets, away days and European ventures are more accessible to people who couldn't otherwise afford it by simply by changing the way they bet.