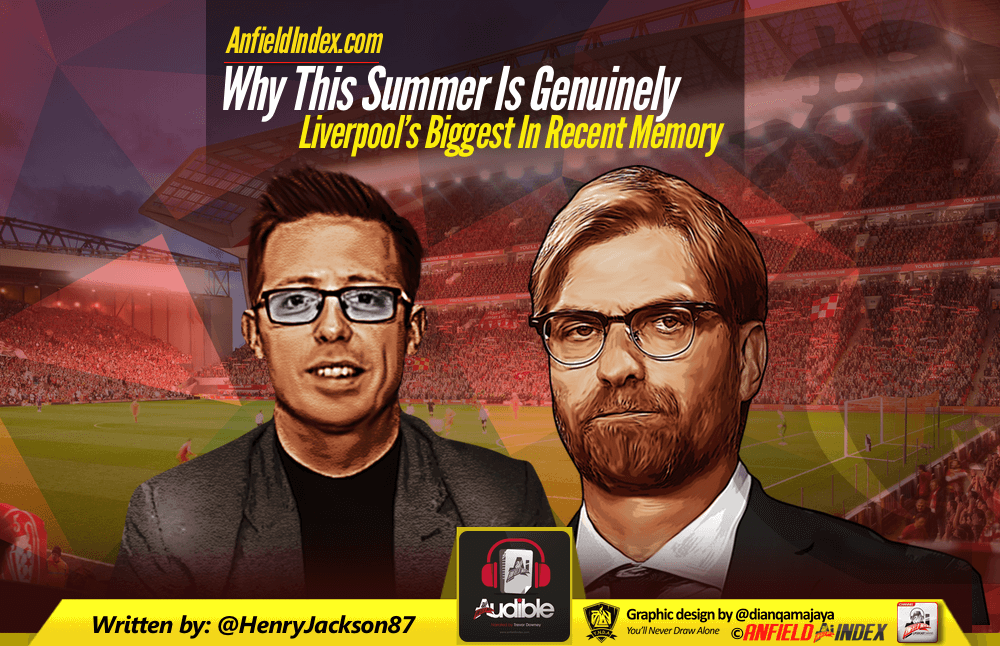 Why This Summer Is Genuinely Liverpool's Biggest In Recent Memory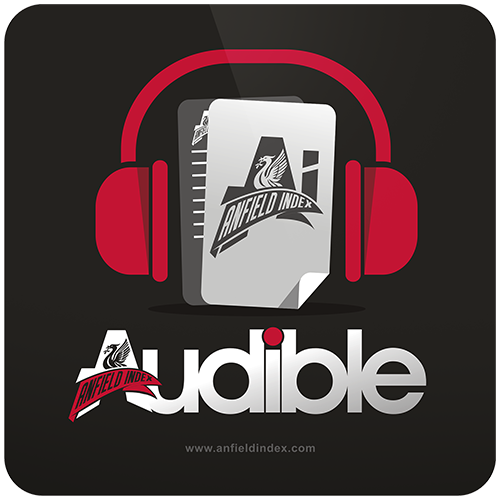 Listen to this article via @AIAudible !
I know that some of you will have read that headline, tutted to yourself and thought, "we say that every year".
You're right, to be fair.
Every summer that comes along, we tell ourselves that this is the one that will see Liverpool reach the next level. The one that will finally end the wait for that elusive Premier League title.

We said it in 2002, 2009 and 2014, following the Reds' best attempts at lifting the trophy since its inception, and all three ended up being unmitigated disasters.
We did it last summer, after Jurgen Klopp had completed his first season at Anfield and reached two finals, and we'll no doubt do it again in the future.
If you so wish, you can call this a hyperbolic reaction, and just another case of this summer being 'the one', but it really is the most important at Liverpool in many, many years.
Some of those years mentioned above were undeniably crucial – both Gerard Houllier and Rafa Benitez blew huge opportunities to make Liverpool a genuine force in the English game, while Brendan Rodgers' summer of 2014 was abysmal – but with Klopp at the helm you can feel something special within our grasps.
Don't let the naysayers affect your thought process just because January was woeful and the team is not yet perfect – this is a manager and a team still in the embryonic stage of its development.
Klopp hasn't even been in charge for 18 months yet, but in that time, he has already got the Reds back to being a team very much in the top-four race.
As I have said so many times in articles and conversations this season, no doubt boring my fellow Liverpool supporters to death in the process, the majority of football fans felt a top-four challenge would not happen, yet alone Klopp's men be in the title race for a chunk of the campaign.
In general, the German spent well last summer, with Joel Matip, Georginio Wijnladum and Sadio Mane all excellent signings, but certain areas of the pitch have still been left thin on the ground.
Not bringing in a similar player to Mane, when he always going to be playing in the Africa Cup of Nations, was bizarre, but otherwise, it was hard too complain too much. Let's not pretend we weren't excited about Loris Karius, for example.
The top of the Premier League has never had so many good teams competing, meaning falling behind your rivals is now a potentially fatal scenario. It is no longer the days when Liverpool had two or three genuinely top sides to contend with – there are now five.
With Manchester City, Manchester United and Chelsea all guaranteed to spend enormous amounts of money in the summer, and Arsenal and Tottenham both dangerous in their own right, the next transfer window must be played to perfection by Klopp.
There must be no El Hadji Diouf, Salif Diao, Philipp Degen, Alberto Aquilani, Mario Balotelli or Rickie Lambert, as we saw in those three aforementioned post-title-challenging seasons.
If quality is the most important thing, depth is not far behind. A lack of it has already hurt the team badly this season, as has so often been the case in the past, but that issue must finally be addressed.
Some stellar names need to be acquired, and the deficiencies within the squad must be ironed out. There cannot afford be any more excuses about injuries derailing the Reds' season, and rotation should not mean teenagers are having to deliver in cup competitions.
Assuming Liverpool are playing in the Champions League next season, which I am very confident they will be, the summer months will be the most pivotal of Klopp's reign so far, and could remain that way for a while.
The 49-year-old is a man we should trust with our lives, and while some of the criticism that has come his way this season has been very fair, the job he is doing is generally an outstanding one.  He will not make the mistakes that have been made by those before him.
Klopp will be well aware of the goalkeeping situation, and the fact that a natural left-back is needed. He will know Dejan Lovren, Ragnar Klavan and Lucas Leiva are not the solution at centre-back, and that more pace and depth is required in wide attacking areas.
Reports suggest FSG will back Klopp and give him the funds he needs, and while certain transfer targets will inevitably be snapped up by others, Klopp has the pulling power to ensure Liverpool have a far stronger squad come the opening weekend of next season.
Should the Reds fail to finish in the top-four, that will clearly change things, but don't even let that thought enter your head at this moment in time.
I struggle to remember a summer that didn't feel important at Anfield in the last 20 years, and there are certainly some strong contenders when it comes to the most crucial.
Perhaps the passing of time takes the edge of how defining the likes of 2002, 2009 and 2014 were, but this one feels different, even compared to those.
With another title push imperative, Champions League football vital and keeping in touch with rivals a must, this summer truly is one that could define the next phase of Klopp's tenure.
If Liverpool are perfectly-equipped to compete across four competitions in 2017/18, they will continue their steady climb back to the summit of English football.