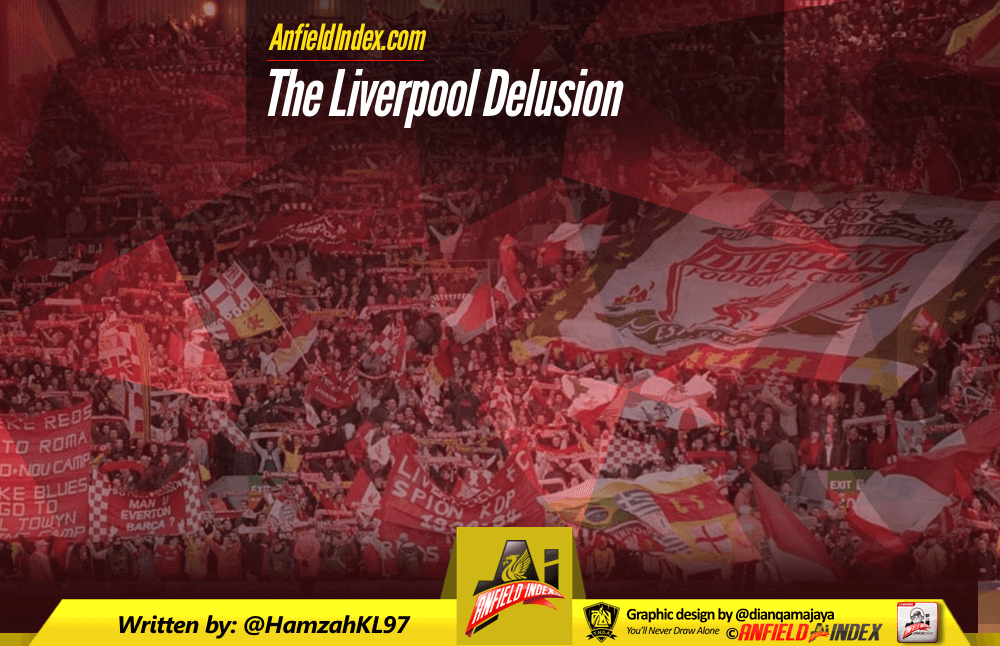 The Liverpool Delusion

Human beings are a species that seek meaning, and self-worth, sometimes over-inflating their own self-worth to feel better about themselves. Nowhere is the overinflation of self-worth more visible than that of certain fans' attitude towards Liverpool Football Club.
An extremely strong start to the season had pundits and fans across the country lauding Jürgen Klopp and his team; Liverpool were heading in the right direction, FSG had made the right call, appointing Klopp, the summer transfer policy was good, and Liverpool were battling on all three possible fronts for trophies. Yet that was all to change over the course of January. A series of poor results, for a variety of reasons, saw self-proclaimed Liverpool fans emerge, demanding change: new owners, new players, more investment, and even, bizarrely, a new manager if things did not change soon.
Herein lies a long-term structural fantasy, that many Liverpool fans have succumbed to, fans of all ages, and from across the world too. A fantasy that believes that Liverpool FC are the biggest team in England, and that Liverpool FC should be winning titles and trophies every season.
Where has this fantasy come from, truth be told, I cannot say for sure. Some fans that demand immediate success grew up in a period where they saw Liverpool dominating the English and European stages, whilst some have only heard of the legend of the Shankly, Paisley, Fagan and Dalglish teams of the 70s and 80s, witnessing their dominance through football documentaries. Regardless, this attitude that Liverpool have a divine right to compete at the very highest level and must win trophies every season is a total farce.
A pretty standard comment on Twitter would go along the lines of: "Liverpool have not won a title for too long, for Klopp and FSG it is now or never!"
It makes you wonder, how exactly did Liverpool fall from grace, and why have they failed to return to the top, alas, that is a matter for another time, but for now, it is important to address these wholly excessive expectations.
First, Liverpool fans need to understand the club is not the force it once was, and with the league structured the way it is, with rival teams boasting immense financial reserves, world-class players, and phenomenal managers, for the foreseeable and immediate future, at least, there is no chance of Liverpool dominating English football, in the manner it once did under Shankly and Paisley.
Liverpool are not the biggest club in England; yes, the club has an immense history, rivalled only by Manchester United, but that counts for little now; there is no rule ensuring teams with great history will always continue to do so, we need only look at fallen giants, such as Leeds United, Nottingham Forest, or Aston Villa to see that; only teams with immense financial and corporate power can sustain success, through investment that other clubs cannot – this is the model that Real Madrid adopted, and so too have Manchester United recently. Liverpool simply cannot rival this level of power; over the Ferguson era, Manchester United developed into a truly global club, with it being traded on the NYSE, dominating English football during the growth of commercial football, and with a club value of the same calibre as Real Madrid and Barcelona. Liverpool in the same period, failed to win a league title after the 1989/90 season, failed to invest in commercialising the club and establishing revenue streams, saw the quality of player at the club drastically fall and were faced up with the threat of going into administration.
For some people, the threat of administration never truly made a lasting impression, but the failings of Liverpool's owners since the 90s have set the club back around a decade, behind its rivals, and Liverpool FC has always been playing catch-up over the Premier League era. Yet, this in itself still does not abate expectations of winning titles every season, and demands that Liverpool sign Greizmann, Aubameyang and other fairy-tale signings.
Liverpool are not big enough to sign these players. The very top bracket of players do not wish to come to Liverpool, and spend a few years of their careers trying to build a team capable of winning titles, when they can join one of Liverpool's rivals who can guarantee at least some silverware in the short-term.
Expectations of fans are far too high at the moment. There is nothing wrong at all with wanting Liverpool to win as many trophies as possible, but expecting that Liverpool do meet these expectations, and demanding immediate success shows a misunderstanding and under-appreciation of the structural, long-term issues that LFC has had to deal with, and currently are dealing with.
Liverpool, for several years were a mid-table club, with mid-table quality players. Transitioning from a mid-table side into a top-four, and then, title-winning, side is not a simple or easy task, you only need to look at Everton, who have really attempted to build a strong team, yet struggle to keep pace with the top clubs or break into the top four. Spurs are another team we could look at too, despite them challenging for the title last season, and participating in the Champions League this season, they have not been able to attract the quality of players they require to push on, nor have they been able to emulate their league success. Changing a club into a Champions League side takes multiple seasons, stability, consistency, and smart investment. Placing excessive expectations on the club does very little to help at all, and whilst some may believe discussing their own personal view of what Liverpool should be achieving, and the players that should or should not play for Liverpool has no effect at all, they must understand that with social media, and the atmosphere and reactions to games at Anfield, the team, the manager and the board are acutely aware of the pressures and expectations placed upon them.
This is not a pop at fans who want Liverpool FC to be the best it can be, this is a call for some fans to rationalise themselves, and understand that the Liverpool FC they believe in, is not the force it once was, nor will it become a singular dominant force in the immediate future. Maybe one day, the Greizmann's of the future will want to join Liverpool, and believe they can win titles immediately, but for now, fans in general need to understand that Liverpool FC is still a club with a great deal of catching up to do; it needs to try to increase revenues to be closer in line with those of Manchester United, it needs to rebuild the footballing reputation of the club, from being one that was for several years a mid-table side, to initially a consistent Champions League participant, and then a genuine, consistent, title contender: these things take a great deal of time, and renewing an entire club, in the face of immense competition, requires commitment and stability – and calling for a change of manager after one poor month, or even a poor season, runs the risk of setting Liverpool FC back even further behind the competition.
Certain fans need to realise that their ambitions will not be met immediately, and that the most likely route to success will be to persevere with Klopp, and his current crop of players, most of whom, especially over the first half of the season showed qualities that many fans underestimated. Fans also need to stop trying to compare Liverpool to Manchester United, Chelsea, or Manchester City, all of whom operate completely different models to how they run and manage their respective clubs; superstar players and lavish multi-billionaire owners might be the easy way to a few quick trophies, but Liverpool prefer not to do things the easy way, and have a manager, and owners that have their sights firmly set on the long-term, something everyone would do well to remember. It's time to rationalise expectations, and not get carried away by a good run of form, as fans did earlier this season, expecting to win the league, nor to get carried away by a poor patch either.
As the old saying goes, "good things come to those who wait".