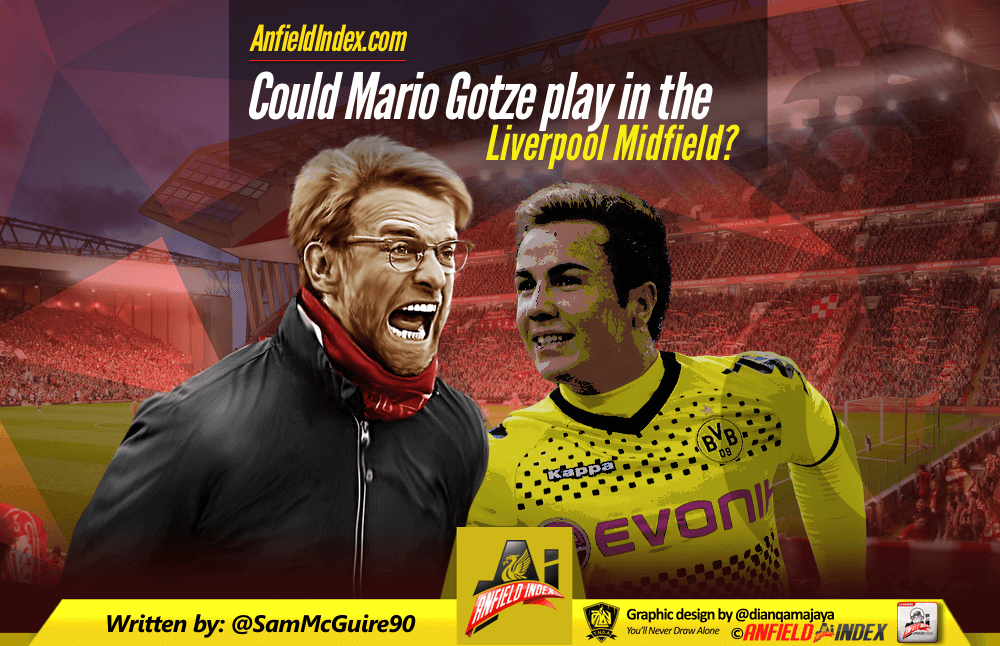 Could Mario Gotze play in the Liverpool midfield?
It was going to happen eventually. It was just inevitable so long as Jurgen Klopp was in charge but I doubt many envisaged it happening quite so soon after being diagnosed with a metabolic disorder.
Mario Gotze is once again being linked with a move to Anfield just six months after rejecting a move to join Klopp's revolution on Merseyside. The 24 year old was a target for his former manager as he looked to reunite with the player he unleashed on unsuspecting Bundesliga defences back in 2010.
A deal was all but done before the player joined up with the Germany squad for Euro 2016 but a remarkable turn of events saw Gotze reject the move, sack his agent and fly to France still as a Bayern Munich player. Much to the surprise of Bayern CEO Karl Heinz Rummenigge.

"We made everything clear to Mario,
"He knows what the club thinks and he knows what the future coach thinks."
In other words 'you aren't supposed to still be here, Mario'.
His rejection appeared to coincide with the Europa League final defeat at the hands of Sevilla, with many believing the player would have signed had the Reds been playing in the Champions League. However, they weren't able to build on Daniel Sturridge's opener as Sevilla ran 3-1 winners.
Gotze, the prodigal son, eventually rejoined Borussia Dortmund in July, much to the dismay of the fans who still hadn't forgiven him for leaving to join Bayern Munich just three years earlier. Thomas Tuchel and Michael Zorc were in the midst of a recruitment drive with the former playmaker being joined by Ousmane Dembele, Emre Mor, Raphael Guerreiro and Andre Schurrle as the new faces at the Westfalenstadion.
After completing a €26million he took to to Facebook to explain his actions of yesteryear.
"I can understand that a lot of fans couldn't comprehend my decision. And I wouldn't do it over again."
Sadly for him though the decision might not be his this time around.
The move was a mistake. Both on his part and the clubs.
Gotze needed rebuilding. He needed time, patience and an arm around the shoulder. He needed a manager to piece back together his shattered confidence. It's exactly the sort of player Liverpool and FSG tend to target as they look to get ahead in the market. The undervalued players. Let's face it, that's what Gotze is right now. You'll be hard pressed to find many who believe he still has the Xfactor and he hasn't already peaked. It's a challenge Klopp wouldn't back down from.
Instead he joined a side who look to develop players, not rebuild them. Tuchel and co are more interested in developing Dembele, Mor, Pulisic and Isak. Who can blame them? Those players are the one who are going to be bringing in the big money in a couple of seasons. These are the players you want to invest in. Simply bringing Gotze back home wasn't enough to bring the player who won Germany the World Cup back to the forefront.
The sad realisation is Dortmund isn't home for Gotze without Klopp. The player perhaps realised it too late.
Can Klopp save Gotze?
The link to Liverpool was more of a when and not if.
It's not one that makes a lot of sense on the surface. Gotze is by trade an attacking midfielder and Liverpool have their starting trio pretty much nailed on – Roberto Firmino, Sadio Mane and Philippe Coutinho.
The blend between the three is seemingly perfect. They're destructive and they've put a lot of teams to the sword this season with their movement, creativity and goal threat. It would take something, and someone, special to displace one of them. The Gotze of old may have had a chance but the player now? Not so much.
Liverpool do need reinforcements in the attacking areas but Gotze isn't the answer. It would be good to have a player of his quality on the bench to change a game but can the Reds really afford to be paying Gotze £120,000-per-week to be a squad player? Not just that, it would be as cover for a position he's not excelled in for close to a year now. Can Liverpool take such a risk? Should they?
Gotze in midfield?
That's not to say Gotze shouldn't be signed if the opportunity presents itself. Perhaps the versatile German could find a home in the recently created Adam Lallana role?
So far this season for Dortmund he's in a central midfield role on a number of occasions in their 343 formation. There's less emphasis on him to have an attacking output in terms of goals and assists but instead he's more of a link player for the likes of Dembele, Reus and Aubameyang. He links midfield to the attack.
Klopp likes his midfielders; Lallana, Gini Wijnaldum and, to an extent, Emre Can to break the lines with their dribbling ability and off the ball movement and Gotze would offer that in a slightly more withdrawn role. He's press resistant and during the height of his Dortmund career he was averaging 3.5 completed dribbles per 90 minutes – for context Mane is our best dribbler with 2.4 per 90 minutes. He's good under pressure and he's the sort of player who helps sustain attacks in the opposition's half.
I'm not saying it's the role he would play for Liverpool if he did sign but it would be one way to keep the holy trinity together in attack but still add someone with the talents of Gotze.