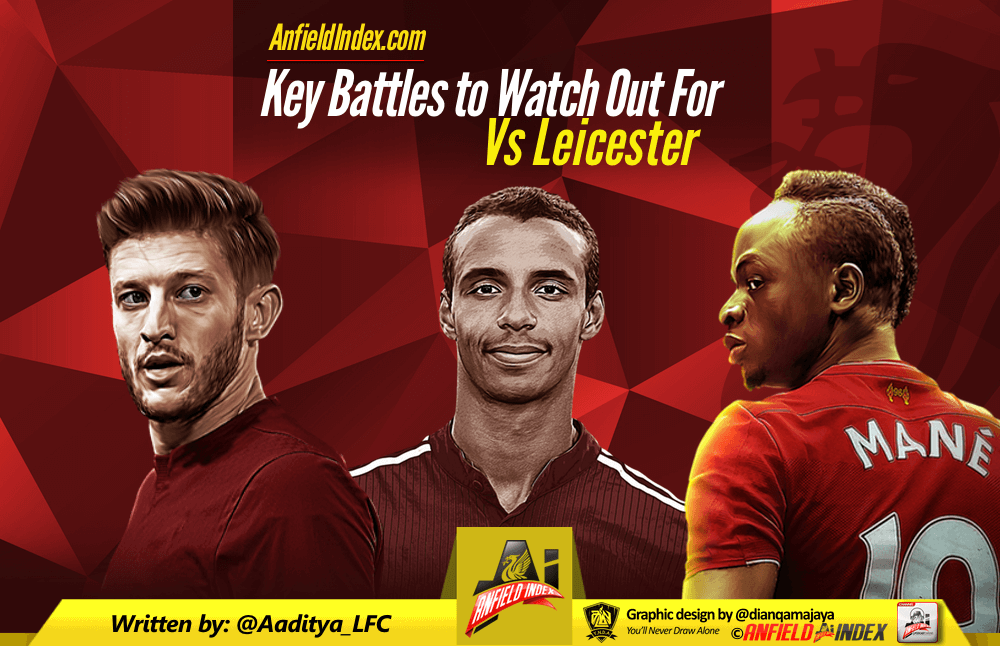 Leicester City v Liverpool Preview - Key Battles

After what seems like an eternity, Liverpool are back in action in the Premier League, as they travel to Leicester to take on the beleaguered champions on Monday night. Leicester City are currently without a manager as they sacked Claudio Ranieri at the end of last week, after a tumultuous season sees them well and truly in the relegation dogfight.
It is fair to say that the greatest ever story in modern football could have the most ugly ending come May, and Leicester have 13 games to save themselves. The first of those is against an enigmatic Liverpool, who have been brilliant on some days and abysmal on others, through the course of the season.
Leicester will take heart from the fact that over the last couple of months, teams like Sunderland and Hull City have taken precious points off the Reds in their races for respective Premier League survival.
For Liverpool, the race for the top four is tighter than it has ever been in recent Premier League seasons, and they cannot afford to slip up against teams like Leicester.
Here are some key individual battles ahead of the game on Monday night.
Christian Fuchs v Sadio Mane
Mane's return has galvanised the Reds, there is absolutely no doubt about that. He gave Liverpool their first Premier League win of the calendar year with a brace against Spurs at Anfield a fortnight ago.
What will be a huge boost for Mane is that there has been no competitive football for a couple of weeks and that would have enabled him to rest thoroughly and rid himself of any little niggles that may have popped up.
He slotted straight back into the Liverpool team after his sojourn in Africa with Senegal and the break could not have done him any harm.
For Fuchs, the job description is very simple: to deny Mane any kind of space to work in. If Mane has that room, he will run rings around the Austrian.
Fuchs isn't the quickest, so his decision-making will be critical to him doing well on the night. If he rushes in to tackles, he will have to make sure he either gets the ball or the man. If he lets Mane off his leash, then Fuchs cannot catch up with the blistering pace of the Senegalese.
With the Reds' attack looking strong with all the first-choice players available, Mane will have no dearth of options to pick out as the movement of Adam Lallana and Roberto Firmino will not go away.
Danny Drinkwater v Adam Lallana
Lallana was back in that midfield role that he so loves against Spurs, and it showed in the Reds' performance as there was more cohesion to what was happening in the middle of the park. Jurgen Klopp seems to have found a combination in Lallana, Gini Wijnaldum and Jordan Henderson that is capable of functioning brilliantly, as each of the players complement the other beautifully.
But Lallana is critical. His desire, drive, running and work-rate are crucial to the way Klopp sets this side up. One can rest assured that there will not be a moment's peace for the likes of Drinkwater and Wilfred Ndidi, who are expected to feature in midfield for Leicester.
Drinkwater has been a shadow of the player he was last season. In the absence of N'Golo Kante alongside him, he has looked lost and incapable of dictating play like he did so well.
Last season, the Leicester template was very simple. Get men behind the ball, win it back and then ping it up to utilise the pace of Jamie Vardy, Riyad Mahrez and Shinji Okazaki. And more often that not, it was the vision of Drinkwater that picked those raking forward passes.
It has all fallen apart for Leicester this season, but with Ranieri now gone, things might change. It was evident that the players were not working for him, Drinkwater and Vardy being chief among those. Now that the Italian is history at Leicester, their fans can only hope that their no. 4 picks up some form and gets close to the form he showed last season.
Jamie Vardy v Joel Matip
On Wednesday in Sevilla, Vardy scored his first goal in over two months as the Foxes got themselves a crucial away goal in their Champions League knockout tie against Sevilla. That goal will surely do his confidence a world of good.
What Vardy did so well last season was to take risks. He was always on the shoulder of the last defender, and with his pace, he could beat the offside trap more often than not.
That running has not been seen this season. On the pitch, Vardy has looked lazy, he has looked lost and that has spelt doom for Leicester. It is believed that he was one of the players that spoke to the club President prior to Ranieri getting sacked.
If that is the case, he has a huge responsibility to perform well, or the fans could well get on his back.
Matip will be the leader of the Liverpool defence, and once again is not expected to have his regular partner, Dejan Lovren, alongside him. That will mean a start for either Lucas Leiva or Ragnar Klavan.
Vardy will have happy memories of playing Liverpool, particularly Lucas. At Anfield, earlier this season, he was gifted a goal as Lucas played a stray pass across the face of goal, for Vardy to tap it into an empty net.
When the two sides met at the King Power Stadium last season, Vardy scored twice as the Foxes ran out 2-0 winners. The first goal was a thing of beauty, as he latched on to a long pass from Mahrez and unleashed a dipping shot from 40 yards out that left Mignolet with no chance.