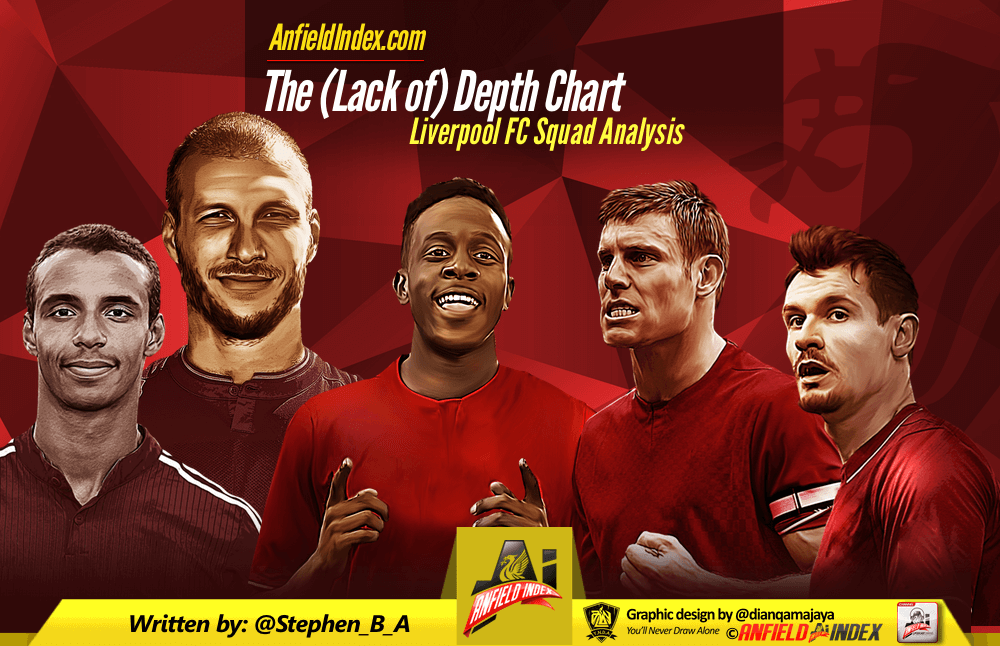 Liverpool FC Squad Analysis: The (Lack of) Depth Chart
At the start of the season I was quietly confident in the strength and potential of Klopp's squad considering the lack of European football. Coming into the final 12 games and the worrying lack of depth and quality in key positions has come to the fore.
Milner has played most of the season as left back and Lucas Leiva continues to pick up playing time as a centre back. You don't need to look at statistical analysis — such as LFC conceding a goal approximately ever 56 mins with Lucas on the pitch or Milner's crossing conversation rate — to see how playing midfielders in the back four hasn't paid dividends.
Wijnaldum has been an understated shining light in midfield and Matip has proven to be an accomplished centre half. But the fact Lucas is starting over Gomez & Klavan concerns me, as does the lack of game time for Moreno, or even trying Clyne as a left back with Alexander-Arnold at right back.

Klopp thus far has kept to a 4-3-3 system for most of the season and when looking at the players available in these positions, how do we shape up?
Goalkeepers
Form, fitness and over zealous media & fans have all contributed to the mess in between the sticks this season.
Loris Karius, full of promise and confidence, is yet to shine. Klopp has done the right thing taking him out of the limelight, but is this season a write off or is it time to put him back in the team? We could have a long term keeper on our books here or another doomed no. 1, only time will tell.
Simon Mignolet has come back into the team and continues to showcase his shot stopping skills. The problem here is the rest of his game, he doesn't command his box, he doesn't inspire confidence in his defence and he's poor at anticipating and dealing with set piece delivery. Surely this summer his time has come.
Danny Ward is LFC's only other 'keeper worth a mention. Though he's on loan this season he's shown consistent and assured performances in goal for Huddersfield. I'd like to see him given a run in pre-season.
Defence
The last time Liverpool had a back four to be proud of Hyppia was still playing. These days the defence is a shambles with little to be excited about.
Right Back
Nathaniel Clyne has continued as Liverpool's first choice right back. He offers consistent and solid performances and is rarely a cause for concern. However, as mentioned above I'd like to see him play a few games at left back — which he's done in the past at Crystal Palace, Southampton and Liverpool.
Trent Alexander-Arnold has nailed down the back-up right back slot. The teenage right back looks assured and calm at the back and equally happy to attack. Given time and support he could go on to be the best right back at the club since Rob Jones.
Right Centre Back
A position of weakness since the Finnish giant parted ways, there is finally some hope in the right sided centre back position.
Joel Matip, though no superstar, he been an assured performer compared to Liverpool's other centre halves this season. He has to start every game until the end of the season and the free transfer was a great piece of business.
Dejan Lovren has played on both sides of defence this year. When playing on the right alongside Klavan or Lucas he continues to tread the line of calamity.
Joe Gomez is finally back in the squad following a torrid time with injuries. It's too early for the Maldini references, but he looks like he could develop into at least a solid squad player, if not a top centre half, over the coming years.
Left Centre Back
The Sakho debate is finally over. Still — in my opinion — LFC's best centre back, he has fallen down the pecking order to the point he was loaned out. Pre-season and missing the cup final for taking fat burners appears to have soured his relationship with the club beyond repair.
Dejan Lovren has been the starting left sided centre back under Klopp. When alongside Matip he's not a complete disaster but it's time to move on from this failed transfer that had pundits (yes you Jamie Carragher) calling him a leader and the future of Liverpool's defence.
Ragnar Klavan has been hit and miss. Calm and solid some weeks, seemingly off the pace of the Premier League others. Squad player at best offering experience to help guide the likes of Gomez.
Lucas Leiva shouldn't be in this section, but he is. I love Lucas for his drive and desire to represent Liverpool and hope he's given a testimonial this summer should he leave. I also hope to never see him play centre back again.
Left Back
Left back on transfer shortlist surely, as we don't have one.
James Milner has filled in here. The first half of the season he was solid, if uninspiring, but as teams increasingly take advantage of his pure lack of pace and positioning, let alone his poor delivery, his effectiveness has suffered.
Alberto Moreno is a player I have a lot of time for, but his defences lapses and poor Europa League final seem to have pushed him well out of contention. Maybe a switch of formation to three at the back could revive his career with us as a marauding left wing back as he's certainly got the attacking skill set and pace.
Given the lack of defensively sound left back options maybe it's time to see Clyne and Alexander-Arnold starting either side of the back four.
Centre Midfield
At the start of season I was excited about the depth in midfield. Though the recent form has been poor no major surgery is required here.
Defensive Midfield
Jordan Henderson has made the deepest role in midfield his own. The Captain is no Alonso but he's had an okay season at the base of the three. His energy and distribution have been as solid as ever and Klopp seems to want to persist in his development in the role. Time to trust Klopp?
Lucas has filled in here on occasion and now looks off the pace for a Premier League midfielder.
Kevin Stewart has a new contract, but that's about it. The little terrier looks more Jay Spearing than Javier Mascherano.
Centre Midfield
The change to a 4-3-3 with Lallana and Wijnaldum playing as centre midfielders and not in the forward line surprised most of the fans and pundits, but it's worked.
Adam Lallana had a cracking start of the season with goals, assists and a more rounded game where his pressing felt more targeted and less frantic ball chasing. Moving into the front three with Coutinho was out was a mistake, but now he's further back again let's hope his form returns.
Emre Can is having a mixed season. Fans have gotten on his back and his contract situation isn't helping. The strong and athletic midfielder looks a real player when driving forward, but now is the time for him to find some consistency and make himself part of the spine of our team.
Gini Wijnaldum has been a masterstroke of a signing. He's quietly gone about his job of recycling possession, winning the ball and keeping the midfield ticking over. He's also proven that he can play alongside either Lallana as a subtle playmaker with one touch football, or as the main man when alongside Can.
Forwards
How can a team with so much natural talent score so many goals then forget where the goal is?
Right Inside Forward
Saido Mane has quickly proven as astute buy. He know's how Klopp wants to play. His pace and direct running has reaped havoc and he has been one of the team's most consistent performers.
The lack of any real backup here is well documented. Lallana and Firmino have both struggled and the club have to act in the summer with someone ready to compete with Mane.
Left Inside Forward
Phil Coutinho is Liverpool's magician and X-Factor. While he was out of the team the front line looked disjointed at best.  Let's hope his performances in the last couple of weeks are the start of him finding form again ready for be Liverpool's talisman in their push for the top four.
Striker
A position of real strength or a complete rebuild needed? It's so hard to say.
Roberto Firmino has cemented the centre forward role. His pressing from the front and intelligent play have continued to impress, but his lack of goals in recent weeks is a concern. Whether he needs a rest or dropping into his natural position behind the striker I don't know. But if Liverpool are to push for the top four with him leading the line he needs a run of goals.
Daniel Sturridge. I'm am truly stuck here. Does he need a run of games, with Bobby behind him to do the pressing, to get his form and fitness back? Or is his time up and should we expect him to be lining up for West Ham next season?
Divock Origi has me torn too. He's shown bright moments with a run of goals, but then in other games he looks looks lost at this level. If Klopp want's another Dirk Kuyt type player who works tirelessly and can pop up with goals then he's the man, but I can't see him being a first choice striker in a Champions League final any time soon.
Strength in Depth
Liverpool's strength in depth has been diminished by from, injuries and players not living up to the hype.
The bright side of the season is Wijnaldum, Gomez and Alexander-Arnold all look to have long term futures at the club. If Klopp can keep Coutinho, Can and Firmino fit and build around them the rest of the season could be an interesting roller coaster ride once again.