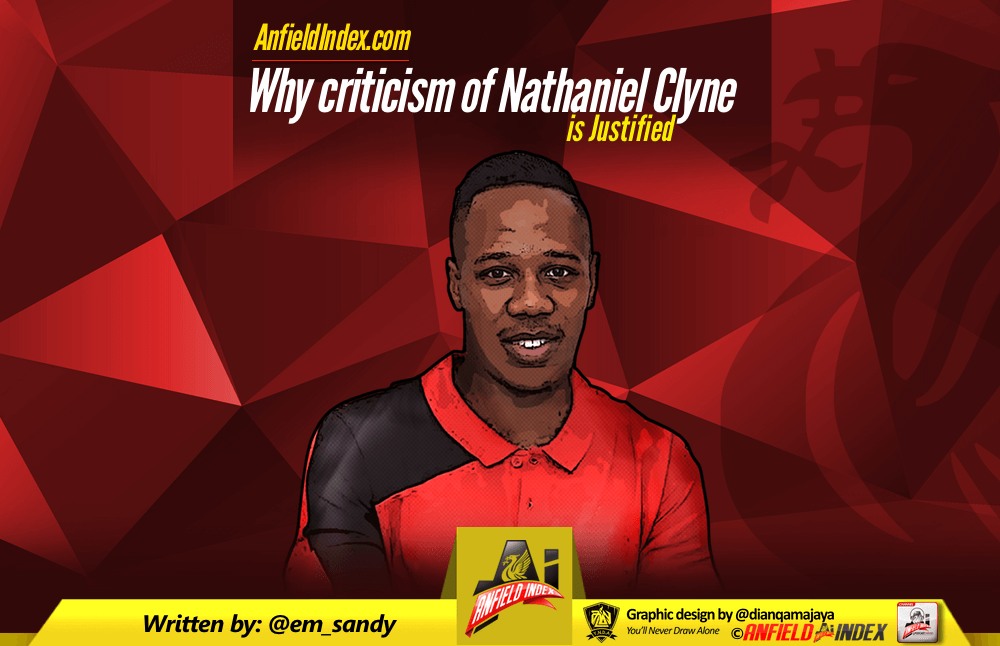 Why criticism of Nathaniel Clyne is justified

Liverpool's performances of late have been nothing short of uninspiring and a number of players have come under criticism in recent weeks.
The usual names of Dejan Lovren, Lucas Leiva, Emre Can and Simon Mignolet have been ringing out on social media but in 2017, Nathaniel Clyne has joined the group of players receiving criticism.
A lot of it has been justified too.
The right-back joined the Reds for just £12.5 million in 2015 which at the time, was a bargain price for a player who performed consistently well at Southampton. Clyne was already a feature in the England international squad and was tipped as one of the best full-backs in the league.
He was brought in as one of the players who Liverpool hoped would go some way in solving the defensive issues that have spread across the team for several years. Not since the days of Sami Hyypia have Liverpool had a strong enough unit to compete against the top teams in England and Europe.
Clyne was initially a bright spark. He produced consistently good performances at right-back, though he was never 'excellent.' He could defend with reasonable solidity and was able to maraud up and down the wing, while providing support in attack. He remains a regular feature in the England squad and is one of the more experienced defenders in the Liverpool team.
However, his standards have dropped this season and he is no longer the reliable player he was when he first joined. Despite poor performance across the team at the start of the 2015-16 season, Clyne was usually a solid player who rarely let the team down. He went by quietly, completing the job in hand with adequate results. This season though, he has looked out of shape, out of form and out of consistency.
At times in 2016-17, Clyne has looked far too easily exposed. He is fairly quick and he rarely before looked out of his depth against pace because his positioning was usually on point. However, against a number of opponents this season, he has been caught out of position and has left far too much space in behind for players to exploit. Jurgen Klopp expects his full-backs to push forward and join in the attack whenever Liverpool are in possession. Clyne has sometimes lacked the ability to time his runs forward, as well as maintaining an advantage in defence.
When he has pushed forward, Clyne has been able to pull the ball back effectively at times and can produce some well-worked one-twos with Sadio Mane on the right-wing. However, when he hasn't been able to break through, he has given the ball away in dangerous positions while out of position and attacking opponents have taken advantage of this.
James Milner tops the table for number of crosses made in the Premier League this season (187) but Clyne sits behind rivals Seamus Coleman, Kyle Walker, Daley Blind and Ryan Bertrand for his involvement. He currently sits 45th in the table despite Liverpool's system allowing the full-backs plenty of opportunities to be involved in the attack. Granted, the majority of Milner's are wasted but the fact is he provides, or at least attempts to, service for Liverpool's front three. Clyne gets himself into strong positions but doesn't always produce the same kind of opportunities.
In 2,250 minutes of league action this season, Clyne has provided just two assists, though he has created 37 chances. Few of those have come to much though and this is where the problem lies. He is able to join the attack but when he gets involved, he tends to do nothing with the possession. More often than not, he has given away the ball and then struggles to track back in time. On average, he is dispossessed at least once in an attacking situation every game.
Defensively alone he has looked out of shape. Clyne has only won 50% of his duels and he averages a defensive error a game which is the same as his midfield opposite at left-back. He only manages two tackles a game and one interception consistently.
Clyne is by no means a poor defender and he is still one of the strongest in the back four but he needs to raise his game in order to become more effective when going forward. Liverpool's lack of solidity across the entire back four highlights his lack of positioning even further but when on the top of his game, he has the ability to provide a solid foundation at right-back.
If Liverpool continue to play in this system however, Clyne will need to improve his timing and learn on what occasions he should fully commit going forward. Failure to do so has led to mistakes and space in behind. If the Reds want to compete for a Champions League spot, they need consistently strong full-backs and at the moment, Clyne is disappointing.