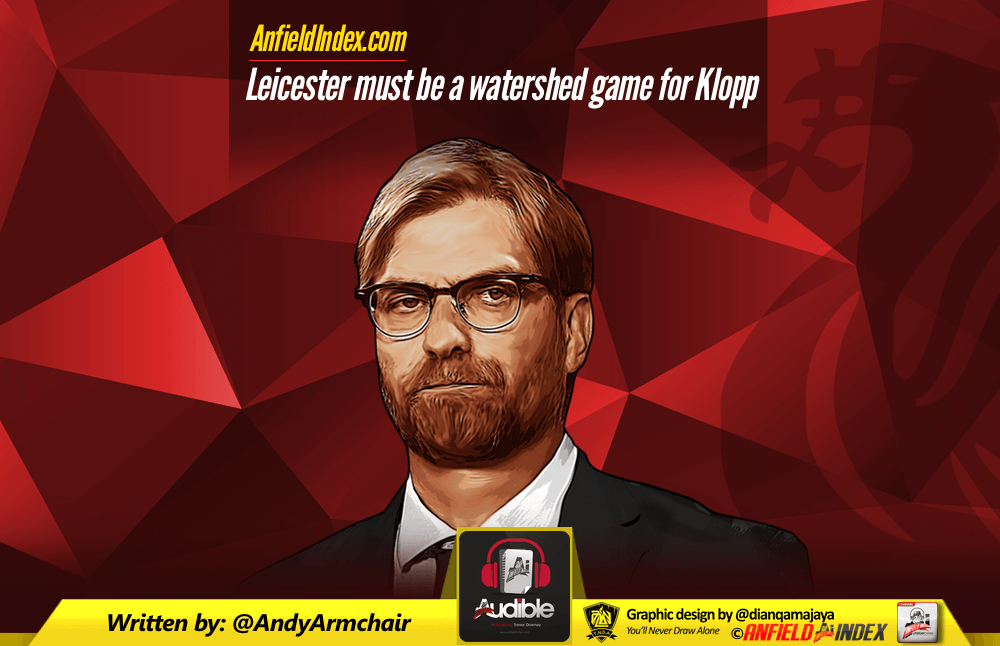 Leicester must be a watershed game for Klopp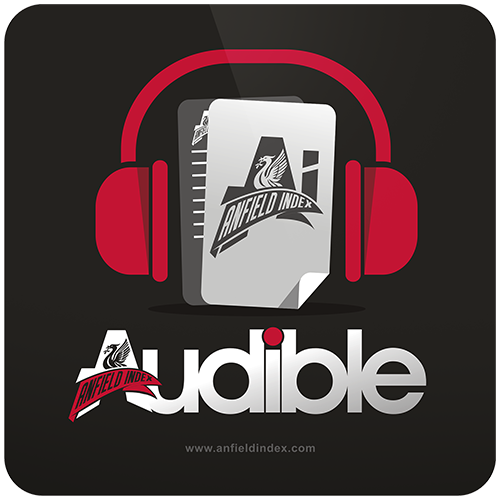 Listen to this article via @AIAudible !
They say you shouldn't write about your team when you're angry and after that abject display against Leicester, I was both furious and embarrassed. Therefore, I thought it best to take some time before reflecting on the game. Unfortunately, 48 hours has done little to quell my emotions.
I have unashamedly been an advocate of Jürgen Klopp for years and was elated at his appointment. Make no mistake, I am still delighted he is our manager and I have absolute faith that we have the right man in charge. I said shortly after he arrived that it is not going to be all be sweetness and light under him and although I saw him as a perfect fit for the club, he may not ultimately succeed. However, it will be one hell of a journey along the way, regardless of where we end up. I stand by that statement.
Long term, I have faith in Klopp; short term, I have a few nagging concerns.

Naturally, Klopp will make mistakes, all managers do, it's a fact of life. The important to thing is to recognise those mistakes and learn from them. Fortunately, I believe Klopp is a big enough man to accept where he's made mistakes and is of the right mind set to learn from them.
Unfortunately, in the match against Leicester we made a similar tactical mistake as we did at the same ground last season and Manchester City did there earlier in this campaign. We employed a high line that allowed Jamie Vardy to expose a lack of pace in our defence. With possession lost in midfield, it only took one straight ball and some atrocious anticipation and directional movement from Lucas for Vardy to be through on goal. Our tactical positioning allowed us to be exposed in that situation and when it happened, Lucas got it all wrong and simply didn't have the mobility to recover. I accept that Lucas is not a centre-back and it is Klopp's decision to employ him there, but the sad fact is that regardless of how good a servant he has been to the club, he is simply not of the required standard if Liverpool are to challenge for major honours again.
Even more uncomfortable to watch than the Leicester players suddenly finding energy, passion and enthusiasm after the sacking of Claudio Ranieri was the complete lack of anything from the Liverpool team. There was a lack of fight, a lack of guts, a lack passion and most damaging of all, a complete lack of quality.
Other than a cameo from substitute Ben Woodburn, a fine driving run from Emre Can and a smart finish from Philippe Coutinho was the only thing of note for the Reds on a truly miserable night that did nothing for my blood pressure. I've long since said that I felt we would still have inconsistencies this season, despite the fantastic start we had. However, the pathetic defeat to Leicester was one of a few unacceptable displays in recent weeks. Sadio Mane was one of the worst players on the pitch the other night, so the excuse of our form falling off a cliff was simply due to him being away at the AFCON, has been shown to be just that, an excuse.
There's more to it than that and the lack of quality in depth within the squad, particularly in defence, is an issue Klopp has accept accountability with because we do not have a left-back of sufficient quality, or a left sided centre-back, following the shenanigans of Mamadou Sakho. The defence has to be THE priority this summer and if we start next season with James Milner and Dejan Lovren as part of our back line, expect another 50 goals a season to be conceded.
The mental fragility that still exists within the current squad and reliance on confidence are long standing scars that Klopp needs to eradicate, otherwise the questions will move from the players to the manager. This brings me to my other nagging concern with Klopp; I am beginning to worry he may fall into the same trap as Arsene Wenger, in that he is too loyal to players who are not good enough and believes he can coach them up to the standard required. Hopefully, this is a concern that is unfounded and that Klopp shows his ruthless side this summer
The harsh reality is that although we have some good players, some promising ones and even a few excellent ones, we have too many that are average and until that changes, trophies are unlikely to appear on the horizon. For all Klopp's larger than life personality, his presence, coaching ability and proven track record, if he repeats some of his mistakes and fails to make the necessary changes, he will be deemed culpable for another period of disappointment at Liverpool Football Club.