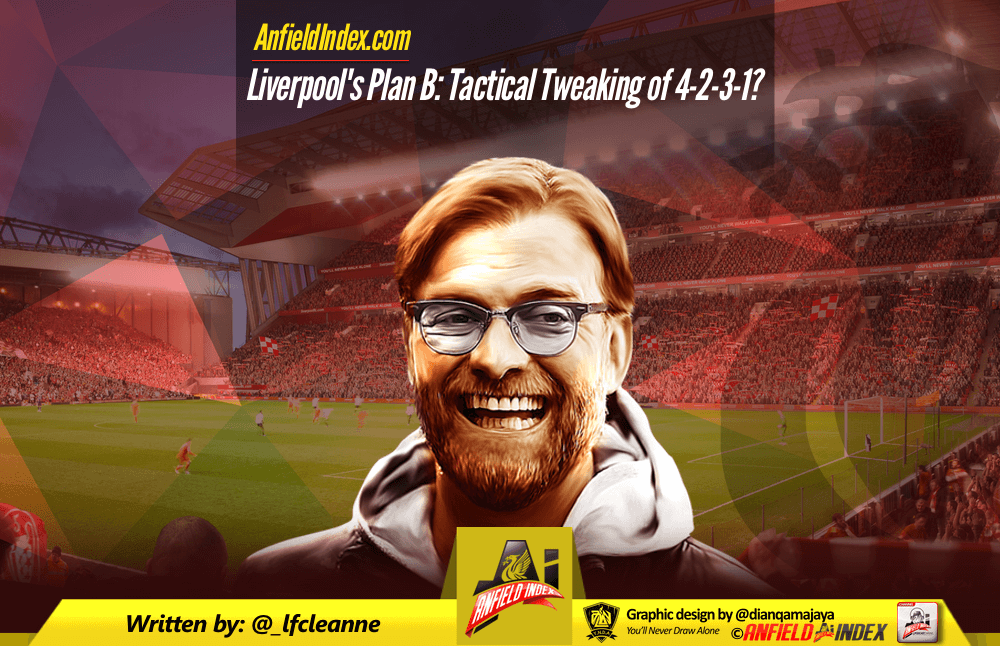 Liverpool's Plan B: Tactical Tweaking of 4-2-3-1?
It's not exactly been the best start to 2017 for Liverpool, with their dismal January form continuing for much of February. An impressive win against Premier League rivals Tottenham ought to have provided a platform with which to build on heading into the business end of the season. However, Liverpool once again failed to impress against relegation threatened opposition, with their performance almost an exact replica of previous defeats to Swansea, Wolves and Bournemouth.
Once again, it was a tail of shambolic defending, with Lucas Leiva left isolated several times in one-on-one situations with Jamie Vardy. To make matters worse, Liverpool rarely looked threatening going forward, with the one exception coming through Philippe Coutinho's late consolation goal. An attack that was so devastatingly ruthless at the start of the season has become stale, with a frustrating repetition developing in their forward play.
The persistent use a 4-3-3 system, while coming up trumps against the top six, as seen by the win against Arsenal this weekend, has been hugely ineffective against lower placed opposition for a sustained period of time now. A dip in form that was largely attributed to Sadio Mane's absence at the African Cup of Nations has persisted, leaving the side's hopes of a top four finish heavily in the balance.

The very definition of insanity is doing the same thing over and over again but expecting a different result. Klopp's stubbornness and belief in his system is proving to be a problem, with the need for change an increasingly pressing issue if Liverpool want to see a return to their free-flowing and highly entertaining style of football.
A tactical switch that could work for the Reds is the adoption of a 4-2-3-1 formation. While it would be a bold move to sacrifice a holding midfielder for an attacker, it could be the injection needed to reignite the fire.
Joel Matip is widely regarded as Liverpool's best central defender, and rightly so. His athleticism and composure on the ball ideally suit the style of football Jurgen Klopp is trying to introduce. However, there is still the issue of who should partner him in defence.
Dejan Lovren has been exposed on numerous occasions this season while Ragnar Klavan has hardly covered himself in glory since joining in the summer. That leaves Joe Gomez as the only other viable option – but for a player of his age, it would be a big ask to rely on him at such a crucial stage in the season. 
The midfield set-up could see a pairing of Jordan Henderson and Emre Can. The duo have never lost playing together in a 4-2-3-1 system and were the lynchpin of the side last season. While Carragher's comments on their creative abilities is certainly justifiable, with a trio of Mane, Coutinho and Firmino ahead of them, there would be far less pressure on them to offer the spark.
Further forward, Liverpool could benefit from an out-and-out striker. Against sides outside of the top six, Roberto Firmino has struggled to make a telling impact alongside Philippe Coutinho and Sadio Mane. With the opposition not gifting them any space to exploit, Firmino has seen a drop off in form of late, most noticeably in the goal scoring department.
Jurgen Klopp's admiration of the 25-year-old is clear, with the Brazilian's off the ball work rate a huge asset that has seen him placed above Daniel Sturridge in the pecking order. However, in games where Liverpool maintain the lion's share of the ball, Liverpool are left without a focal point in attack – something that either Daniel Sturridge or Divock Origi could provide.
Furthermore, with the frequency of crossing taking an almighty rise of late, Sturridge or Origi would offer a more physical presence in attack to cope against robust and aggressive centre-backs. With the exception of his header in the 3-2 defeat to Swansea, Firmino's strength in the air is limited.
By tweaking the system to a 4-2-3-1, Klopp could retain Firmino's defensive contribution and energy to press high up the pitch while adding an orthodox striker to provide a more clinical edge. Sadio Mane would maintain a hugely influential role in a wider role where his pace could stretch the opposition defence, leaving Philippe Coutinho with the task of helping to unlock the door.
One thing is clear – Liverpool need to put a stop to this rut, and fast, if they want to secure a top four finish. A tactical tweak from Jurgen Klopp could be exactly what's needed to see the spark return to Anfield.