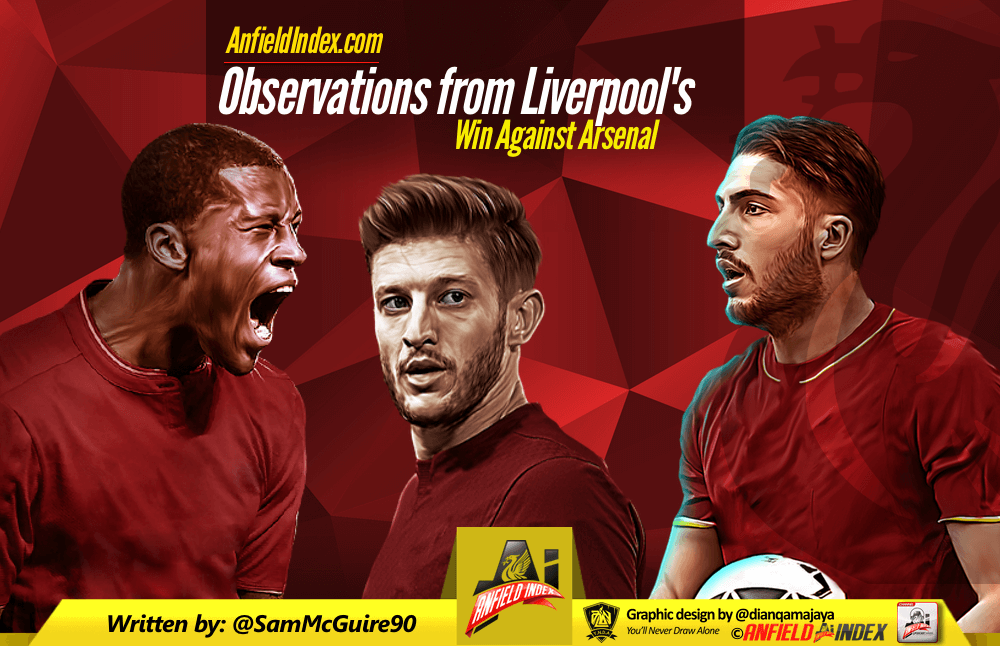 Observations from Liverpool's win against Arsenal
Liverpool were back to their Dr Jekyll best in the 3-1 win over Arsenal on Saturday evening. It came in the same week Mr Hyde had made an appearance at the King Power stadium as Leicester vanquished some of their demons and put a dent in our top four challenge.
The Reds hosted Arsenal knowing a defeat could leave their Champions League hopes dangling by a thread, but like so often this season they effortlessly brushed aside one of their rivals in what was an utterly destructive performance. When Jurgen Klopp's men get it right they're so, so good but when they're bad it's horrific. Consistently inconsistent is the buzz phrase as of late and the victory over the Gunners did nothing to quash those claims.
There were plenty of positives and it was enjoyable to watch as Sadio Mane and co put Arsene Wenger's men to the sword. But there's a part of me which knows we've seen this all before. The dazzling performance, the ruthlessness in front of goal and, for the most part, a dogged defensive display. But then what use is it if it can't be replicated against the Burnley's of the world? Next weekend is the big test.

However, back to the Arsenal result. Here are the observations from the win.
Big Game Gini
The £25million man has a knack for delivering in the big games. There are, of course, question marks over his performances in away fixtures but when playing at Anfield he's on a different level altogether. He scored the third against Arsenal to add to goals he's scored against Chelsea and Manchester City, and to go alongside the superb assist he claimed in the 2-0 win over Spurs as well as the assist for Adam Lallana's goal at the Emirates.
That's quite the hit-list.
Some people believe it's frustrating because he doesn't do it against the lesser teams but it's never bad to have a player in your squad capable of putting in performances against your biggest rivals on a consistent basis. With Everton and Man City just around the corner, you can't help but feel he could be vital.
Adam Lallana puts in a MOTM performance
No words do justice to just how good Lallana was against Arsenal. He was everywhere defensively and involved offensively. He didn't manage to get on the scoresheet or register an assist but this was the all-action midfielder we'd witnessed earlier on in the season but not so much recently.
His involvement in the third goal was just spectacular. His touch to take him away from the Arsenal player, the fact he's aware enough not to play the ball to Origi initially because he would be offside before doing a 360 turn and playing a pass which he made look simple when it was the complete opposite. Everything about it was difficult yet he did it without breaking a sweat.
Emre looked more like the Can of last season
He's come in for a lot of criticism as of late due to his performances and because James Pearce revealed he wanted more than the club were willing to offer during contract negotiations. But last night he appeared to be playing close to what we came to expect last season. He was bossing the midfield, starting attacks and just generally being Can. I quite liked his snide tackle on Alexis Sanchez too, we sometimes lack that sort of shithousery in the team.