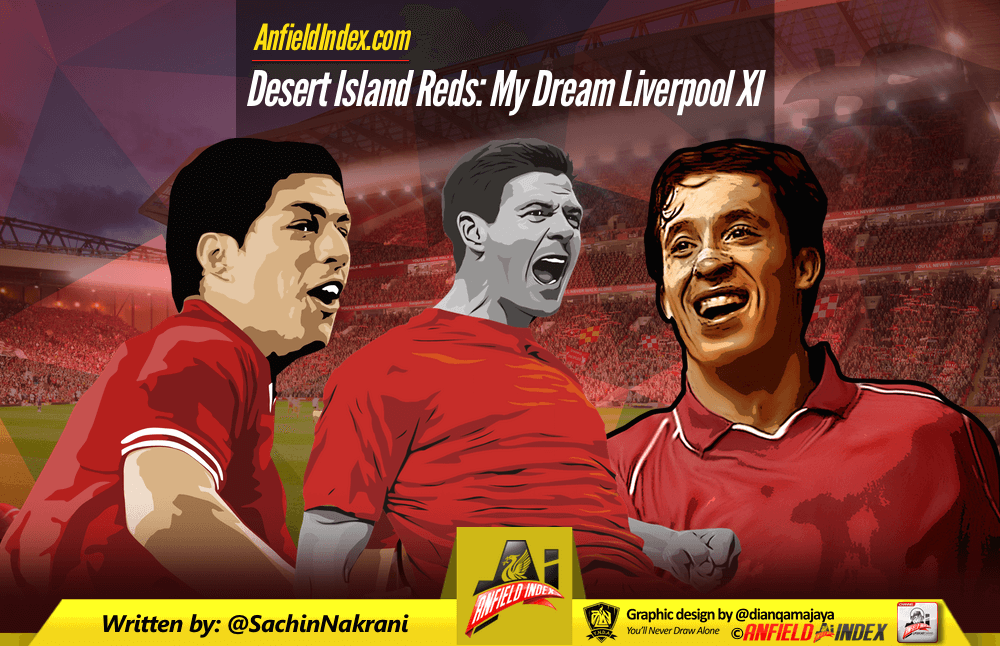 Desert Island Reds: My Dream Liverpool XI
My Desert Island Line-Up is made up of players who have represented Liverpool from 1989, when I first started supporting the club, to the present day. The formation is 4-3-3:
GK Pepe Reina
Liverpool have had some truly dodgy goalkeepers in the past 28 years (David James, Sander Westerveld, Jerzy Dudek to name but three) so any who was even half consistent would get into this team. Reina was more than that. Not only a hugely reliable presence for the best part of eight years, the Spaniard was also bloody great. He left far too soon and, in truth, has never been replaced.
RB Rob Jones
I saw Jones at an Oasis gig at Earls Court in September 1997 and told him I loved him. I still do. Still the best full-back I've ever seen play for the club, and had it not been for awful injury problems he undoubtedly would have gone on to become an Anfield legend. Jones was ahead of his time – a full-back who could defend soundly and get forward in regular bursts. He was also comfortable playing on the left and right flank. 'Trigger' should have achieved so much more in a Red shirt.

CB Jamie Carragher
If you need me to explain Carragher's inclusion in this team than you haven't been watching Liverpool for the past couple of decades. Not the best centre-back the club has had but few – if any – can match him for bloody mindedness and an almost dangerous desire to win, as seen by his refusal to leave the pitch after suffering cramp in Istanbul. Carra played on and helped us reclaim Old Big Ears. Fucking hero, that lad.
CB Sami Hyypia
Hyypia arrived as one of Gerard Houllier's "who the hell is he?!" signings in the summer of 1999 but within a few games of the proceeding season it was obvious we had a star on our hands. Not blessed with great pace, Hyypia consistently displayed a brilliant sense of positioning, allied to calmness under pressure and the ability to score the odd important goal. A truly fantastic Finn.
LB Fabio Aurelio
It's not just goalkeepers that have been a let down during the past 27 years – Liverpool have had a litany of terrible left-backs in that time, too. Of those that have filled the role, none have looked more assured than Aurelio. Like Jones, he could defend and get forward, and like Jones he suffered from terrible injury problems. The Brazilian's was a talent unfulfilled.
DM Dietmar Hamann
Picking a defensive/holding midfielder for this team was tough given Liverpool have had two masters in that role during my time watching the club – Hamann and Javier Mascherano. The latter was a snarling bastard of a player who gave the opposition midfield little or no chance to dominate proceedings, but his departure from Anfield was messy – which wasn't the case with Hamann. The German was a dedicated servant from start to finish, and while different in approach to Mascherano he was just as effective in a Red shirt. Oh and Hamann changed the course of a European Cup final. So he gets in.
CM Steven Gerrard
He wasn't perfect – I know that, you know that, and Gerrard probably knows that, too. But for so long he was our captain, our leader, our best player by a million miles. There won't be another and, my word, it was a privilege to watch him play.
CM Xabi Alonso
It's rare you can pinpoint a team's demise to a single moment, but close to eight years on it feels justified to say 5th August 2009 marked the moment Liverpool's great side under Rafa Benitez fell apart. It was a Wednesday and Alonso moved to Real Madrid for £30m. In an instant Anfield's ticking heart had been ripped out and there was no stopping the bleeding. Other factors, of course, played a part in Liverpool's demise at that time, but the loss of Alonso was huge.
RF Luis Suarez
The greatest shag in Liverpool's history. He came, he treated us terribly, but my God he was worth it. There were the goals – 82 in 133 appearances to be precise – but more than that there was the utter joy of watching Suarez charge around the pitch with that relentless, manic desire to cause havoc. And some of the moments – the assist against Man United, the goal against Newcastle, the dive in front of Moyes – will live with Reds forever and ultimately overshadow his darker moments, not to mention his messy departure from the club.
CF Robbie Fowler
Goals, goals, goals and even more goals. This lad couldn't stop scoring, or so it felt in those first few years after he burst into the team, all scrawny physique, scally demeanour and electric finishing. Fowler got five against Fulham in only his fourth appearance for the club and 183 across two spells. Quite simply the best striker I have seen in a Red shirt.

LF John Barnes
My all-time favourite Liverpool player. Barnes made me giddy with joy as a young child and swell with admiration as a teenager following his conversion from captivating winger to cultured central midfielder. A gem of a footballer and, as I can testify to following a breakfast meeting in October 2013, a gem of a man, too. There won't be another John Charles Bryan Barnes.