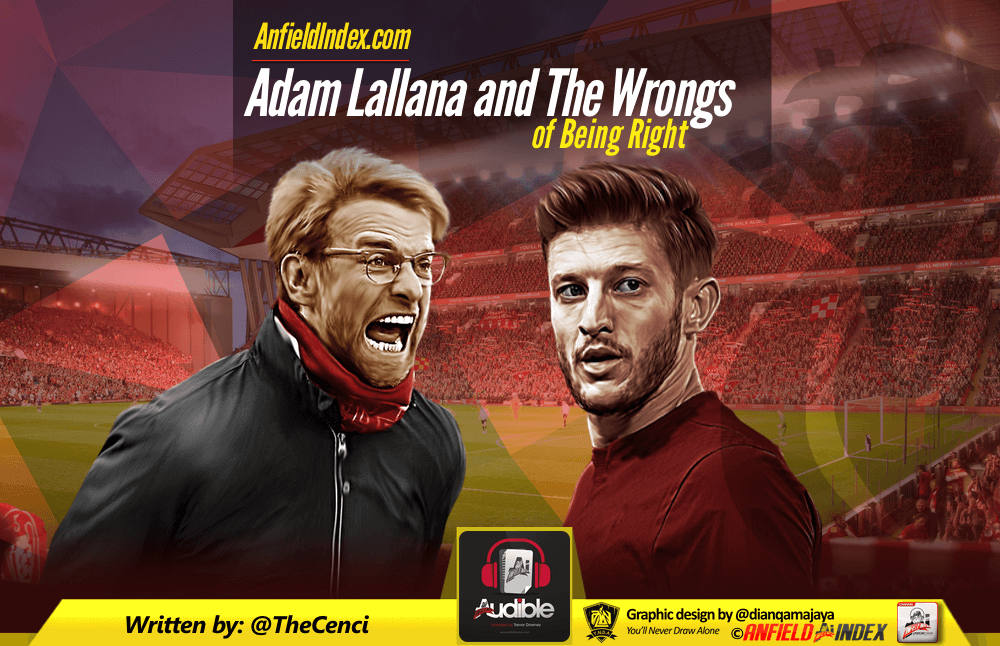 Adam Lallana and The Wrongs of Being Right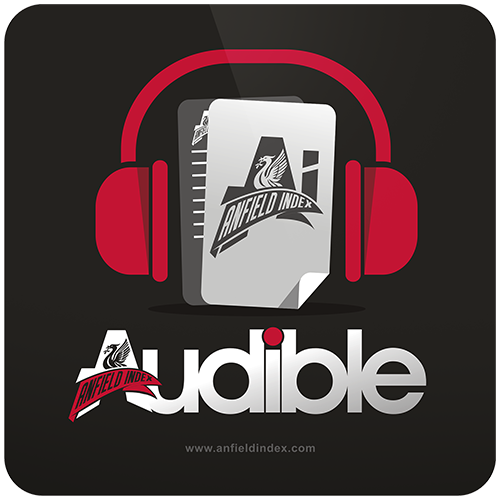 Listen to this article via @AIAudible !
One of the best things about following, supporting and sharing any views on football is the unerring ability to be wrong.
Seriously.
Being wrong is great. It's an incredibly underrated skill.
Imagine a scenario where the opposite is the case. You go to the match or a pub or to someone's house and you call everything with 100% accuracy. 'He's no good.   He's brilliant. He can't play there. He'll come good in exactly 48 games and that lad will be looking for shift work come next September.'
No one would ever sit next to you again. You'd be exiled to the gates of the city in seconds. Mr Know It All. The man who saw through before everyone else. The smug prick.
I'm grateful then to the footballing Gods who continually keep me and others honest. I thought Charlie Adam was the answer to Xabi's departure. I really did. I also thought Morientes would be what Torres ultimately became. I raised an eyebrow when '60 goals in two seasons' John Aldridge arrived and stated that you can't replace a genius like Ian Rush with a lad who ploughed through the lower leagues.
I'm amazed people listen to me at times.
Don't get me wrong. There are certain positions from which I will never recede. John Arne Riise was the most overrated player in our history. I still can't see why the 'decent at times but not all that' Emre Can is lauded to the skies in some quarters and I still think Phil Collins should be tried for crimes against humanity, but when I'm proved wrong I like to think I'm human enough to raise my hands in defeat.
Ladies and gentlemen, I come in peace and welcome your bullets.
A few years ago, my friend David –a Southampton fan- told me that Adam Lallana would go on to make a name for himself. It was a bold statement as the Saints had only just been promoted and the young Adam hadn't spent a single second in the top tier, but I like a bold proclamation so remembered it. Adam Lallana, you say. I'll remember that name in case I'm asked about him on a future podcast so I can look all clever and wise.
Of course, he duly arrived in Brendan's final complete season and, though he didn't pull up any trees, he was all right. Nothing more. Fine. You wouldn't buy his name on your son's first Liverpool shirt, but you wouldn't weep uncontrollably at the sight of his name on the team sheet.
I had him down as a second season signing.   A lad who needed to bed in and would iron out the wrinkles of his new life at the mighty Reds before taking the world by storm.
But the day didn't arrive and his faults were still there. Too many touches, slowing down the play whenever and wherever he got the ball and too indecisive at this level. Not a bad player but an upgrade wouldn't hurt. In the same way I always saw Jordan Ibe as a modern Jermaine Pennant, Adam Lallana had Jamie Redknapp qualities – all right but nothing special. Pretty but never consistent enough to hurt people. Plus he had a really weird hair/beard combo and these things mattered to those with deeply prejudicial opinions.
Last summer, I was in an off-license with mates, buying the necessary liquid ingredients for a day out on the river. This is an annual event for a group of us who met on a LFC fanzine forum 10-12 years ago. We take boats down the Thames and eat and drink ourselves sick. Anyway, we discovered that we didn't have a bottle opener. One of the lads pointed at one on the counter which was on sale for the princely sum of £1.50. He eyed it with disdain and said 'It's a bit shit but I suppose it might get the job done.'
Tony, the other lad in our reconnaissance party, shrugged away the indecision and said 'Adam Lallana.'
Well, quite.
Adam Lallana was a shoddy bottle opener you could buy and who might get you through the day, but it wouldn't be missed if something chrome plated with flashing lights came along.
And yet.
And yet.
On Saturday I watched another player. Gone were the maddening pauses as we broke. No more the limp lily-livered tackle as yet another opposition defence midfielder deprived him of space and took the ball from him. That Adam Lallana – the shit bottle opener – had been reborn into a man in a hurry. A man who would disavow any notion that it was your ball and not his.
Instead, he didn't give Coquelin and Xhaka a minute's piece. Those are two players well versed in the dark arts and not afraid of leaving the odd stud in a calf muscle to make a point and yet it was Lallana who steamed in time and again; shin first, with little consideration for his own safety. Every ball was his, every run had purpose and every pass was on.
And it wasn't just the dirty stuff in which he excelled. His ball to Coutinho for his one on one was beautiful, but it's his role in the third which was the standout. Origi was doing all he could to stay onside for the pass and, although we've broke, the yellow shirts are dancing around Lallana as he waits and waits for the conditions to be right. What does he do? Panic? No. Old bottle opener Lallana would do that. This one just ran in a bizarre spiral and plays a lovely little dink later. It's then that the whole ground knows we've won. If Divvy finds Gini we win three one. If we don't the ball will take its time coming out of the Kop and the ref blows time from the resultant goal kick. We all win.
A great performance is one thing but consistency is another. When he plays in Coutinho's position he becomes less effective as there are fewer players to hit and, well, he's not Coutinho, which is hardly his fault. With Klopp choosing to play both Can and Gini behind rather than one or the other the midfield became ours and even though Arsenal didn't hurt us after their goal, he was part of that successful set up in both defence and attack.
I'm an Adam Lallana fan. Up is down, black is white.
I've still not changing my mind on a few things. On Alberto Moreno's defensive qualities, on the Stone Roses second album or an admittedly controversial view that the film Sliding Doors should have come with a full refund and an apology from everyone involved, but it's great when you see a tawdry, wriggly caterpillar become a butterfly in front of your very eyes. Long may it continue.
Up the metamorphosis Reds!