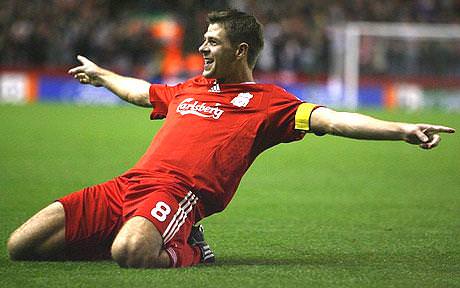 Premier League Central Midfield Comparison
Liverpool Football Club is known for having some legendary central midfielders with names like Ian Callaghan, Graeme Souness, Jan Molby, Xabi Alonso and of course Steven Gerrard. So it goes without saying that anyone coming into the Liverpool midfield has some big shoes to fill.
Central Midfielders are the orchestra conductors in the football world. They dictate the pace, direction and flow of the game by pulling the strings from the middle of the pitch. Games are often won and lost in the centre midfield and it is crucial that anyone playing there has bagfuls of stamina and strength. It is also important to have creativity and excellent vision to anticipate passing opportunities to open up the opposition defence. In addition to this the central midfielder should also be able to break up opposition plays and to ease the load off the defensive players.
With LFC being linked with a couple of central midfielders, most prominently Charlie Adam, it's important to see how some of the best known centre mids have fared this season. In this Premier League central midfield comparison we'll be looking at 12 Premier League centre mids and split them up in three groups of four. Note that we are looking at more attacking midfielders than holding/defensive midfielders. In our first group of four we have a look our own Steven Gerrard did against Chelsea's Lampard, Arsenal's Fabregas and United's Scholes. Let's look at their stats below.

From these stats you can see that all four players were unable to compete in most of the games this season, missing out either through injury and/or in some case being used less because of age. But it is also clear that all of them had a significant impact when they did play.
The now retired Paul Scholes managed a 100% crossing accuracy rating although this is due to him only attempting three crosses. The most successful crosser of the ball in this group even though his accuracy rating 23% is Steven Gerrard, he attempted more and had more crosses on target than any of the other three. Second is Frank Lampard who attempted 76 crosses and got 26 on target, managing an accuracy rating of 34%. Fabregas is in third managing to get nine out of 55 crosses on target. This brings me to my next point.
The reason I think Fabregas got so little crosses on target is because he is far more comfortable with passing on the ground, shown by his total of 1,665 attempted passes. Gerrard comes in second with a total of 1412 passes attempted. When it comes to pass completion percentage Scholes managed a total of 90% even though he has the least amount of passes attempted.
Fabregas also created the most chances for his team this season creating a total of 72 chances, 19 more than Liverpool's Steven Gerrard who created 53 chances. Only one behind Gerrard, Lampard managed to create 52 chance and Scholes coming last only managing to create 20 chances.
On the goal front, Frank Lampard proves to be the most prolific with 10 goals in total this season with 68% of his shots on target. Six goals behind him is Stevie G, managing 4 goals but with his shooting accuracy being very low against what we expect from our captain. With 65% accuracy Cesc Fabregas managed three goals this season, which in my opinion is a little low for the Spanish playmaker. Finally, Paul Scholes managed to score one goal this season which ended up being his last league goal for United.
Based on these stats I think Liverpool are well off with Steven Gerrard in the central midfield role. And with Fabregas moving on this summer and Scholes being retired I think we have one of the best in the league with Stevie out performing Lampard even though he played 3 games less than the Chelsea playmaker.
Let's have a look at the stats for the second group below.
In this group we see Spurs' highly sought after Luka Modrić being compared to our own Raul Meireles, long-time Liverpool target Charlie Adam and West Ham's outgoing captain Scott Parker.
All four of these central midfielders managed to play 80% of this season's league games with each amassing more than 2,500 minutes of play throughout the season. The stats show that none of them are really prolific crossers of the ball with no-one getting an accuracy rating of more than 30% with Meireles and Parker getting the best percentage of the group, and Meireles and Adam attempting 160 and 196 respectively.
It is clear from the stats that Charlie Adam had to carry his team throughout the season with the seaside midfielder attempting 2091 passes, getting112 shots away with 44 of them on target and amassing 12 goals in total this season. Not too bad considering it was his first season in the Premier League.
The best passer in this group has to be Luka Modrić with a pass completion rating of 84%, completing 1748 out of a total of 2070 passes attempted. Modrić also managed to complete 69 dribbles throughout the season. Close behind him is Scott Parker with a pass completion percentage of 82%. Adam managed to complete 59 dribbles for Blackpool.
72 chances were created by Adam this season, matching the total of Arsenal's Fabregas. Not too far behind him though is Modrić with 66 chances created. Meireles and Parker created 61 and 40 chances respectively.
Once again Liverpool is well off with Meireles although Charlie Adam would be a welcome addition to the squad with Modrić unlikely to be sold and Parker likely to join another London based side.
For the third group we will be comparing the blue half of Merseyside's Mikel Arteta with Spurs' Rafael van der Vaart, Gunners' young Wilshere and one-time Liverpool target Gareth Barry. Let's look at the stats below.
These four again managed to play a large portion of the 2010/11 league games for their respective squads with all of them having more than 2,000 minutes on the pitch.
Mikel Arteta again had a pretty routine season for Everton on Merseyside with him getting a pass completion rating of 81% getting 1339 of his passes on target. He also created 58 chances for his team, getting 5 assists and 3 goals. Arteta also had the most crosses on target in this group, getting 56 out of 171 crosses to their destination.
Rafael v.d Vaart had a brilliant debut season for Spurs after joining them from Real Madrid last summer. He attempted a total of 1400 passes getting 78% of them on target and creating 67 chances, the most in this group. He scored an impressive 13 goals for Spurs and had 8 assists in his first Premier League season.
Another midfielder who made huge strides this season is 19 year-old Jack Wilshere, proving that Arsene Wenger does get something right sometimes. He started 31 games for Arsenal in his first full Premier League season. He attempted an impressive 1966 passes getting 84% of them on target, joint best of this group. He also created 60 chances managing 3 goal assists and 1 goal, his first league goal for his team. Typical of Arsenal's playing style, Wilshere only attempted 53 crosses with only 12 of them reaching their target.
Finally we come to Gareth Barry who was close to joining Liverpool during his time at Aston Villa and he finally left for Manchester City in 2009 for less than we were offering in 2008, so did we miss out?
Well, Barry had an 84% pass completion rate this season with 1527 out of 1818 passes reaching their intended target. He only attempted 29 crosses getting a pretty poor total of 3 on target. He created the least amount of chances for his team out of this group with 25. Only Paul Scholes created less chances that Barry out of all 12 midfielders in this comparison. He also only had 2 assists and 2 goals, getting 53% of his shots on target, second lowest of the 12 again. In short no we didn't miss out and I'm quite glad we did.
In this group I have to give it to Rafael van der Vaart, although none of the four are likely to leave this club this summer, due to the sheer amount of goals he scored in his debut season.
All in all I think Liverpool's midfielders fared pretty well against some stiff competition and I think our midfield is set to be better next season with the additions of Jordan Henderson and most likely Adam. As much as it pains me to say it the best central midfielder has to be Luka Modrić, purely because he was the most consistent throughout the season. Having said that he is the best only by a small margin and I expect it to be much closer after next season.
Our new boy Jordan Henderson was not covered in this comparison, but you can find my player profile on him here. Feel free to give me your thoughts via twitter(@ChrisV21) or in the comment section below.
YNWA