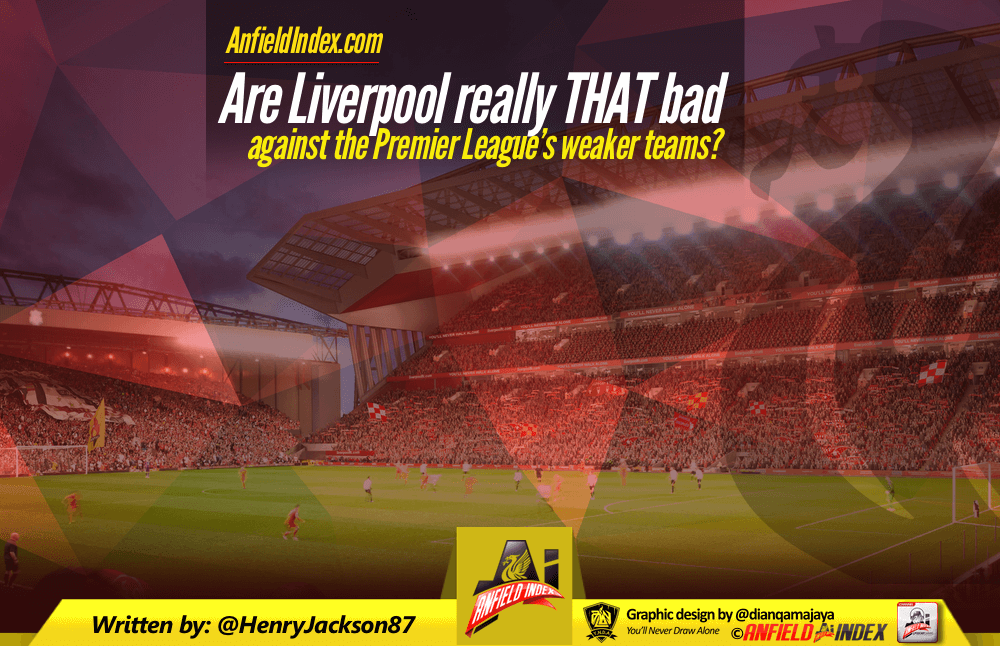 Are Liverpool really THAT bad against the Premier League's weaker teams?
Make no bones about it, Liverpool are far better against their top-four rivals than those in the bottom-half of the Premier League.
The statistics show that, and we can see with our own eyes that that is the case.
The Reds have undoubtedly been poor when a number of so-called lesser teams have stood before them this season, which has proved incredibly frustrating, especially when the title looked achievable at one point.

Too often for opposing managers, it has been a case of "sit deep, wait for Liverpool to lose the ball then hit their shaky defence on the break", and it has worked.
Despite these issues, are we now reaching a stage where too much is being made of this apparent achilles heel? Have Liverpool really been THAT hideous against parked buses and counter-attacking football?
The 3-1 win over Arsenal was a glorious victory, but immediate thoughts for many went straight to Sunday's visit of Burnley.
They couldn't seem to enjoy what was yet another stellar display against one of the best teams in the country – a game that again showed that this Reds team will destroy anyone who wants to be a bit more attack-minded against them.
"Burnley will be the real test of this Liverpool side"; "Watch us lose at home to Burnley now".     Whether it be fans in the pub, on social media or in other walks of life, these were the sentences being uttered by so many.
It is understandable why there is a certain amount of trepidation going into the game, but Jurgen Klopp's men have seen off plenty of strugglers throughout the campaign.
Tough as it may be to stomach watching them slay the best and surrender to some of the worst, they are more than capable of doing the latter than a lot of supporters, pundits and journalists claim.
At Anfield, the only genuine shocker of a performance came against Swansea on January 21st, with the 3-2 loss still their only home defeat of the season in the league.
Even then, without trying to make excuses for every shortcoming, the Swans were enjoying a 'bounce' under new manager Paul Clement, with players upping their game and enjoying the freshness that comes with the arrival of a new boss.
In fact, this also happened in the losses at Hull and Leicester, with Marco Silva getting a great performance out of his side and Claudio Ranieri's sacking making the champions look a completely different team to the relegation candidates we have seen over the last six months.
Liverpool were wretched in both games, let's not ignore that, but they were a little unlucky to get both teams at completely the wrong time. Similarly, Ryan Fraser deciding to turn into Lionel Messi was a true one-off at Bournemouth in December.
Anyway, back to home games.
Leicester and Hull both came to Anfield back in the autumn and were taken apart by an unstoppable Liverpool side, with both never looking like getting anything for their efforts.
Watford headed to Merseyside with a similar approach and the eventual 6-1 scoreline was actually kind on them. Stoke were also dispatched of 4-1, with the Reds recovering excellently from going 1-0 down.
People will say they didn't park the bus in the way some teams do, but Liverpool didn't allow them to. When they are on song, sticking 10 men behind the ball is no issue – the problem is, they have played badly too often in those scenarios, with key men missing and out-of-form players replacing them.
There have, of course, been some pathetic displays thrown in there, with an inability to break down teams certainly more apparent away from home.
The 2-0 defeat to Burnley in August was truly awful, and the way in which they fell to pieces at Bournemouth was both baffling and infuriating. The 2-2 draw at Sunderland hurt a lot, having just seen off Man City, while the same scoreline at home to West Ham was equally tough to take.
If you compare Liverpool's record against these teams to their rivals at the top of the table, it makes for grim reading.
The Merseysiders have earned just 23 points from 14 matches against the 10 current bottom-half sides, at an average of just 1.6 points per game.
To put that into perspective, Chelsea have averaged 2.7, while Man City (2.6), Tottenham (2.5), Arsenal (2.4) and Man United (2.2) are also faring comfortably better.
It is an area that Klopp must improve in noticeably, both between now and May, and in future seasons. If they don't, forget about the title.
The main point, however, is that this inability to beat the dross is not occurring in every game, and there have been mitigating circumstances in some matches. They have got a number of teams at exactly the wrong time, while injuries to key attacking players have made Liverpool look toothless in the final third.
January's insipid showings against Plymouth, Wolves and Southampton in both domestic cup competitions also cloud it slightly, with youngsters used and legs tiring, in what was a relentless month of football.
You may think this is all just one poor excuse, but when the team are fresh, everyone is fit and confidence is high, this Liverpool side will cruise past the Hulls, Leicesters and Swanseas of this world, regardless of how negative their opponents' tactics are.
Some of the performances against teams of that ilk cannot be excused, but there is now an overreaction about just how bad the Reds are when tasked with overcoming them.
They will see off Burnley this weekend, don't you worry.