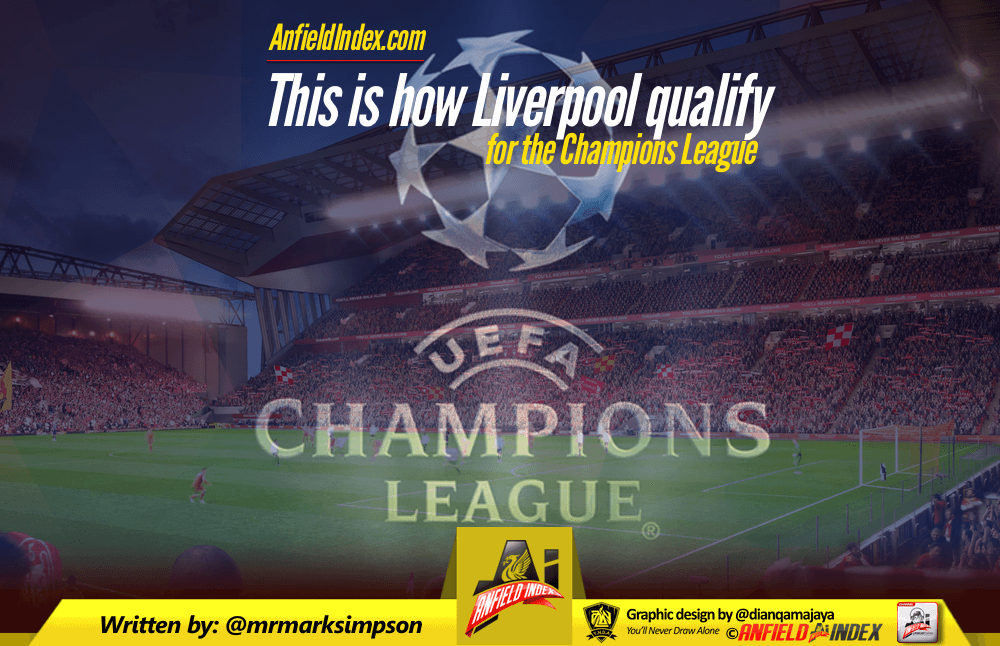 This is how Liverpool qualify for the Champions League
Liverpool need 77 points to qualify for next seasons champions league, that's not my words, a "super computer" has taken the rest of the fixtures of all the top 6 teams and worked out all the possible results and the team to get 77 points will 100% qualify for the Champions League. With 76 points, you're 94% chance of getting it. Last season, Man City got 4th with 66 points!
Liverpool, right now have 52 points.
That means we have 11 games to get 25 points (a little over 2 points a game).

After Burnley this weekend, we play Man City on the 19th March, then it's the Merseyside derby on the 1st April. After that we play all mid table teams, until Middlesbrough come to Anfield on the last game of the season (already relegated Middlesbrough at that). Unless Hull or Sunderland have a unlikely winnable run, and Bournemouth don't self implode, we will be playing teams in April and May who are looking forward to their summer holidays.
Bearing that in mind, let's see how Liverpool can kick this "can't beat the lower 13 teams in the league tag and get CL football next season".
They need 25 points.
Say Burnley is 3 points this weekend, that leaves 22 to get.
For the Man City and Everton games you would like to think 4 points will come from these, 2 is a chance, 3 more than likely, 6, would be dream land!
I've predicted 4, so add to the other 3 points from Burnley, that's 7 and a total of 60 points.
17 to go from 8 games.
The rest of April is made up of:
Bournemouth (home)
Stoke (away)
West Brom (away)
I have predicted 7 from these three games, which will make 67 and only 10 points needed from the final FIVE games.
May brings:
Palace (home)
Watford (away)
Southampton (home)
West Ham (away)
Then on the final game of the season is Middlesbrough.
I've worked out that wins will be against Palace, West Ham and Middlesbrough with a loss at Watford and a draw against Southampton.
That's the 10 points needed.
Of course, these points could happen in any order, but I just wanted to show you how easily 77 points can be achieved.
For those who comment below saying, "will 77 be enough?", have a Google and check out the last 4 seasons and work out the average points 4th place gets……
Who do I think get top 4?? Chelsea (obviously), Man City, Spurs and then us with Man Utd and Arsenal to miss out.
What do you think??