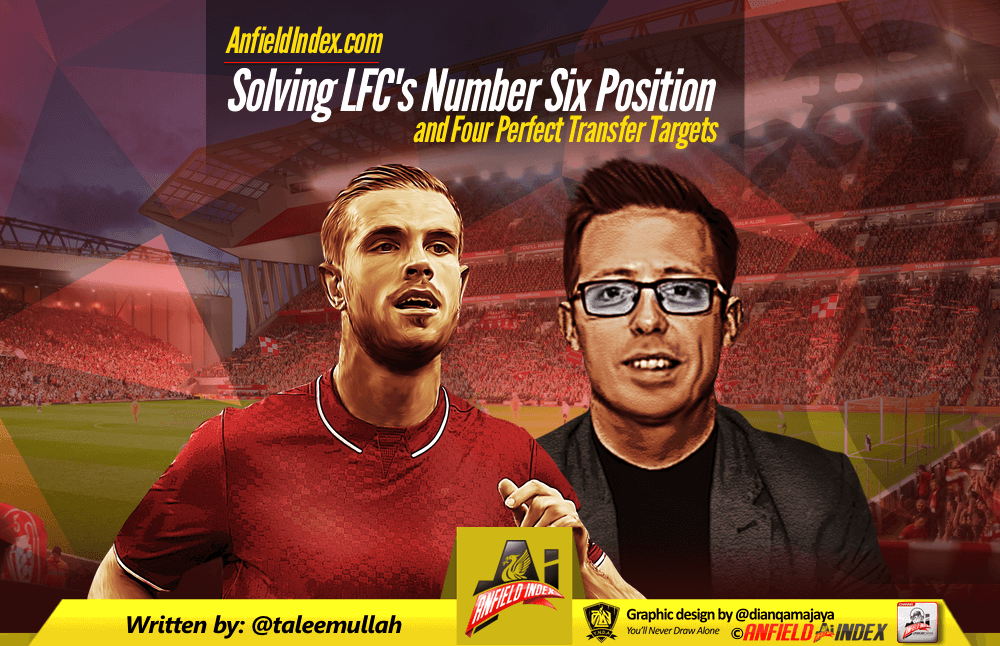 Solving LFC's Number Six Position and Four Perfect Transfer Targets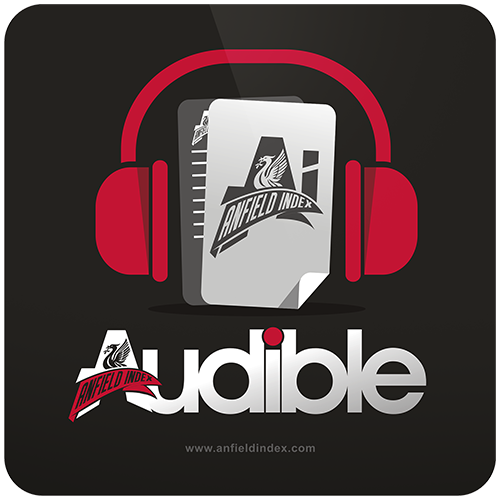 Listen to this article via @AIAudible !
In this article:
Understanding the Dutch 'number six' midfield position & specialist roles today
The Liverpool history of Jordan Henderson
Liverpool's attacking & defensive failures and how to resolve them
The perfect transfer targets for 2017/18
Understanding the Dutch 'number six' midfield position & specialist roles today
On face value, Jordan Henderson has done surprisingly well this season as a player you would describe as a 'known known'. As a symbol of consistency amidst the years of flux in footballing style and managerial stewardship at Liverpool, he has carved out a middling standard of expectation and performance level in a midfield dynamic that itself too experiences inconsistency; both in its attacking and defensive integrity and in its results against direct, aggressive and defensively stoic teams.
Off the back of a season marred by a fasciitis injury and a metatarsal fracture, our diverse, role-playing captain has transitioned back into a deep 'number six' position in central midfield. Although now playing a newfound controlling role, to purposefully distribute possession and complement our attacking creativity, it was a position he once fulfilled with great dynamic promise as an England youth player and Sunderland academy graduate.

But has that promise actually come to full fruition now, in a Klopp system that year-to-year yearns for Champion's League qualification and trophy challenges? More importantly, is Henderson really the answer in the 'number six' position or has he become a rate limiting factor to improving the first team?
To help answer these questions, let's look at the innate function and qualities of a 'number six' midfielder. Speaking from the profiling of midfielders in Dutch-influenced curricula, the typical task of a player in the 'number six' position is to stay mobile between central midfield lines to support the defence during build up play and to feed the attacking movement of players in transition. They must do this by absolving the off-ball positional and on-ball possession-based pressure from their attacking full-backs and midfielders, to best allow progression of the team's attack without committing unnecessary turnovers or reducing the space from which to attack from. Hence, this necessitates being tactically astute in one's positional awareness and technically astute in one's dribbling, turning and passing ability, in order to be a quick executer on and off the ball in all phases of transition. It demands being press resistant, having a high level of concentration and a masterful passing range and vision. Defensively, their task is typically auxiliary in dominating the defensive transition, creating a block with the centre-backs and screening the passing lines to the opponent's central strikers.
Today, the once-again dominant flavour of football is high-octane transition football, defined by attacking verticality and teams having a life-like or zoetic flow; a recognisable product of Dutch total football. Born out of the concept that mastering transition moments allows you to enforce your defensive solidity in protecting the half-spaces and best create high quality goal-scoring opportunities, there is no position that fits more inherently to this style than the 'number six' midfield position. To best fulfil this style however, specialist subset roles for players in the 'number six' positions have become vital to specific tactical approaches, inarguably a result of the influence of Marcelo Bielsa and his wide range of disciples, such as Pep Guardiola. Among these specialist roles, the most noteworthy are a) defensive midfield destroyers or shields (e.g. Javier Mascherano), b) creative controllers (e.g. İlkay Gündoğan) and c) dynamic deep-lying playmakers (e.g. Xabi Alonso). Very few players in world football fulfil the entire complexion of a), b) and c) to an elite level, with Sergio Busquets being the most notable exception, and this is why the 2-1 midfield in the 4-2-3-1 formation became such a popular means to mitigate the talent and performance burden on any one player in the 'number six' position. An elite and functional example of this 2-1 midfield was within Benitez's peak Liverpool team challenging for the UEFA Champion's League and English Premier League title. It had Xabi Alonso as a specialist, dynamic deep-lying playmaker who was co-dependently offset by Javier Mascherano, a specialist defensive midfield destroyer. These two 'number sixes' became the tour de force anchor for Steven Gerrard, a world class, goal-scoring and creative engine playing as Liverpool's free-role attacking midfielder. The synergy was necessarily perfect.
Furthermore, this tactical development of the 2-1 midfield was a crucial result of the increasing competitiveness to win European and international tournaments, in the face of greater extremes of physical, mental, technical and tactical ability. These new extremes were brought about mostly by the modernity of sports science, the commercial desire for winning football and of course, the pursuit for intellectual and sporting development within the footballing profession.
The Liverpool history of Jordan Henderson
Looking at Liverpool's current midfield dynamic, Henderson himself is the team's custodian of the creative controller role, but not after having journeyed through an eclectic range of midfield positions. Examining these, serves to explain how his development pathway was constantly stunted, thereby preventing any specialisation, but also how this generally resolved the overall needs of the playing squad and revealed Henderson's greatest playing strengths to the collective team's benefit.
Under the uber-defensive conservatism of Dalglish and Clarke, he drifted between two archetypal British roles; the first of those was as a puritan crossing, right-midfielder. This was a bastardised attempt to funnel a new signing into an old-age style of direct play, to the detriment of Henderson's fan support and ideal pathway of development. Much to the frustration of all, it was a role executed quite crudely with slow, inefficient movement and low percentage crosses from deep areas against stable defences. This was in stark contrast to the modelled silk, dribbling penetration and vision that Beckham provided in his pomp for a positionally aggressive and rapid Manchester United; a style that Dalglish was surely hoping to emulate.
The second of the aforementioned roles was born out of this original tactical failure, whereby Henderson positively reverted to his preferred and dynamic, box-to-box central midfield role. This was taken upon in part to fill the vacuum left by an injury-plagued, declining Gerrard and to concurrently add a generic attacking flair in passing, movement and goal-scoring, without losing the high defensive work rate and discipline required in the manager's system. Here, the great potential Henderson showed in his athleticism, crossing and distance passing, was more effectively elicited albeit in the rawest of forms. The middling performance levels with only sparks of quality execution, seemed to echo the topsy-turvy nature of the whole club's talent level and ability at the time; matched by adequate Cup runs and disappointing league finishes in the Europa League spots.
However, Henderson wasn't his seminal best until he arrived as the interlinking and attacking press initiator in Rodgers' diamond midfield, playing a fluid and aggressive attacking midfield role to great success. Here, he helped forge the space and time for our attacking talents – Suarez, Sturridge and Sterling – to thrive, while he himself could focus on decision-making in the final 3rd. Again, his off-ball aggression in the press and crossing ability shone, while he allowed Gerrard to transition more seamlessly into a regista role and allowed Coutinho to subtly excel as the dribbling playmaker of the team from central midfield. It is here we learned Henderson's strengths were suited to roles in the final third, with his distance shooting beginning to improve. However, we also learned he isn't quite the player to build your midfield dynamic around, rather being a player who can enhance it in utilitarian ways once other specialist 'number six' roles were tactically set.
Since then, abandoning the reckless-abandon of that Liverpool season, Henderson has mostly played a controlling central midfield role, either directly in the centre of the middle third of the pitch or deeper as the midfield initiator of our build up, but both to effects that are patchy at best for club and country.
With all of these, the malleable midfielder has had the benefit of many wide-ranging tactical experiences to middling degrees of success. Whether this is a testament to his flexible, stable skillset and professional attitude, or a symptom of his 'jack-of-all-trades, master-of-none' profile bereft of those very elite midfield attributes that potential world class players have, is up for debate. In fact, it's probably the mottled apple core of any debate surrounding Jordan Henderson, along with the seeds of doubt over his leadership potential. However, it has revealed that his greatest strengths are his off-ball athleticism in timing his aggressive pressing and his on-ball crossing in a variety of attacking scenarios in the final third. In knowing this, we must come back to the big question – do these strengths suit the 'number six' position?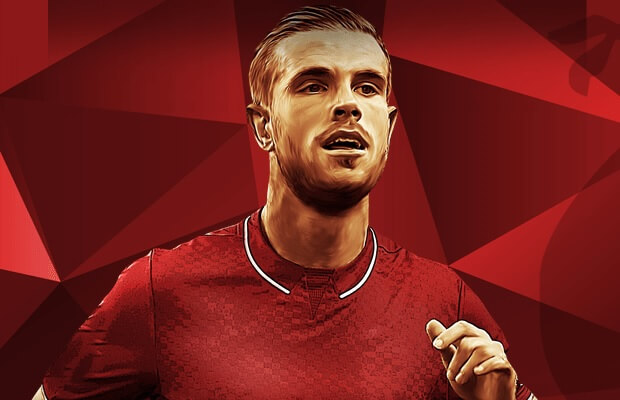 Liverpool's attacking & defensive failures and how to resolve them
In expectation of what the 'number six' position dictates in Klopp's midfield dynamic, with regards to the aforementioned Dutch profile and the requirements for transition football and specialist roles at the highest level, Henderson is a victim ill-fit for the creative controller role thrust upon him. Through poor and ineffectual levels of performance across this season, he has become incongruence personified. However, one can commend his admirable attempt to fulfil the position given his known strengths and weaknesses and given his wanting past performances when in apposition to Gerrard for Liverpool and the English national team and when playing in Rodgers' 2014/15 team.
As a result, Henderson's first team playing role acts as a rate limiting factor to improving Liverpool's midfield dynamic, while further denying his greatest strengths to come to the fore in an attacking midfield role. Rather than labour upon the incongruence, exploring the existing attacking and defensive failures specific to our midfield dynamic, gives an insight into the needed qualities for improvement and potential transfer targets to aim for at the 'number six' position.
Firstly, the ultimate attacking aim of the team is to create high quality goal-scoring chances by flooding the midfield with dynamic, attack-minded players who can execute on our vertical, counter-pressing style of play. This means creating in the most direct way possible to allow the final player in an attacking move to have the most space and time to score. In order to achieve this, there are four specific attacking weaknesses left for us to resolve, including:
improving our goal-scoring threat from direct and indirect set-pieces,
intelligently integrating the movements of attacking full-backs in the final third,
improving fast penetration into the final third via long splitting passes between midfield lines and diagonal through-balls in central areas, and,
improving the ability to create and pass out of diamond overloads in between the lines against deep defensive teams, especially from within our opponents' half-spaces and especially on the left-hand side of our attack.
The ultimate defensive aim of the team is to concede less goals across an entire season, with historical averages correlating a 'goals conceded' tally of less than thirty to achieve Champion's League qualification in the English Premier League and to challenge for the title. In order to achieve this, there are four specific defensive weaknesses left for us to resolve, including:
dominating and securing the defensive transition after an initial failed press,
defending our own half-spaces close to our box to prevent the opposition creating high quality chances,
improving our aerial and set-piece defending, and,
shifting away from a 'bend don't break' midfield to a 'dictatorial, intelligent' midfield.
No solutions are ever unilateral. However, diversifying the tangible and intangible skills and talents in the first team is a high yield way to directly address these midfield weaknesses. Based on this, Liverpool need very dynamic specialist players who can fulfil the defensive midfield destroyer role and one of the creative controller or deep-lying playmaker roles in the 'number six' position. Intangibly, they require defensive and creative leaders who are aggressive, intelligent and tactically flexible to adapt both spatially and in-possession to a variety of game states and hence perform at a high level across an entire League campaign, in European competition and in unpredictable cup ties. Tangibly, they require athletically strong and hyper-mobile midfielders who enhance our defensive and offensive aerial game, have strong positional discipline to shield our defensive half-spaces and destroy play through disruptive tackling and anticipatory closing of passing lanes, have excellent ball control, dribbling and vertical passing vision and ability, and finally, they must be able to purposefully dominate moments of attacking transition and protect counter-attacks in defensive transition. Too easy then, right?
The perfect transfer targets for 2017/18
Now for the exciting part. Michael Edwards, Liverpool's new sporting director, will be stepping into his first summer transfer window with a newfound responsibility to aid Klopp, Buvač, Lijnders and Krawietz in solving their midfield conundrum. In a hyper-competitive EPL era blessed with rampant financial investment, the world's best coaches and a decreasing ability gap between mid-table and top-table teams, there is little room for errors in the transfer market for Edwards and Klopp.
To focus the prior three sections to a positive conclusion, here are the perfect transfer picks for Liverpool in the 'number six' position, with identified players who can resolve our attacking and defensive weaknesses in midfield.
Ignacio Camacho (27yrs, Defensive Midfield Destroyer/Shield, Málaga CF) – A £15.8 million release clause is tempting Valencia CF and West Brom to pry away Málaga's ambitious star, who himself is itching for a transfer to the English Premier League. Málaga's President, Al Thani, will not stand in his way for an offer paid in full. With a stark level of game intelligence and defensive leadership, Ignacio Camacho fits the new Spanish archetype for a modern defensive midfielder in terms of balancing ball retention with direct vertical play. He consistently attempts to quickly create from deep by playing splitting passes in between midfield lines, releasing advancing attackers as soon as possible and disrupting opponents' defensive lines by threatening their half-spaces. Extremely aggressive with his entropic tackling and positionally disciplined in holding a zonal defence before timely breaking to maximise the probability of regaining possession, Camacho has the on-ball talent and defensive nuance to match his wearing of his heart on his sleeve. Statistically, he is by far the most colossal aerial defender in La Liga out of all midfielders (61 per cent success rate), he has the most headed goals in La Liga out of all players (4) and is one of the most prolific primary interceptors in the league. With Julian Brandt rumoured to join Liverpool as a left attacking midfielder, Ignacio Camacho would further liberate Coutinho to reoccupy the deeper dribbling playmaker role in central midfield and allow Klopp's pet project in Emre Can to develop his skills as a box-to-box midfielder. Having been scouted previously by Liverpool last year, this transfer isn't far from the realms of possibility and would ring of a deal similar to Sevilla FC signing Grzegorz Krychowiak from Stade de Reims – plus, no Champion's League required.
Grzegorz Krychowiak (27 yrs, Defensive Midfield Destroyer/Shield, Paris Saint-Germain F.C.) – No apologies here for the lead-on. FC Nantes President, Waldemar Kita, recently said, "In my opinion, right now it would be hard for him [Krychowiak] to come back to play for a smaller team. However, as I always say, you are either the locomotive or a carriage." Having followed Unai Emery to pastures new within  one of Europe's elite clubs, Krychowiak has become just that – a carriage. Ill-suited to PSG's free roaming midfield, Krychowiak has been unable to meet the technically demanding and rapid pass-and-move sequences alongside Marco Verratti during the team's central build-up. As a result, Blaise Matuidi has often been unable to be an effective link between the wide left attackers and the small overloads in midfield have been ineffectual. Although Krychowiak has been able to replace the stability and balance in shape that Motta or Rabiot would allow in the 'number six' position, this was at the expense of creativity and a collectively stable counter-pressing form. If Liverpool are looking to reform their entire midfield style and shape, and possibly play a 1-2 attacking midfield, Krychowiak can be the perfect defensive midfield shield for €30 million (£26 million). When fit and in the right playing environment, Krychowiak is the closest to a dynamic and physically dominant midfield general, in the ilk of Viera and Keane, that you'll see in the modern game today. A real clutch leader who rises to high pressure situations and motivates others by example, he has an exquisite passing range, strong tackling ability and near-perfect defensive anticipation to protect against counter attacks and opposition creativity in the half-spaces, from even the most elusive dribblers and playmakers. Additionally, he's an excellent penalty taker and is underrated from free kicks. However, Champion's League required.
Johannes Geis (24 yrs, Deep Lying Playmaker, FC Schalke 04) – As a result of his creative inconsistency and a frustrating need to contrive attacking moves via long balls, Geis has been relegated to the bench this season to make way for the preferred defensive stability of Benjamin Stambouli. In the most inconsistent form of his career and with Schalke being teased by a buy-out clause for Nabil Bentaleb, there has never been a more opportune time for Liverpool to sign the most like-for-like player to Xabi Alonso. In the right playing environment, Geis is one of the most naturally talented and effective registas in world football. He's a lethal and highly creative long distance passer who excels in transition moments from deeper midfield areas – even in a struggling season, he leads in executing on long key passes in the Bundesliga and is equal third for long passes completed per ninety minutes. He has great technique and balance for retaining possession when under pressure and for dictating the tempo of play. Furthermore, he's an excellent weapon from direct & indirect set-pieces and an expert distance shooter too. Although not the quickest of players, he is positionally aware and aggressive as a secondary loose ball winner, preferring to passively cut off passing lanes before tackling at the right moment as the play shifts towards him. Allowing him the freedom to play cutely-dinked passes into the half-spaces to destabilise defensive blocks and to play splitting diagonals into pockets of space that force defenders on the back foot, is how he excels. Plus – no Champion's League required.
Mateo Kovačić (23 yrs, Creative Controller, Real Madrid) – Well. Trying to sign a young player from Real Madrid after their breakthrough season seems the most impossible of asks, if not the most expensive. Likely requiring all of a £30 million fee, a significant salary outlay and Champion's League football, the tactically versatile playmaker has long been a coveted pipedream of Liverpool's infamous transfer committee, along with Lijnders' pet player Rúben Neves of FC Porto. With his initial burst of acceleration, sublime dribbling technique, expansive passing ability, accuracy and vision, Kovačić is an Iniesta-like central midfielder who can take out opposing defenders with ease and intelligently navigate space from deep central midfield zones. The perfect attack-minded anchor to roam besides a more positionally reserved defensive midfielder, he enhances creativity in attacking transition by breaking midfield lines with incisive vertical passing and forward ball carrying against all types of defensive blocks. This relieves immense on and off ball pressure from centre backs, fellow midfielders and advancing full-backs during build-up play. Intangibly, his professionalism and insight at such a young age has been well-described by coaches, who identify him as a potential conduit for the manager's ideas.
In my opinion, as a bare minimum, Liverpool vitally need a specialist defensive midfield destroyer or shield, as it can be the most immediate and cost-effective way to resolve many of the defensive and attacking weaknesses the team currently faces. Additionally, it can allow for improvements in other rate-limiting factors in the playing squad. To then complement this, having one of a creative controller or deep-lying playmaker fills many of the attacking deficits that a specialist defensive midfielder doesn't and enhances the team's tactical versatility in terms of fulfilling the principles of transition football that Klopp so strongly adheres to. To conclude, realigning Henderson to his strongest position in the team and signing new specialist 'number six' midfielders is probably the best way forward as Liverpool aim for sustained Champion's League qualification and trophy challenges.
But of these transfer targets, which two players do you think Edwards and Klopp should sign?
Please, let us know in the comments & on Twitter.