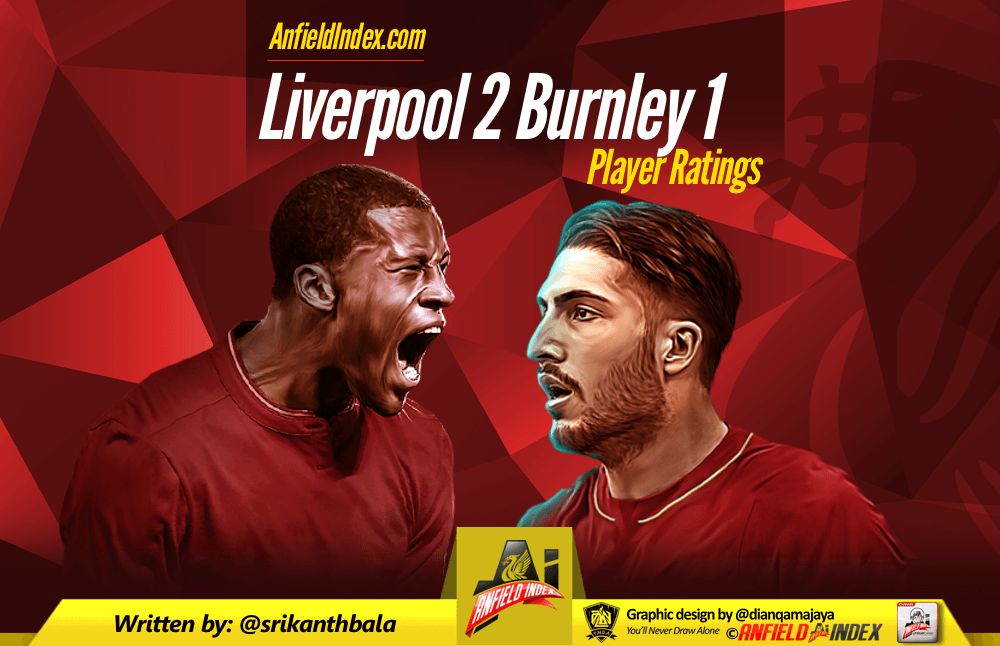 Liverpool 2 Burnley 1: Player Ratings
Liverpool have tended to oscillate between the joyful highs and the gut-wrenching lows. Today was somewhere down the middle and it was a great sight to see. Liverpool did not just win, but they found a way to win when they were way below the normal standard. Three points have never felt sweeter.
Considering the direct nature of the game, I will be going direct on the match ratings piece.
Simon Mignolet (6) – Could not do much for the goal. Takes an aeon to clear the ball. Was brave for a couple of aerial balls in the box.


Nathaniel Clyne (4) – Average defensively, abysmal in attack. Same shit, different game.

Joel Matip (5) – Out-muscled in the first half, but made a great interception in the box just before the break. Stepped up a level in the second half.

Ragnar Klavan (4) – Biggest blame for the first goal should be attributed to him as it was his ball that was intercepted. Struggled to cope with the pace of Gray in general.

James Milner (4) – Was in his own world while stepping up into the offensive half, leaving Gray one-on-one vs Klavan. His game awareness just hit a shattering low tonight. Crossing still is garbage. Not quite sure why Moreno isn't playing yet.

Emre Can (6) – The usual Jekyll and Hyde performance. Had an abysmal first half where all aspects of his game were off. Dominant aerially in the second half and scored a belter from midfield. We need more such goals from midfield.

Adam Lallana (4) – Zero for that first half performance as one needs to be on the ball to be counted. A lot better in the second half as he was involved in the game. Couple of turns were great to look at as usual.

Giorginio Wijanldum (6) – Another goal at Anfield, which prevented Liverpool from ending the first half under a chorus of boos. Showed his physical strength in second half as Liverpool went direct. Shielded the ball excellently on most occasions.

Sadio Mane (6) – Not his best game. Had a couple of good chances, especially one late in second half, but his shot made it easy for Heaton to save it. Still seems the only player who wants to win every game.

Divock Origi (6)- Badgered aerially in the first half, but stood up to the rigours of the game. Two assists mean it was an effective performance from Divock.

Philippe Coutinho (4) – Phil was so off-colour that it is tough to attribute this performance. Gave the ball away too easily and nothing he was trying seemed to come off. Rightfully taken off on a rare early substitution from Klopp.

Substitutes
Ben Woodburn (5) – Came on in the 60th minute for Coutinho. His first cross was better than the last 100 from Milner. Seemed to be involved in the game to a fair degree. Mane could have made a better pass to him in on a chance which eventually led to only a corner.
Lucas Leiva (5) – Brought on to shore the defence and close out the game. Made a rare attacking foray late on.