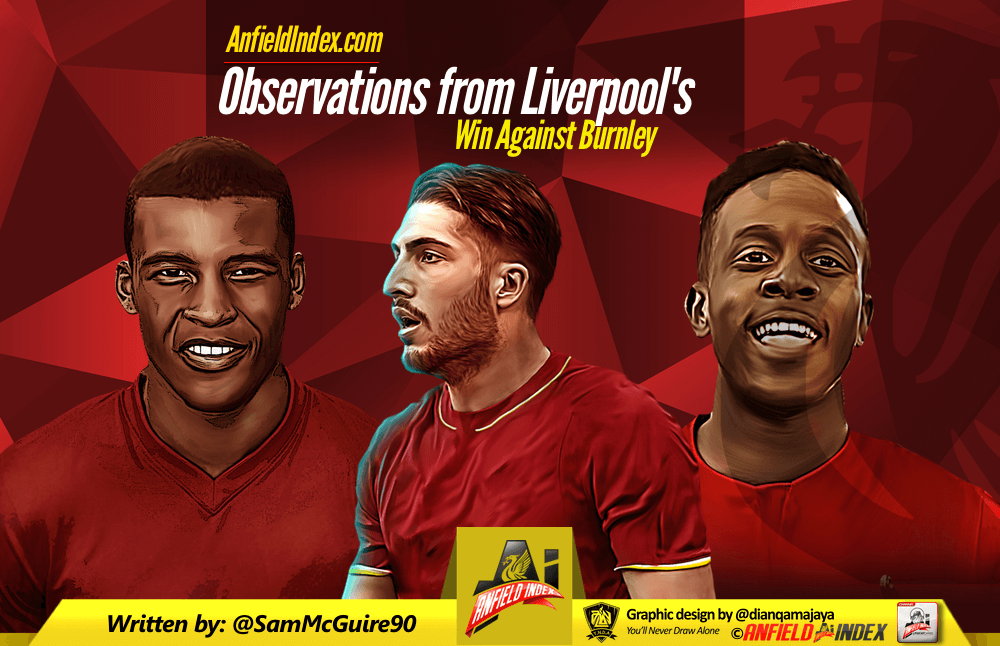 Observations from Liverpool's win over Burnley
It was as though Liverpool, Jurgen Klopp, and the players, set out to troll the fans today. The 2-1 win over Burnley was by no means pretty but three points are three points no matter how you pick them up. At the end of the day, the team did what they had to do to pick up the all-important victory.
As the game headed into first-half added time it was as though the players had read the majority of drafts people have saved on their Twitter account and decided to just make them a reality.
Burnley struck an early goal and it was "Oh for fu…not this again". Gini Wijnaldum, just a week after impressing so much against Arsenal in the 3-1 win, vanished as the away side controlled proceedings. "Big-game Gini goes into hiding in the smaller matches". Then there's Emre Can. The midfielder reportedly wants to see his salary doubled. "He want's £100,000-per-week and can't even pass a ball 10-yards. Get out of my club".
Some were destined to be calling bingo as the referee blew for half-time but the Wijnaldum goal changed things. He scored a goal against a lower league side. Liverpool came from behind against a defensive team and Can arrowed the ball home for what turned out to be the match-winner. For now, those Tweets stay as drafts.
It doesn't make up for their mistakes in the past and it won't excuse them for their errors in the future. But after a win, you can look back and laugh. You have to really.
It's a win that keeps us in the hunt for Champions League football and it could be a bit of a hoodoo breaker. We may not have deserved to win, but we did. Build on it. Use it as a blueprint to win similar matches in the future. We just have to make sure it's not a false dawn.
Emre Can conundrum
It seems to be a recurring theme with the German midfielder. He has a dodgy first half but improves throughout the second. If he wasn't so sluggish to get out of first gear it's unlikely as many would want to see him sold. At the same time though it is worth noting that he was doing two jobs in the first-half because Ragnar Klavan had a nightmare start to the match. The challenge for him is to add consistency to his game. His second half strike is a rarity when it should be the norm for a player of his ability.
He was tasked with being the aggressor in aerial duels and allowing the centre-backs to drop off and sweep. He did the same against Arsenal and did so admirably considering it's not his natural game.
All in all, though it's a second successive performance in which the 23-year-old has seemingly brought more fans over to his side. Perhaps he is worth that pay-rise he reportedly wants.
The attack is still off the boil
Philippe Coutinho hasn't been the same since returning from injury, Divock Origi is yet to rediscover last season's form and Roberto Firmino has been hot and cold with his performances on the ball. The latter didn't play today but the former two did and neither did anything to dispel the concerns surrounding their form. The longer it lasts the more chance the concern becomes a problem. Fans can be fickle. It won't take long before people question whether or not Coutinho is worth that shiny new £150,000-per-week deal and debates will be had over Origi and his overall quality for a team like Liverpool.
The defence is still an issue
James Milner continues to be a target for the opposition and Klopp is still reluctant to start Alberto Moreno. He didn't bring anybody in during January so the Reds are stuck with this predicament until the summer. There's no quick fix and the German manager is going to have to get creative in ways to paper over those left-back cracks until then. Dejan Lovren is a worry too, not just because of his erratic performances but because of the number of injuries he picks up. Will there yet again be changes to the left side of the Liverpool defence in the next transfer window?